Texas: Introducing Falun Dafa at the Plano Balloon Festival (Photos)
September 30, 2007 | By Zeng Hongde
(Clearwisdom.net) The Plano Balloon Festival is held on the third weekend in September each year just north of Dallas, Texas. It is a well-known, large scale outdoor event, attracting tens of thousands of people to Oak Point Park to enjoy the weekend. This year, practitioners in Texas introduced the grace of Falun Dafa with a band performance and an exercise demonstration.
The Divine Land Marching Band performed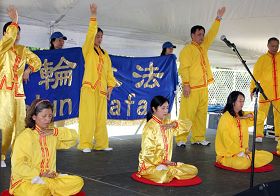 Falun Gong practitioners demonstrated the five graceful exercises
The festival took place from September 21 to 23. The host estimated that there would be over seventy thousand visitors. Besides the ascending and flying of large hot air balloons in the morning and evening, the host also invited local groups to perform at the festival.
Practitioner Ms. Zhang was the person the host contacted for this event. Ms. Zhang told the reporter, "The organizers were very happy for Falun Gong practitioners to participate in this event. They arranged a one-hour performance time on Saturday afternoon. We prepared several programs. The Divine Land Marching Band of Texas performed music composed by Falun Gong practitioners. The performance was warmly received."
It was a hot September day in Texas, and the sun was scorching. The performances were held inside a white tent. Because there were more musicians in the band than could fit on the stage, the band performed on the lawn outside the tent. They played, "America the Beautiful," "Falun Dafa Is Good," "Drum and Trumpet Shake the World of Ten Directions," and "The Fa Rectifies the Universe."
When the band director explained that the band had been established only a few months before and that it was composed of Falun Gong practitioners in Texas, of whom 80 percent had never touched a musical instrument before, the audience applauded warmly to express their admiration.
Practitioners in golden exercise outfits demonstrated the five Falun Gong exercises. Their gentle, flowing gestures were a calm oasis in an otherwise bustling festival environment.
Two practitioners that are high school student performed music composed by Falun Gong practitioners. John was one of them. He has practiced violin for many year and is the first chair violin in his school orchestra.
Practitioners in China are being persecuted by the Chinese Communist Party. In 2002, Western practitioners went to Tiananmen Square to appeal on behalf of Falun Gong and call for an end to the persecution. They were arrested, beaten, and deported. The song, "Coming for You" expressed their wish to save the Chinese people. A practitioner sang the song in English and Chinese, captivating the audience.
There were many visitors over the weekend, and practitioners cherished the opportunity to distribute leaflets. Ms. Zhang said, "I just handed a leaflet to one visitor. He asked what it was. I said it was information on Falun Gong. He said, 'I know. Falun Gong is well known!' We should cherish each opportunity to introduce Falun Dafa to people and do well."