CIPFG: Open Letter to Leaders of China Proposes a Timetable to End the Persecution (Photo)
(Clearwisdom.net) The Coalition to Investigate the Persecution of Falun Gong in China (CIPFG) wrote to China's president Hu Jintao and Prime Minister Wen Jiabao, demanding an end to the persecution of Falun Gong, and to the persecution of Mr. Gao Zhisheng, a renowned Chinese human rights lawyer, in the next two months. The letter points out that it would bring shame to China if the Olympic Games were to occur while China's crimes against humanity continue to exist.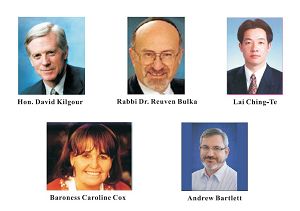 Photos of CIPFG members: (top) Hon. David Kilgour, Canada's former Secretary of State and co-author of the Bloody Harvest report that details the organ harvesting atrocities now underway in China; Rabbi Dr. Reuven Bulka, religious leader and scholar, Chairman of the Organ Donation Committee of the Kidney Foundation for Eastern Ontario, Canada, and President of CIPFG US-Canada Chapter; Lai Ching-te, the chair of CIPFG in Asia, also a member of the Legislative Yuan in Taiwan; (bottom) Baroness Caroline Cox, Member of the House of Lords (UK), President of CIPFG Europe Chapter; and Andrew Bartlett, Australian Democrats Senator, Co-Chair of CIPFG Australia Chapter
The open letter proposed a timetable to stop the persecution. It requires the CCP regime to end the persecution by August 8, 2007, one year before 2008 Olympic Games begin in Beijing. They warned that if the persecution keeps on, calls to boycott the Olympic Games in Beijing may well increase.
The following is the letter:
Open Letter to President Hu Jintao and Prime Minister Wen Jiabao from the Coalition to Investigate the Persecution of Falun Gong in China (CIPFG)
Dear President Hu Jintao and Prime Minister Wen Jiabao,
We are from the Coalition to Investigate the Persecution of Falun Gong in China (CIPFG), which has over three hundred legislators, government officials, religious leaders, lawyers, medical doctors and human rights advocates from Europe, Asia, North America and Oceana. We respectfully request your government to cease the persecution of Falun Gong practitioners and its supporters, and to allow an independent international investigation of the state-sanctioned organ harvesting allegations.
We are individuals and organizations with concern about social justice and basic human rights. The persecution endured by the Falun Gong practitioners in China in the past eight years is so much to bear and we feel like we are going through almost the same experience. Based on reports from the United Nations and other renowned human rights organizations, as well as extensive coverage from media around the world, we are aware that thousands of innocent Falun Gong practitioners have died as a result of this persecution. We are shocked to learn about the methods of torture practitioners are subjected to and the damage done to their lives. In addition, we are particularly disturbed by the reports on the state-sanctioned organ harvesting of Falun Gong practitioners. Knowing that tens of thousands of Falun Gong practitioners are still jailed around China and faced with both torture and organ harvesting, we cannot keep silent any longer.
We understand that this crime against the humanity is not instigated by the two of you. We are aware that both of you have also attempted to put an end to this genocide campaign that has involved almost all the people of China. We see humane qualities in you and a sense of responsibility as leaders of the state. This is one of the reasons why we decided to write to you.
We are not hostile to China. In fact, we love the Chinese people. We hold in high regard the five-thousand years of Chinese civilization. Please remember that one day history will write its verdict on what you choose to do, just as it did to all previous rulers of China. Fortunately, you still have an opportunity to choose kindness rather than hate.
The 2008 Olympics is an opportunity for the people of China. When the international community awarded the 2008 Olympics Games to China, they expected that the Chinese people would benefit in many different ways, including in the matter of their basic human rights.
Nevertheless, we regret to note that since 2001 overall human rights conditions in China have deteriorated to the extent to that hideous crimes, such as organ seizures, are still happening.
We believe that it would be a shame to humanity as a whole if the Olympics and crimes against humanity were to take place simultaneously in China. Therefore, we request that you stop the persecution of the Falun Gong practitioners and "prisoners of conscience" such as human rights lawyer Gao Zhisheng.
Whether or not more calls for an international boycott of the 2008 Beijing Olympics will occur depends on your decisions on these important issues in the next two months.
Yours sincerely,
Coalition to Investigate the Persecution of Falun Gong in China (CIPFG)
Rabbi Dr. Reuven Bulka, Religious leader and scholar, Chairman of the Organ Donation Committee of the Kidney Foundation for Eastern Ontario, Canada, President of CIPFG US-Canada Chapter
Andrew Bartlett, Australian Democrats Senator, Co-Chair of CIPFG Australia Chapter
Lai Ching-Te, Taiwan Legislator, President of CIPFG Asia Chapter
Baroness Caroline Cox, Member of the House of Lords (UK), President of CIPFG Europe Chapter
Hon. David Kilgour, Former Canadian Secretary of State, Asia-Pacific, Co-Author of "BLOODY HARVEST"- An Investigation Report
June 8, 2007
CC:
Members of IOC
Chinese Embassies in USA, Canada, Europe, Asia and Australia