Taiwan: On International Human Rights Day, People in Taoyuan Condemn the CCP's Persecution (Photos)
December 16, 2007 | By a Minghui/Clearwisdom reporter in Taoyuan, Taiwan
(Clearwisdom.net) December 10 was International Human Rights Day. Taiwanese citizens in Taoyuan launched a signature collection campaign at Shimenshan Mountain on the Sunday before International Human Rights Day, to support the Global Human Rights Torch Relay initiated by the Coalition to Investigate the Persecution of Falun Gong in China (CIPFG). Former Legislator and Adviser of the Executive Yuan Mr. Chiu Chui-chen, and Kuomintang Legislative candidate Ms. Chu Fong-chi attended the activity and expressed their support.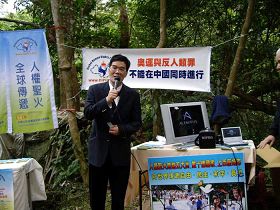 Four-time Legislator Mr. Chiu Chui-chen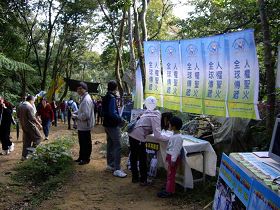 People in Taoyuan sign to support the Human Rights Torch Relay
Shimenshan Mountain stretches over Daxi and Longtan, and got its name from Shimen Reservoir. Thousands of people hike in Shimenshan. The signature collection table and the display exposing the Chinese Communist Party's (CCP) persecution of Falun Gong were set up along the main road. The people of Taiwan were reminded that, "Taiwan is safe when Mainland China respects human rights."
Former Legislator Chiu Chui-Chen, who has been working on human rights causes for thirty years and who joined the CIPFG a few months ago, gave a speech at the activity. Mr. Chiu said that he had been thrown into prison because of the Formosa Incident and he knew the value of human rights. The CCP is an autocratic regime. Why do so many want to quit the CCP? Because there are no human rights in Mainland China, he said.
Mr. Chiu said that he had read about the CCP's persecution of Falun Gong and was very disturbed by it. Falun Gong spreads the spirit of Truthfulness-Compassion-Tolerance, the true spirit of the universe. The CCP regime persecutes Falun Gong and even harvests organs from living Falun Gong practitioners. He said that it will be punished by Heaven because of these crimes.
Mr. Chiu said, "More than one hundred million people are practicing Falun Gong around the world. I have started practicing Falun Gong and feel great physically and spiritually. My heart disease and other health problems have gotten much better. Of course the purpose of Falun Gong is not to treat disease, but it is helpful to everyone in improving his mind-heart nature and health. I often read the book Zhuan Falun. Falun Gong not only improves health but also improves one's mind-heart nature."
Mr. Chiu feels that the biggest problem in Taiwan today is people's hearts. With the fast pace of development in Taiwan, he believes that people's morality is going downhill. Morality as a whole needs improvement. If more people could practice Falun Gong, it would help people cultivate their hearts and the whole society would benefit. He hoped that everyone would help spread the teachings of Master Li to every corner of Taiwan and around the world. Many people still didn't know Falun Gong. He hoped that his family, friends and fellow citizens in Taoyuan County would come to know Falun Gong, learn the universal spirit of Truthfulness-Compassion-Tolerance, and help this spirit fill the world.
Kuomintang Legislative candidate Ms. Chu Fong-chi said she hoped that more people would join the Human Rights Torch Relay. "Falun Gong benefits practitioners and others. It improves your mind and health. I hope that more will join the cultivation practice, because Falun Gong spreads compassion and tolerance."
Ms. Chu said that human rights was one of the most important values. However, it is often abused in the hands of those in power. She hoped that those in power would safeguard human rights instead of using their power to violate human rights. Ms. Chu said that respecting human rights is much more than mere words. Actions should follow words. She stressed that only actions truly safeguard human rights.