Austin, Texas: Practitioner on Hunger Strike to Protest the Crimes at Sujiatun (Photos)
March 14, 2006 | By a practitioner in Texas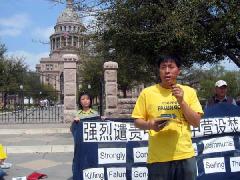 Practitioners protest the illegal organ harvest and slaughter of Falun Gong practitioners
(Clearwisdom.net) Recently an insider disclosed that Chinese Communist regime kills practitioners in a secret concentration camp at Sujiatun, Shenyang City. The practitioners bodily organs are harvested and sold for profit. The crime is barbarous and totally shocking.
On March 11, 2006, practitioners from San Antonio and Austin gathered at the Texas State Capitol Building, announced a hunger strike to protest the genocide at Sujiatun and to support the fellow practitioners in Mainland China.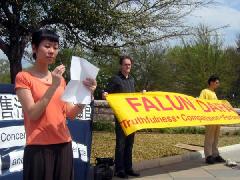 Ms. Wang Xiaodan Calling on for her imprisoned father
Former University of Texas student Ms. Wang Xiaodan started a hunger strike several hours before the rally. She told the audience that her father, practitioner Wang Zhiwen was sentenced to 16 years in prison six years ago. He suffered many tortures in prison. Ms. Wang, a US citizen, has not talked to her father since. When she heard about the horrific crimes at Sujiatun, she became anxious about her father. She now asks the world's people to join in to help stop the atrocities at Sujiatun.
A new practitioner stated that even though he knew the CCP was bad, the Sujiatun case shocked him. The crime is beyond American people's imagination. He said that all Americans should step up to stop the crime.
Mr. Dang, another practitioner on hunger strike, indicated that many people felt that by investing or helping China economically, the CCP would improve in human rights. This is in fact not the case. He pointed out that people should give up imagining that the CCP would change its nature.
Practitioner Mr. Zhang stated that, in its last craziness, the CCP not only carries out genocide, but also assaults practitioners overseas. The world should stand up and stop it.
Many tourists visited the State Capitol Building on the weekend. They stopped to learn the facts. Hearing about the illegal organ harvest and slaughter, they're all shocked and angry. Many asked how to help and how to stop the atrocities. They told the practitioners that they will let more people know this.