Montreal, Canada: Practitioners Protest the Secret Concentration Camp Used to Kill Falun Gong Practitioners (Photos)
March 14, 2006 | Xiao Yan, Minghui reporter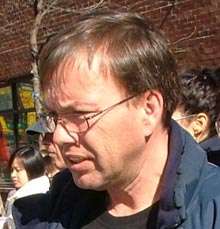 People are shocked and sad upon hearing the inside information about Sujiatun Concentration Camp
(Clearwisdom.net) On the afternoon of March 11, 2006, Falun Gong practitioners in Montreal, Canada rallied in Zhongshan Park in Chinatown to protest CCP's inhuman crimes. CCP built a secret concentration camp in Sujiatun, Shenyang City where Falun Gong practitioners have been locked up, tortured and killed, and their internal organs were harvested and sold for profit.
| | |
| --- | --- |
| Protesting the genocide | Mr. Jin exposes inside information about Sujiatun Concentration Camp |
Photos of Persecuted Falun Gong practitioners
| | |
| --- | --- |
| People sign their names to protest the killing | People look at photos of persecuted practitioners |
The organizer of the rally announced that according to a reliable source, the CCP set up a secret concentration camp in Sujiatun, Shenyang City where more than 6,000 Falun Gong practitioners have been locked up. The information was made public March 8, 2006. The secret prison has a crematorium and an unusually large number of doctors work there. It is reported that no detainees have managed to come out of it alive. Before cremation, their internal organs are harvested and sold for profit. Currently, there are very few Falun Gong practitioners detained in Masanjia Forced Labor Camp and Dabei Second Prison. Most of them have been moved to Sujiatun. Falun Gong practitioners from three northeast provinces and central China are transferring there. The situation is rather urgent, and the rally was to call for an urgent rescue.
Falun Gong practitioners read the announcement from Falun Dafa Information Center and an open letter from Canadian Falun Dafa Association, calling upon the Canadian government, Prime Minister, international community and United Nations to investigate into the Sujiatun Concentration Camp, further expose the atrocities, and help stop this barbaric and frenzied massacre.
The organizer prepared lot of information and materials regarding the incident in Chinese, English and French, and signature-collection sheets. Passersby were shocked after learning about the incident and inquired how to help.
CCP attempts to kill the victims to destroy the evidence of their crimes, but unexpectedly makes more evident between good and evil
Passersby in Chinatown stopped to look at banners and photos of persecuted Falun Gong practitioners. Some Chinese who usually passed by hastily stopped to see. People were shocked at such unimaginable crimes.
A man looked at the photos of persecuted Falun Gong practitioners and was very surprised. He asked, "Why hasn't the persecution been stopped after going on for such a long time? It's hard to imagine that regime has done such a thing to its own citizens, and to such a group of people. What can we do for you?"
A Bulgarian woman sadly said, while shaking her head, "People living under the rule of Communist party can easily understand the terror of the communist regime. There were also concentration camps in Bulgaria before it broke away from the rule of communist party and became a democratic country. But in Bulgaria, everyone is still afraid of the communist party. [...] We can understand the terror under the rule of communist party."
Some people expressed that they saw news about China's economic prosperity on TV, but had no idea about the atrocities committed against Falun Gong.
A man in his 50s said, "I know China is not as good as the reports say. That is only a part of China, and the surface prosperity that can be seen. There are also poor places, but I never knew about such persecution."
Two members of Canadian Green Party passed by Chinatown and learned about the incident. One of them expressed, "The CCP's act is extremely absurd. I do not dare to believe that in modern times we can still allow a government to do such evil deeds unpunished. The government should have protected its people, not torture and detain them.
Memories of Nazi genocide, people try their best to resist the persecution
People who have heard and seen about Sujiatun are shocked.
A young Chinese working in a local copy shop suggested that Falun Gong practitioners make post cards for signature collections and then post them to the Canadian Prime Minister and request the Canadian government to help stop the killing.
Many passersby expressed that they would tell their Members of Parliament about Sujiatun.
A member of Canadian Green Party said, "It's horrible!" and expressed that he would bring this news to the Canadian government when he returned to Ottawa. They would try their best to help Falun Gong practitioners until the persecution is stopped.
A woman from Latvia, one of the 16 league countries of former Soviet Union, said, "We should take an immediate action. Because we saw the Nazis crimes against humanity during WWII, we know what is happening now. At this time, other countries should denounce and stop the CCP's evil deeds and rescue these people. Though it is very difficult, I believe it is possible. I feel we should let more countries learn about the CCP's evil deeds, and pressure the CCP. The Europeans have the best understanding of it because they experienced the WWII. "
The woman continued, "CCP's tyrannical rule is unable to govern the country well. Twenty years ago, my grandfather died as a result of the persecution in a CCP concentration camp. Now we are fortunately living a democratic and free life without the CCP's tyrannical rule. We are very familiar with the terror under CCP rule. No one has a good feeling toward the CCP, but no one dares to speak out. Everyone is afraid of losing their life. I understand the Chinese people's situation. I truly bless you and support your action today."
A Chinese woman in her 30s said to Falun Gong practitioners, "I was shocked to hear of this news. I wanted to cry upon hearing of such inhuman deeds. The CCP even deprives people of their fundamental right to live and dignity. You've done great, you should keep it up, never be afraid."
A local French man said to Falun Gong practitioners, "I'm moved by all this you've done. You are doing it for the entire humanity."