Toronto: Protesting the Terrible Atrocities Committed Against Practitioners (Photos)
(Clearwisdom.net) (Minghui reporter Ye Linghui) In the afternoon of March 11, 2006, practitioners held a press conference in front of Chinese Consulate in Toronto. The event was held to protest the goings on in the concentration camp at Sujiatun, in China's Shenyang City. Practitioners are killed so that their bodily organs can be harvested and sold for a profit. The bodies are immediately cremated to destroy the evidence. Practitioners call on every government to intervene to stop the genocide.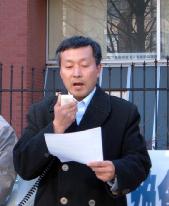 Mr. Zhang Zhaojin delivered a speech on behalf of the Falun Dafa Association of Canada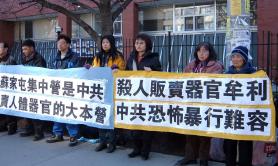 Protesting the murder of Falun Gong practitioners
Practitioner Li Xiaoce called the 610 Office of Liaoning Province and spoke to Director Bin. When she talked about the secret concentration camp with Bin, he didn't deny it.