(Clearwisdom.net) Prison staff at the Guizhou Province Women's Labor Camp have committed countless crimes against humanity. Falun Dafa practitioner Ms. Chen Guihong was severely tortured and suffered a mental breakdown. Falun Dafa practitioner Ms. Zhang Yan, employed by the Zunyi City Medical Institute, was tortured over an extended period, and her body was completely emaciated. She was unable to walk and had to be carried to the treatment room to be force-fed. One day near the end of August 2003, she was again taken to the treatment room, restrained, and died immediately after being force-fed. Another Falun Dafa practitioner Ms. Zhou, from Guiyang City, was tortured almost to death and then died soon after being taken home.
(Clearwisdom.net)
Mr. Fu Xinli, a practitioner from Daqinjia Village, Daqin Town, Zhaoyuan City, Shandong Province, has been clarifying the truth about Falun Gong to people since the persecution started. He was forced to leave home to avoid the persecution. In the last 4 years he has faced persecution and numerous arrests. At around 11:30 p.m. on June 16, 2005, the 610 Office arrested Mr. Fu and brutally tortured him on the 5th floor of the Zhaoyuan City Police Station. After being tortured he fell from the 5th floor. His head was injured, his shoulders fractured, his lumbar vertebra fractured and his spleen torn. He is now in critical condition.
(Clearwisdom.net) Falun Gong practitioner Mr. Wu Zhongran graduated from Zunyi Medical College in Guizhou Province. He was sent from a brainwashing class to the Guizhou Zhongba Labor Camp where he is suffering from brutal persecution. His tormentors repeatedly spat into his mouth and forced him to swallow. He is also constantly violently punched, kicked and beaten. Mr. Wu's whole body is full of bruises and even now his legs have not recovered enough for him to walk normally.
~ Accounts of Persecution ~
~ Journeys of Cultivation ~
~ Other Community Events ~
~ People in China Awaken to the Truth ~
~ Other Community Events ~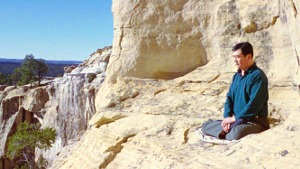 Master Li quietly watching the world from amidst the mountains after leaving New York following July 20th, 1999. (Published January 19, 2000)