Global Rescue Committee Helps Canadian Resident's Mother Regain Freedom (Photos)
(Clearwisdom.net)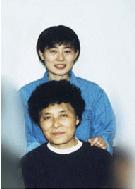 Li Bo and her mother Lu Xiuzhen
On August 21, 2003, Lu Xiuzhen, mother of Toronto resident Li Bo was released before the expiration of her term of sentence. She had been detained for 22 months in Masanjia Forced Labor Camp.
Detained Twice for Practicing Falun Gong
Lu Xiuzhen, 59, used to teach at the Fifth Middle School in Jinzhou City, Liaoning Province before retiring. In her over 30-year career as a teacher, she received many awards for her work. After retirement she began the practice of Falun Gong, and her health improved dramatically.
In July 1999, Falun Gong was banned in China. In July 2000, Xiuzhen went to Beijing to appeal, and she was detained for two months. In October 2001, she was arrested again while telling others the persecution facts of Falun Gong. She was illegally sent to Masanjia Labor Camp in Shenyang, and sentenced for two years. Shenyang is Toronto's sister city.
According to Falun Gong practitioners who had been detained at Masanjia Labor Camp, Masanjia serves as one of the bases for persecuting Falun Gong practitioners. Many Falun Gong practitioners were persecuted to death there. In 2000, 18 female practitioners were stripped and forced into the cells of male inmates. After this incident was exposed overseas it shocked the entire world. Li Bo was very worried about her mother's situation.
Campaign to Rescue Mother
In July 2002, the "Family Rescue Committee" was founded in Toronto (later renamed to "Global Family Rescue Committee--Canadian Branch"). Many campaigns were initiated to rescue the family members of Canadians who were persecuted. The persecution of Canadian's family members shocked the news media, people from all walks of life, and NGOs. Li Bo participated in many rescue activities, including press conferences, rallies, collecting signatures from the public, meeting Members of Parliament, and writing letters to the Canadian Prime Minister as well as Minister of Foreign Affairs.
Bill Graham, the Minister of Foreign Affairs wrote back to her twice. He said he had forwarded his concern over Lu Xiuzhen to the Canadian embassy in Beijing. Moreover, at the end of 2002, Bill Graham forwarded a name list of persecuted Falun Gong practitioners to Tang Jiaxuan, China's Minister of Foreign Affairs. Xiuzhen's name was on the list.
In his letter to Li Bo on July 28 of this year, Bill Graham wrote, "The Canadian government is deeply concerned over your mother's situation. We have expressed our concerns over Falun Gong many times when meeting Chinese officials, and have called for an end to the persecution."
On October 24, 2002, Canadian Parliament passed a resolution requesting the Prime Minister to help rescue Canadian residents' family members in China who had been persecuted for practicing Falun Gong. Senator Consiglio Di Nino wrote directly to the Liaoning Province governor, the mayor of Shenyang City, and the head of Masanjia Labor Camp requesting Lu Xiuzhen's immediate release.
Earlier this year, the Canadian Embassy in Toronto sent postcards to Lu Xiuzhen to show their concern. According to Li Bo, the Canadian government and many Canadian people were very sympathetic. Many people, including government officials, were in tears upon learning the facts of the persecution her mother had experienced. The Canadian government and people played a critical role in releasing her mother.
50,000 Postcards Arrive at the Prime Minister's Office
According to Jiang Fan, the spokesperson for the "Global Family Rescue Committee--Canadian Branch," the Canadian Prime Minister will visit China in October. In coincidence, a new rescue effort is underway, including sending 50,000 postcards to the Prime Minister to rescue Falun Gong practitioners who are persecuted in China. Former Chinese head-of-state Jiang is also being brought to justice in Canada for his responsibility directing the persecution.
Exposing the brutality in Masanjia Labor Camp and rescuing Lu Xiuzhen has been an important part of the current efforts. Soon after the postcard campaign started, Lu Xiuzhen was released, which was very encouraging. Jiang Fan said the Global Family Rescue Committee would continue to rescue persecuted Falun Gong practitioners in China on a large scale.
The Global Family Rescue Committee is calling on Canada to form a special investigation team. This team would comprehensively investigate the persecution of Falun Gong practitioners at Masanjia Labor Camp prior to the Canadian Prime Minister's visit to China. The Global Family Rescue Committee is also calling on Canada to refuse border entry to those Chinese government officials who persecute Falun Gong.
Lo Bo thanks the Canadian government and people for their support on behalf of her mother Lu Xiuzhen. However, she is still worrying about her mother's safety in China, and she hopes the Canadian government can help her mother come to Canada.
September 3, 2003