Twenty-five U.S. Western Practitioners Who Returned from Tiananmen Square Hold Press Conference in Washington DC (Photos)
(Clearwisdom.net) At 11am on February 19, 2002, more than 30 Falun Gong practitioners from Washington DC gathered in front of the Chinese Embassy and held a press conference. They gathered to talk about the 60 practitioners from around the world who went to Beijing's Tiananmen Square to appeal to the Chinese government peacefully but were detained and brutally treated. Twenty-five of these Western practitioners from eight states of the U.S. who had returned from China accepted interviews from CNN, AFP, Voice of America, Radio Free Asia, the Washington Times, World Journal and other media for more than an hour.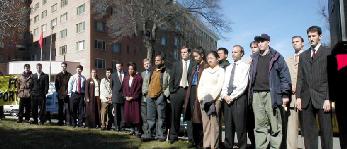 25 of the Western practitioners who took part in the peaceful appeal in Beijing's Tiananmen Square attended the press conference
| | | |
| --- | --- | --- |
| | | |
| More than 30 practitioners attended the press conference | Court Pearman and Jared Pearman, two brothers from Florida State call for punishment of the inhuman "610 Office" [an agency specifically created to persecuteáFalun Gong, with absolute power over each level of administration in the Party and all other political and judiciary systems] in accordance with the law. | David Jerke shows reporters his clothing that had been torn by Chinese policemen |
| | | |
| Donna Ware from Washington DC tells of her and her husband's witnessing of Chinese policemen using violence against peaceful Falun Gong practitioners | Brian Marple, a freshman in the Chinese Department of Georgetown University in Washington DC, tells about his truth-clarification trip to Beijing | New York practitioner Levi Browde, the host of the press conference, uses his own experience to call for international help to stop the persecution against Falun Gong |
Practitioners being interviewed described to the media the brutal treatment and illegal detention they received in China and displayed the broken glasses and torn clothing during the attack and forced arrest by Chinese policemen. They said that if they as US citizens had been treated so brutally, then consider how frightening and inhuman the treatment inflicted on Chinese Falun Gong practitioners would be.
These practitioners were very surprised that many policemen had no idea about the truth of Falun Gong. They have been deeply deceived by the slander and lies created by Jiang's regime and mistakenly thought that Falun Gong was being banned worldwide as Jiang's regime's propaganda had claimed. That is why they treat Falun Gong practitioners so brutally. After practitioners kindly clarified the truth to these deceived policemen, they realized what had happened. Practitioners expressed that they hoped more people would come to know the truth of Falun Gong through such peaceful appeals. They also hoped that more and more kindhearted people would step forward and together stop this evil persecution.
The Pearman brothers from Florida said that the chief criminal causing the death of many practitioners in China is the 610 Office, an illegal organization set up under Jiang's orders. They strongly call for the disbanding and severe punishment of the 610 Office.
Levi Browde, a software engineer from New York said, "Falun Gong practitioners will continue our peaceful appeals in China and worldwide until the day the persecution ends."
Practitioners displayed banners reading "Falun Dafa is Good," "Truthfulness, Compassion and Forbearance" and photos of the SOS Urgent Rescue campaign. After the press conference, they demonstrated the five sets of exercises to reporters.