People in Paris Recognize That Falun Dafa Benefits the World
(Minghui.org) On August 26, Falun Dafa practitioners from several European countries held two parades in Paris—one in the center of the city and the other in Chinatown in the 13th District. Both events were well received by local residents and tourists.
The parade that began at noon at Place de la République followed Rue du Temple to Rue de Turbigo, Rue Beaubourg, Rue du Grenier Saint-Lazare, Rue aux Ours, Boulevard de Sébastopol, Boulevard Saint-Denis, Boulevard de Bonne Nouvelle, Boulevard Poissonnière, Boulevard Montmartre, Rue de Richelieu, and Rue du 4 Septembre, ending at Euronext Paris.
Later that afternoon in Chinatown in the 13th District, the second parade started at the Place d'Italie and followed streets where Chinese often go, including Avenue d'Italie, Rue de Tolbiac, Avenue de Choisy, Bld Masséna, Avenue d'Ivry, Avenue de Choisy, and returned to Place D'Italie.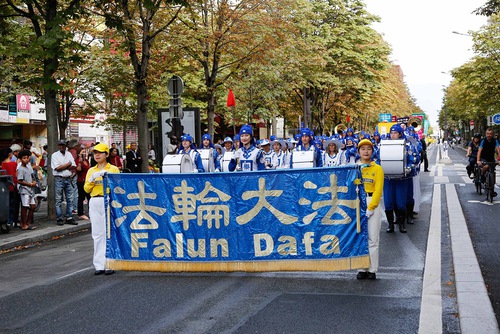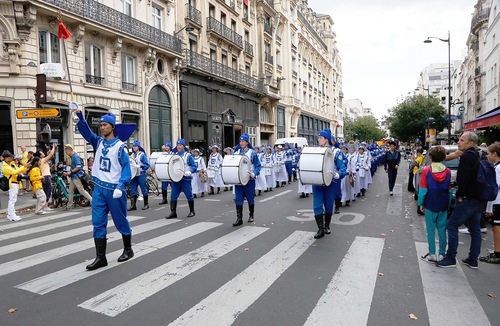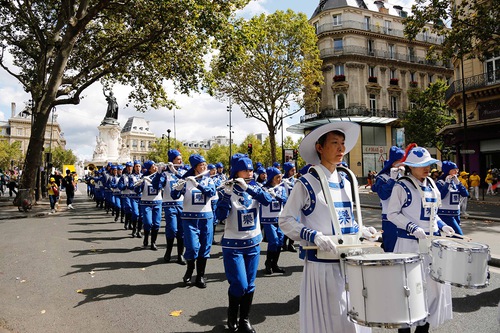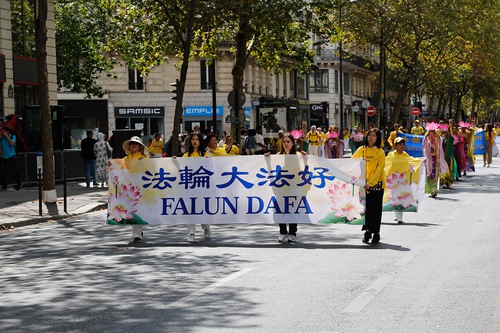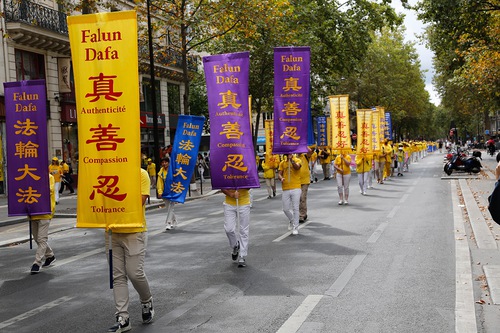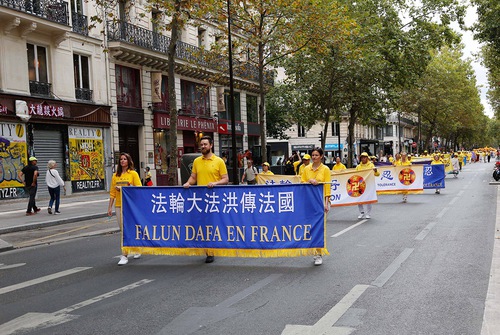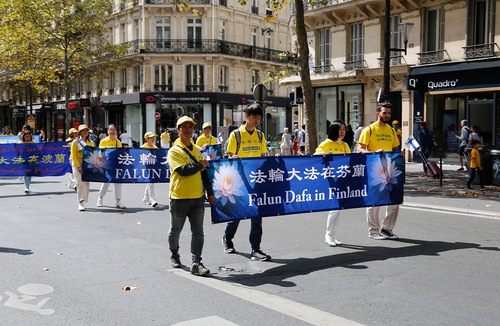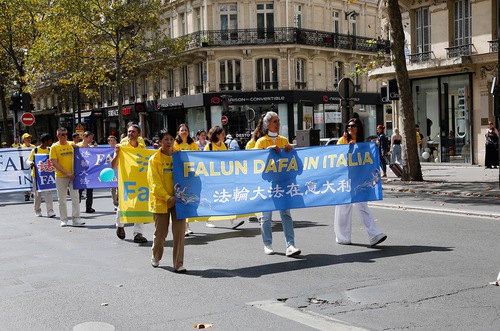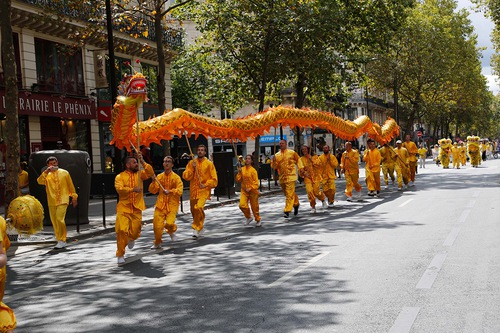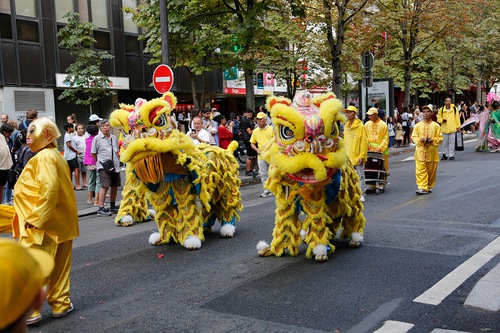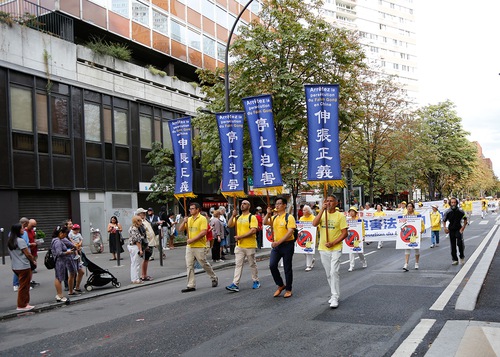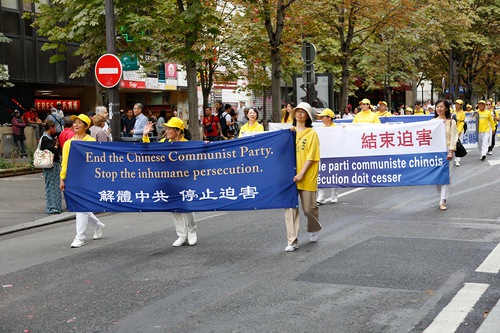 Practitioners held two parades in Paris on August 26, one in the center of the city and one in Chinatown.
Falun Dafa Benefits Society
Ali Anis, a construction manager, watched the march, from beginning to end, on Rue du 4 Septembre. He noticed that everyone was smiling and the event was well organized and he really liked it. He thought the banners helped explain why the march was exceptionally peaceful.
"I like these people [Falun Dafa practitioners] and support them," Anis said. "Falun Dafa benefits the world. It should be allowed everywhere, both in China and elsewhere."
He thinks the principles of Truthfulness-Compassion-Forbearance are the best and that society needs them, that they will help improve both people's minds and bodies. Anis praised practitioners for events like this because they inform people about what is happening in China.
A Better World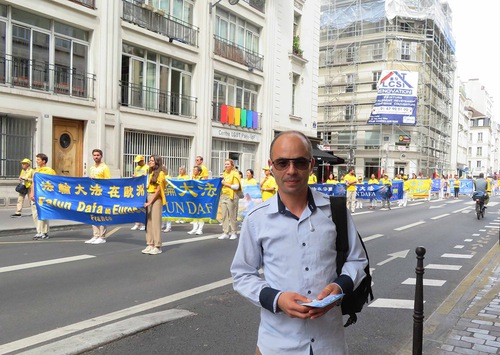 Yazid Douazi
Yazid Douazi, who lives in Paris, saw the parade on the Rue Beaubourg. He says the principles of Truthfulness-Compassion-Forbearance are important for mankind because they can bring us a better world.
He said that it's unfortunate that freedom of belief is not protected in communist China and that people are detained and even killed for their faith. He pointed out that the Chinese Communist Party (CCP) is known for its brutality and will meet its fate.
Musician: The CCP Creates Terror Because It Is Afraid
Marc, a musician, and Laura, a communication correspondent, both signed a petition calling for an end to the persecution of Falun Dafa in China. Marc liked the event because it showcased the principles of Truthfulness, Compassion, and Forbearance and showed just how terrible the suppression is in China.
He said the CCP creates terror because it is afraid. He was sorry to see that practitioners are being mistreated in China for their faith.
"Please Keep It Up"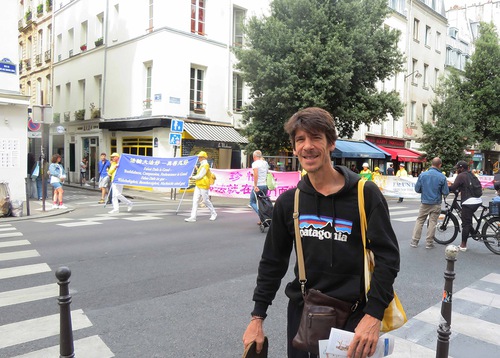 Eric Cenechal
Eric Cenechal, a sales representative, saw the parade on the Rue du Temple. He thought the colors and music were "excellent" and wanted to live in a world where everyone followed Truthfulness-Compassion-Forbearance.
"Freedom of speech is important," he said. "With persecution like this, people will lose traditional values over time. Fortunately, Falun Dafa practitioners are working hard to keep these values. Please keep it up."
Monika, a social worker, said she'd never seen such a peaceful parade. She admired practitioners for sharing this information so rationally and peacefully.
Stop the Persecution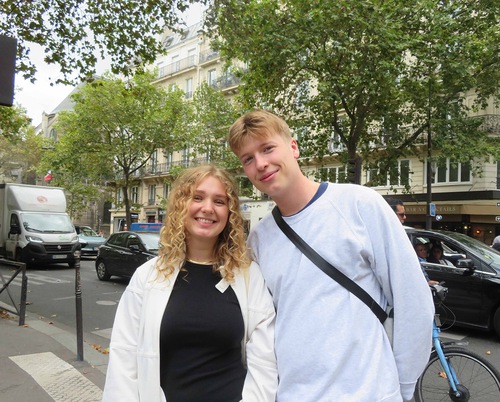 Vera Neise (left) and her friend Jonas
Vera Neise from Germany is studying philosophy and history in France. On her second day in Paris, she and her friend Jonas saw the parade. She was surprised to see the swastika symbol but knew it had to do with Buddhism and that Hitler had misappropriated it. Neise said practitioners follow their peaceful practice and the CCP should not mistreat them.
Financial director Eric stopped to watched the march as he stood near a subway exit. He said these events let people know how awful the CCP is but some people do things to please the regime. "These people have forgotten that the CCP is a totalitarian regime and that it is responsible for tens of millions of deaths," he said. "These tragedies still continue as we see from the millions who died from COVID."
Eric knew that suppression of Falun Dafa is part of the CCP's human rights abuses. He thought it was important to show what the regime has done to the entire world, because the CCP is "a threat to humanity."
Background: What Is Falun Dafa and Why Is the CCP Persecuting It?
Falun Dafa (also known as Falun Gong) was first introduced to the public by Mr. Li Hongzhi in Changchun, China, in 1992. The spiritual discipline is now practiced in over 100 countries and regions worldwide. Millions of people who have embraced the teachings, which are based on the principles of Truthfulness, Compassion, and Forbearance, and have learned the five exercises have experienced improved health and well-being.
Jiang Zemin, former head of the Chinese Communist Party (CCP), perceived the spiritual discipline's growing popularity as a threat to the CCP's atheistic ideology, and on July 20, 1999, he issued an order to eradicate the practice.
Under Jiang's personal direction, the CCP established the 610 Office, an extralegal security organization with the power to override the police and judicial systems and whose sole function is to carry out the persecution of Falun Dafa.
Minghui.org has confirmed the deaths of thousands of practitioners as a result of the persecution over the past 24 years. The actual number is believed to be much higher. Countless practitioners have been imprisoned and tortured for their faith.
There is concrete evidence that the CCP sanctions the harvesting of organs from detained practitioners, who are murdered to supply China's organ transplant industry.
Copyright © 2023 Minghui.org. All rights reserved.