Edipsos, Greece: Viewers Touched by The Art of Zhen Shan Ren Exhibition
(Minghui.org) The Art of Zhen Shan Ren (Truthfulness-Compassion-Forbearance) Exhibition was held in Edipsos, a famous Greek spa resort, on August 1-6, 2023. The artworks exhibited presented two themes. (1) The beauty of Falun Dafa, and (2) In the face of an ongoing brutal persecution, Falun Dafa practitioners are peaceful, rational, unyielding, and can persevere with great compassion and tolerance.
Many residents and tourists praised the event after watching it. Some were moved to tears, and some condemned the Chinese Communist Party's (CCP) persecution of Falun Dafa practitioners.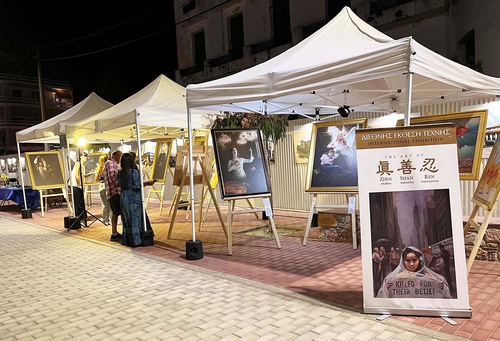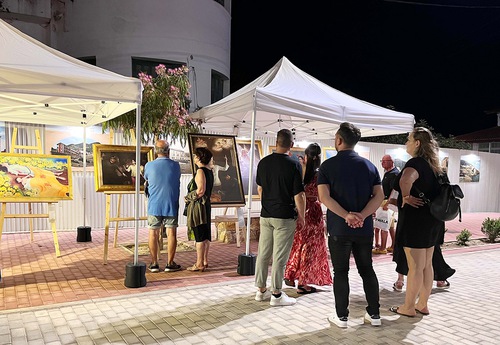 The Art of Zhen Shan Ren (Truthfulness-Compassion-Forbearance) Exhibition was held in Edipsos, Greece o August 1-6, 2023.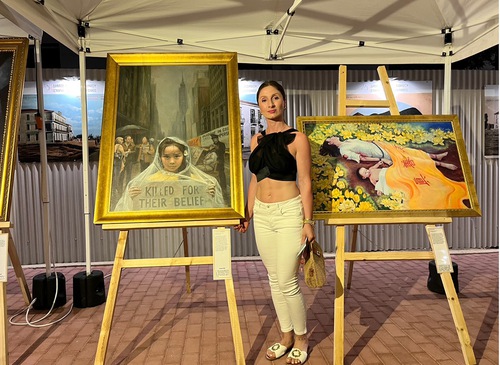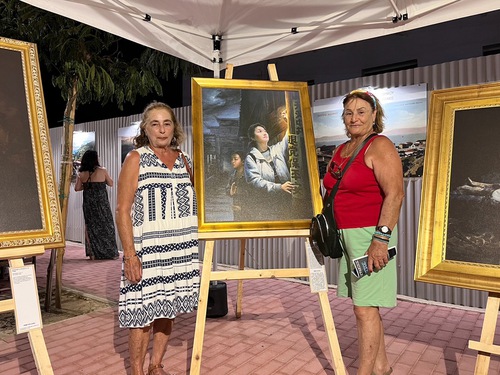 Visitors take a photo with the exhibited artworks.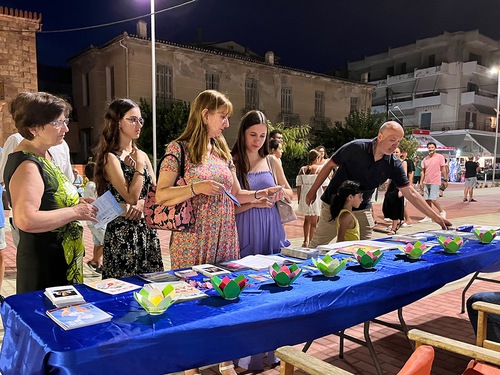 Visitors come to the information table to learn more about Falun Dafa.
Edipsos is located in the north of Evia, the second largest island in Greece, and is famous for its mineral-rich thermal spring water. According to legend, Hercules, the God of Greek mythology, would bathe in this water after a battle to restore his vitality. Many well-known personalities also vacationed at that place in modern times, such as former British Prime Minister Winston Churchill, Greek ship tycoon Aristotle Onassis, soprano Maria Callas, and Swedish national treasure film actress Greta Garbo.
The art exhibition was supported by the local township who provided tents and lights for free. Practitioners set up a Falun Dafa information table next to the tents, did exercise demonstrations, and passed out small gift lotus flower ornaments with the label "Truthfulness-Compassion-Forbearance is good, Falun Dafa is good."
Art Exhibition Touches People's Hearts
Lavda Evridiki (left)
Local resident Lavda Evridiki looked at the paintings carefully, and shed tears after being told by a practitioner the stories of "Dafa Disciples in Prison" and "A Tragedy in China." She also left her contact information, and asked the practitioner to inform her of the next art exhibition.
Another woman also shed tears when viewing the art exhibition. The paintings showing scenes of the CCP's torture of Falun Gong practitioners made her feel very sad. When talking about the persecution in China, she said, "The devil has come, and it does all those terrible things that are happening, but some day in the near future the devil will be eliminated, and the day of judgment will come."
A woman who lives nearby has visited the exhibition several times. She said, "I'm very touched, very touched, because it expresses an expression of anguish in each art piece I saw, especially the young girl in the painting "The Call of Innocence." It is a very nice art piece and I hope all the rest of the world to feel what those people (Falun Dafa practitioners being persecuted) felt."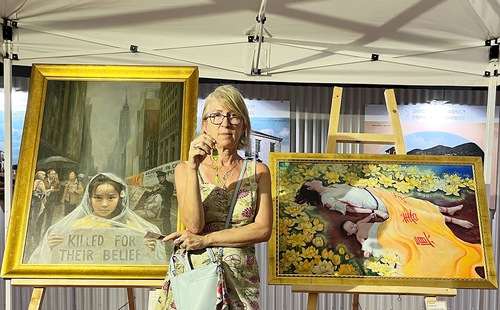 Jeanie from London UK
Visitor Jeanie from London is a human rights activist. When a practitioner introduced the facts that the CCP harvests organs from living Falun Gong practitioners, she said, "It's terrible!" and immediately translated what she learned for the people who came with her.
She said that she didn't expect such a terrible thing to happen, and would take actions in efforts to help change the world.
The wife of a couple who had traveled to China was very touched by the expression of the woman when she saw the painting "A Tragedy in China." She said that she felt many feelings of "sadness" and "courage" despite her difficulties. She said she admires Chinese culture and its 5,000-year history, and is aware that the current Chinese communist regime is destroying traditional Chinese culture. She hopes this will change in the future. The couple said they wish all the best to practitioners for all their efforts.
Falun Gong Gets Attention
Falun Dafa (also called Falun Gong) practitioners demonstrated the exercises next to the information table during the exhibition, which caught people's attention. Many people stopped to watch, and some came to learn the Dafa exercises. Some people felt that the CCP's persecution sounded unbelievable, and asked, "Are people being persecuted by (the CCP) because they do exercises like this?" After learning the facts, people condemned the CCP's irrationality and evil nature.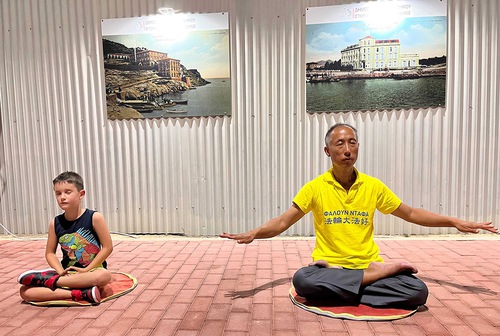 A boy learns the meditation exercise.
Visitors' Thank-you Messages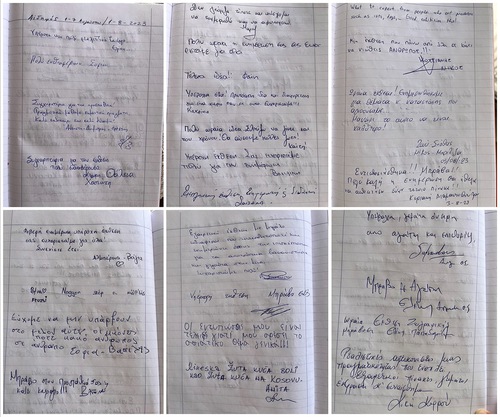 Part of the visitor comments
A viewer named Kate wrote, "Very nice idea, I hope it will be held next year, we will save a lot of lives."
Painter Kiki Korou praised what he saw, "Realistic illustrations of a reality that some (the CCP) don't want to see, excellent paintings full of expression and emotions."
Mr. Sotirou wrote, "Excellent and very interesting exhibition that raises awareness about the hideous tortures in China. Thank you very much!"
Zoi Stathis and Nikos Mariliza wrote, "Very nice exhibition. We learn about issues and situations that we were not aware of before. I hope for a better future."
Copyright © 2023 Minghui.org. All rights reserved.