46-Year-Old Woman Dies Four Years After Being Jailed for Almost Seven Years for Her Faith in Falun Gong
(Minghui.org)
Chinese Name: 彭学萍English Name: Peng XuepingGender: FemaleAge: 46City: KunmingProvince: YunnanOccupation: UnknownDate of Death: July 11, 2023Date of Most Recent Arrest: December 20, 2012Most Recent Place of Detention: Yunnan Province Second Women's Prison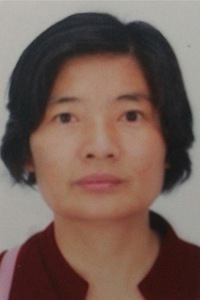 Ms. Peng Xueping
A 46-year-old woman in Kunming City, Yunnan Province, died on July 11, 2023, about four years after she served almost seven years for her faith in Falun Gong, a mind-body practice that has been persecuted by the Chinese Communist Party since July 1999.
Ms. Peng Xueping began to practice Falun Gong in 2003 and soon became pregnant, having struggled with infertility for years. She also learned to be a good person by following Falun Gong's principles of Truthfulness-Compassion-Forbearance. She once commented that she felt so fortunate to have come across Falun Gong in a chaotic society with rapidly declining morality. As such, she worked hard to raise awareness of the persecution and spread the goodness of Falun Gong.
Ms. Peng was arrested on December 20, 2012 and later sentenced to eight years in the Yunnan Province Second Women's Prison, where she was brutally tortured and forced to do hard labor without pay.
Ms. Peng was released ahead of time, in August 2019. After she returned home, she faced constant harassment and intimidation from authorities. The mounting pressure took a toll on her health and she became gravely ill and died four years later.
The following is Ms. Peng's personal account of her ordeal.
Arrested and Interrogated
Three fellow practitioners and I went to distribute Falun Gong information materials at villages in Lufeng County in Chuxiong Yi Autonomous Prefecture in Yunnan Province on December 20, 2012. The main material was a DVD of the Chinese New Year Global Gala with dance and music performances based upon traditional Chinese culture. It also highlighted how the communist regime persecutes Falun Gong and how the practitioners stand up to the tyranny with strong conviction. Unfortunately, we were reported to the police and arrested by officers from Tuo'anxiang Police Station.
The officers grabbed fellow practitioner Ran Xiaoman's hair and my hair, forcibly put our hands behind our backs, stuffed us into my car and drove us to the police station. They continued to pull our hair after getting out of the car.
I was surprised to see my mother-in-law Liu Cuixian there, who was also arrested for distributing DVDs. She tried to stop the police from beating me, only to be slapped in the face herself and kicked to the ground. The police forced us to squat on the ground.
The police later took each of us into a separate room for interrogation. I was so scared that I lied to them saying that I was paid to give my fellow practitioners a ride. Soon several agents from Lufeng County Domestic Security Office came and searched us. They confiscated the rest of the DVDs found in my car and forced us to put our fingerprints on the confiscation list. We were not allowed to eat or use the bathroom until midnight.
Home Raid and Detention
The next day the interrogation resumed at around 6 a.m. We refused to tell them our names and addresses. The police took photos of us and gave them to officials in nearby villages, who then went door to door to ask if the villagers received any informational materials, and to identify who gave it to them.
The interrogation ended at 7 p.m., and we were taken to the county's hospital for medical checkups. We were taken to Lufeng County Detention Center at around 11 p.m.
During our detention, police ransacked my and my mother-in-law's residences.
Barred from Meeting with Lawyer and Wrongfully Sentenced
My family hired a human rights lawyer from Beijing to defend me, but the authorities blocked the lawyer from visiting me for the over ten trips he made to the detention center. The lawyer also wasn't allowed to review my case documents.
When the Lufeng County Court held the first hearing of our case in late April 2013, we saw armed police standing on both sides of the narrow road when we were taken there. When I arrived at the courtroom, I saw my lawyer being pushed out of the courtroom by the bailiffs, who claimed that my lawyer had violated legal procedure.
We requested that the judge postpone the hearing, but to no avail. Without legal representation, we had no choice but to enter not guilty pleas for ourselves.
A few days before the second hearing on May 31, 2013, the presiding judge Li Liangsheng, and judges Yang Yueming and Zhu Yan, came to the detention center and told us that the lawyers we hired could no longer defend us, but the judges could appoint lawyers to represent us free of charge. I asked them, "Will the lawyer you appointed enter a not guilty plea for me?" They said no. I refused to accept the lawyer.
During the second hearing, I demanded to have witnesses appear in court to accept cross examination, but no one showed up. I also requested the court play the DVD we distributed, but my request was denied as well.
The presiding judge sentenced me to eight years in prison at the end of the hearing, on charges of "organizing and using a cult to undermine the implementation of law," the standard pretext used to criminalize Falun Gong practitioners. My car was also confiscated.
I appealed with Chuxiong Yi Autonomous Prefecture Intermediate Court in June 2013, but it ruled to uphold my original sentence on October 10. I was taken to the Yunnan Province No. 2 Women's Prison on November 1, 2013.
Tortured in the Women's Prison
This prison is the only prison in Yunnan that incarcerates female Falun Gong practitioners. Over the years, it has established a torture system to force practitioners to renounce their faith. I was placed in the ninth division, which is specially set up for Falun Gong practitioners.
At the beginning, all practitioners assigned to the ninth division were forced to sit on a small stool for over ten hours continuously. The surface of the stool was uneven and pockmarked. We had to sit on it straight, and were not allowed to lean against anything or to lower our heads or close our eyes. We were only allowed to drink one cup of water per day and bathe once a week with one basin of water. We had to write an application to the prison guards stating which crime we committed if we wanted to buy daily necessities. Even if the application got approved, we could only buy a few items, worth no more than 50 yuan in total. We were also deprived of the right to see, call, or write to our families.
I spent about four months in the ninth division and I felt each day was like a year. Worried about my children and unable to bear the persecution any longer, I wrote a statement to renounce Falun Gong against my will. I regret it so much and I hereby declare that all the words and actions I have done under the persecution in the prison are null and void.
I was transferred to the fifth division and assigned to make clothing. I was monitored by the inmates around the clock. They wrote down everything I did and reported to the prison guards on a daily basis. Anytime I talked to a fellow practitioner, they reported it to the guards. Guard Zhang Yingxin once ordered me to write a thought report, but I refused. Then Zhang ordered inmate Baowang to write it on my behalf and I didn't know what was written at all.
While making the clothes, we had to be highly focused while working, as the slightest inattention would cause the needle to pierce through the fingernails. Sometimes we had to work over ten hours a day. Some inmates put the shell of a sunflower seed between their eyelids to prevent themselves from falling asleep. Almost everyone in the group had their fingers pricked by the needles. But most would hide the wound, to avoid being verbally abused by the guards or lose their points for term reduction. The workshop was so dusty that I also developed serious rhinitis.
Although I was allowed to see my family in the fifth division, our meetings were monitored and video-recorded the entire time. To protest the persecution, I refused to attend the meetings several times, before the guards finally stopped video-recording us.
Harassment After Release
I was released in August 2019. A guard took a few photos of me at the prison gate. Officers from Zongshuying Police Station in Kunming City drove me to the police station. They took my fingerprints and a blood sample. They also followed me to the hair salon and took a strand of my hair. They went into my home before I did and took photos of everything. My sister happened to be at my home and she witnessed what they did.
The next day, police officers from Hongshan Police Station (in charge of my residence) came to check on me. One officer said he might come to find me at anytime. A few days later, they called my husband and told me to go to the police station. I didn't do anything wrong, so I decided to face them openly and squarely. When they requested to take a photo of me and sign a statement, I refused.
I went with my mother-in-law, husband, and son, in early 2020, to visit my mother in Lufeng County. I hadn't seen her since I was detained. However, on the way back at the train station, we were surrounded by a group of police officers who claimed that they received instructions from above and needed to search us. They didn't find anything and let us leave.
The second day after I came back home, two officers from Hongshan Police Station came again. I protested the harassment and told them what they were doing was illegal.
Related Reports:
Middle Aged Woman Sentenced to Eight Years for Distributing DVD Promoting Chinese Traditional Culture
Four Women Sentenced for Up to Ten Years for Distributing Shen Yun DVDs
Ms. Liu Cuixian and Three Other Practitioners in Kunming Illegally Tried Again
Officials Sued for Interfering with Meetings Between Lawyers and Their Clients
A 10-Minute Show Trial for Four Practitioners in Lufeng Court
All content published on this website is copyrighted by Minghui.org. Non-commercial reproduction must include attribution (e.g. "As reported by Minghui.org, ...") and a link to the original article. For commercial use, contact our editorial department for permission.