Ottawa: Rally at Chinese Embassy to Protest the Persecution, Members of Parliament Call for Sanction of Perpetrators
(Minghui.org) Practitioners held activities in front of the Chinese Embassy in Ottawa, Canada's capital, at noon on July 20, 2023, to protest the Chinese Communist Party's (CCP) 24-year-long persecution. They demanded that the CCP immediately end the persecution and release all illegally detained Falun Gong practitioners, including Canadian family members.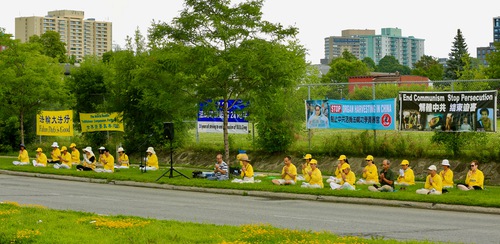 Practitioners gathered at the Chinese Embassy to protest the CCP's persecution.
Two Members of Parliament (MPs) said that people must speak up to protest the persecution and, with their allies, pass legislation to sanction the perpetrators.
MPs Commend Practitioners
As the co-chair of Canada's Parliamentary Friends of Falun Gong, Garnett Genius MP said that, over the past 24 years, Falun Gong practitioners have played an important role in raising awareness of the CCP's persecution and violence.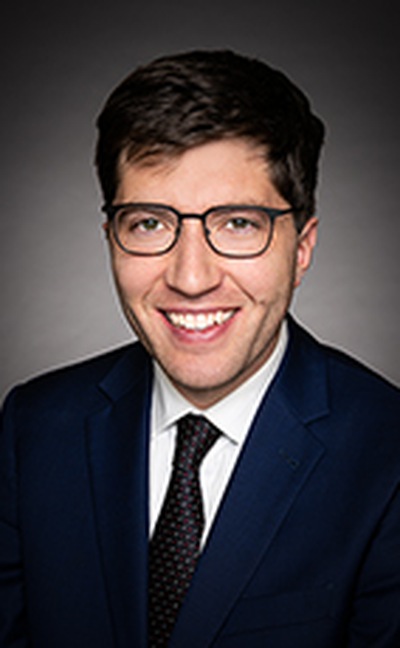 Garnett Genius MP (from the Canadian Parliament's official website)
"I think Falun Gong practitioners have been incredibly effective in bringing attention and awareness to the persecutions that are ongoing," Genius MP said. "They have employed so many different ways of raising awareness, but also sharing traditional Chinese culture as part of those awareness-raising efforts."
He encouraged them to keep raising awareness and said, "There's a lot more work to do. And there are a lot of headwinds, but I think there is a growing awareness of what the CCP is trying to do in our societies."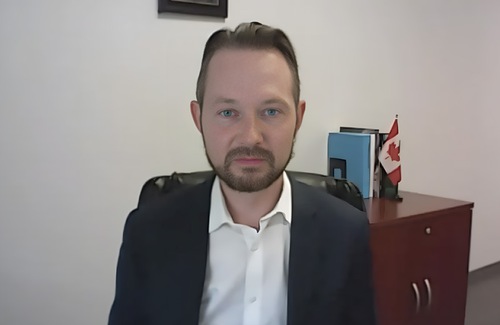 Michael Cooper MP supports practitioners' peacefully protesting the persecution.
Michael Cooper MP expressed support for Falun Gong practitioners around the world in their peaceful protests in an exclusive interview on July 19. He said, "We hear you and we know what is happening and the world knows what is happening. And justice must prevail, and the perpetrators of these gross human rights violations must be held accountable.
"And it has been 24 years, 24 years in which Falun Gong practitioners have been subjected to torture, extrajudicial killings, forced organ harvesting, and these are among the most egregious of human rights violations imaginable and they're being perpetrated by the Chinese communist regime.
"And as a member of Parliament, I'm going to continue to highlight these human rights violations at every opportunity that I have available and to call for the Government of Canada to take action, including the imposition of sanctions actions."
Minghui.org has confirmed the deaths of thousands of practitioners as a result of the persecution over the past 24 years. The actual number is believed to be much higher. Countless practitioners have been imprisoned and tortured for their faith.
When the persecution began Mr. Wang Yang, a senior engineer of a multinational software company, had only been practicing Falun Gong for one year. He was living in Beijing at the time. He was plagued by illnesses, but after he began to practice, his body and mind underwent earth-shaking changes. His ailments disappeared and his moral standards improved. But because of his belief in Truthfulness-Compassion-Forbearance, he was persecuted and sent to a forced labor camp.
During the rally in Ottawa on July 20, Mr. Wang said that it is very important to persist in raising awareness. "Especially in this situation that there is no true information in China because the CCP controls all the media and everything else. The longer this situation continues, the more it is necessary to let the people of the world know the truth."
Many people in passing vehicles honked their horns to show their support for the practitioners' peaceful protest.
MP: The CCP Regime Is Hostile
Mr. Liu Zhiyuan is currently studying at Carleton University in Ottawa. In the past, his father, Liu Zhoubo, was illegally sentenced to nine years in prison because he refused to give up his belief in Falun Gong. He was tortured. Last year, Liu Zhoubo was detained again by the CCP for sending Falun Gong text messages in the Beijing subway. At the end of March this year, he was sentenced to three and a half years in prison.
Ms. Sun Qian, a Canadian citizen and Falun Gong practitioner, has been illegally imprisoned by the CCP since 2017. In 2020, she was sentenced to eight years in prison.
Michael Cooper MP said in the interview that the Canadian government needs to seize every opportunity to raise this issue with the CCP. He said, "I can't imagine the suffering that Sun and other Falun Gong practitioners are experiencing at the hands of the CCP. I know that I, along with my colleagues, will continue to speak out, will continue to raise this issue and press the government and press the Minister of Global Affairs to keep this case alive and to apply whatever pressure as necessary to seek their release.
"My heart goes out to them and to their families. I think cases like these underscore that we need to treat the Beijing regime for what it is, which is a hostile regime, hostile to the interests of Canada and hostile to the rights of Canadians."
Concrete Actions Needed to Stop the Persecution
Although Canada was the first country to publicly condemn the persecution after it began in 1999, Cooper MP said that condemnation is one thing but taking concrete action is the most important thing, and the Canadian government has not taken concrete actions.
He said that Canada should work with its allies to impose sanctions on the CCP, especially those Chinese officials who have seriously violated human rights. The Canadian government should rebuild the Office of Religious Freedom, an office established by the former Harper Conservative Party government to monitor and expose religious persecution, including the persecution of Falun Gong practitioners.
He suggested that the government uses Magnitsky sanctions, "to hold Chinese communist officials who have engaged in egregious human rights violations against peaceful Falun Gong practitioners accountable. The key CCP officials involved in this persecution have been well documented. It's time for the Government of Canada to follow through on words of condemnation and actually take action by imposing sanctions and working with other countries to impose sanctions.
"The United States has recently imposed sanctions against certain CCP officials engaged in these human rights violations. It's time Canada follows."
About stopping the persecution, Genuis MP said, "More broadly, in terms of the persecution, I think this is something that Canada needs to continue to speak out about, that legislators need to continue to speak out about."
Regrading rescuing Canadian citizen Sun Qian and the relatives of Canadians who are being persecuted, Genuis MP said that, beside speaking out, other things need to be done, such as, rally international support; engage and collaborate with other like-minded allies, including the Biden administration; engage on these issues with the families; and have the government prioritize these cases.
Live Organ Harvesting Ongoing, S-223 Bill Is a Key Step to Stop It
On July 18, the Organization for Investigating the Persecution of Falun Gong released the testimony of a victim of organ harvesting. (https://www.zhuichaguoji.org/node/139941).
On April 28, 2019, Zhang Xiuqin, a Falun Gong practitioner in Harbin, had her organs harvested in the Department of Infectious Diseases of the 962nd Hospital of the PLA (People's Liberation Army) Joint Logistics Support Force (formerly the 211th Hospital of the PLA). When the hospital staff cleaned up the remains, Zhang Xiuqin woke up and was discovered by a conscientious doctor. As she was dying, she recounted being tortured and abused by the CCP authorities and having her organs removed from her while she was alive.
Cooper MP said that this was "extremely serious," that these extraordinary human rights abuses are taking place, and that they are being directed by the communist regime in Beijing.
Canadian independent investigators—the late David Kilgour, former director of the State Department Asia-Pacific, and international human rights lawyer David Matas—testified in Parliament in 2018 that, as of mid-2016, China was carrying out at least 60,000 transplants every year, which means that about 150 people in China were killed for their organs every day.
To stop the live organ harvesting, Genuis MP said, "One of the first critical steps that we've taken in this Parliament was to finally pass Bill S-223. It was a private member's bill that Conservative Senator Selma Ataullahjan put forward in the Senate and [that] had been persistently put forward. I sponsored that bill in the House of Commons to allow it to finish its legislative journey. We finally got it done last year, which was a critical step that makes it a criminal offense for a person to go abroad and receive an organ taken without consent."
He said there would be more work to do in implementing the law.
Legislation Needed to Impede the CCP's Infiltration
Over the years, Falun Gong practitioners in Canada have also been threatened, harassed, and intimidated by CCP agents. The call between Liu Zhiyuan in Canada and his mother in China was monitored. He later received a threatening email from a stranger, warning him not to speak up for his relatives outside of China.
Cooper MP said that the CCP's interference with Chinese Canadians, including Falun Gong practitioners, is a serious problem. He said, "It is a violation of our sovereignty, and it is a threat to the safety and security of Canadians. And much of these interference activities are being directed through Beijing's embassy and Beijing consulates, including their offices in Toronto and Vancouver. And so we need to see that any Beijing diplomat involved in these kinds of activities is immediately expelled from Canada."
He also said Canada needs to do the same as the U.S. Justice Department's FBI, which recently charged two individuals involved in illegal Chinese police stations in the U.S.
All content published on this website is copyrighted by Minghui.org. Non-commercial reproduction must include attribution (e.g. "As reported by Minghui.org, ...") and a link to the original article. For commercial use, contact our editorial department for permission.