76-Year-Old Woman Sentenced to 7 Years, Now Hospitalized for Unknown Health Issues
(Minghui.org) A 76-year-old woman in Tonghua County, Jilin Province, was sentenced to seven years in early 2023 for her faith in Falun Gong, a mind-body practice that has been persecuted by the Chinese Communist Party since July 1999.
The details of Ms. Lu Zhenyue's trial (if any) remain to be investigated. She is currently hospitalized for unknown health issues.
Ms. Lu was returning home at around 11 a.m. on July 18, 2022, when she noticed a black police cruiser parked outside her apartment building and nine officers standing next to it. She sensed something was not right and walked past her apartment building instead of entering it. But the officers spotted her and seized her before she could get very far.
Zhu Wenxin, captain of the Tonghua County Domestic Security Office, and eight officers raided Ms. Lu's home after flashing a search warrant. They searched every nook and cranny of her apartment except the bathroom. Many of her personal belongings were confiscated, including more than 50 Falun Gong books, a portrait of Falun Gong's founder, two magazines, some self-adhesive stickers bearing information about Falun Gong, a music player, a cell phone, and 700 yuan in paper currency with Falun Gong messages. [Because Falun Gong practitioners are denied legal channels, they use creative means to raise awareness of the persecution, including printing Falun Gong information on paper currency.]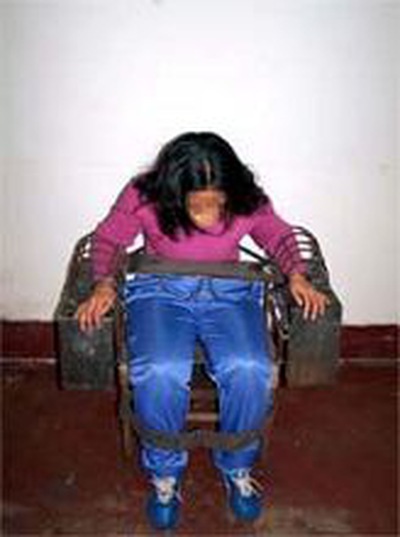 Torture reenactment: Iron chair
The police took Ms. Lu to the domestic security office and restrained her in an iron chair. They took turns interrogating her and asked her numerous questions, such as who told her about Falun Gong, how long she had been practicing, why she started, who gave her the magazines and other Falun Gong materials, and how practitioners passed the materials to each other.
Ms. Lu refused to answer their questions. They then showed her screen grabs from several surveillance videos recorded around late December 2021 that showed her using currency bills with Falun Gong messages printed on them to make purchases at various local supermarkets. They also showed her that they'd confiscated 3,800 yuan in those bills from the supermarkets in questions and alleged that both the videos and the money were evidence that she had broken the law.
During the interrogation, other officers raided Ms. Lu's home twice.
The interrogation lasted until close to midnight. The police then released her on bail and warned her not to go anywhere without their permission.
It's unclear which court sentenced her in early July 2023 or what health issues landed her in the hospital.
All content published on this website is copyrighted by Minghui.org. Non-commercial reproduction must include attribution (e.g. "As reported by Minghui.org, ...") and a link to the original article. For commercial use, contact our editorial department for permission.