Beijing Woman Given Prison Term of Eight Years for Her Faith in Falun Gong
(Minghui.org) A resident of Haidian District, Beijing was arrested on March 9, 2021 for her faith in Falun Gong, a mind-body practice also known as Falun Dafa that has been persecuted by the Chinese Communist Party since July 1999. 
It was recently learned that Ms. Han Chunbo was sentenced to eight years by the Fangshan District Court and that her appeal has been rejected by the Beijing Second Intermediate Court. The details of her trial and appeal remain to be investigated. 
This is not the first time that Ms. Han, in her 60s, has been targeted for her faith. She was given two years of forced labor in 2008 and sentenced to three and a half years in prison in 2015. 
Two Years of Forced Labor
Several officers from the Qinglongqiao Police Station in Haidian District arrested Ms. Han at a supermarket in 2008. She was detained at various facilities, including the Qinghe Detention Center, Sujiatuo Lockup, and the Beijing Forced Labor Detainees Dispatch Center. 
The Beijing Forced Labor Detainees Dispatch Center sold Ms. Han to the Hohhot Women's Forced Labor Camp in Inner Mongolia after she was given two years of forced labor. According to an insider, the labor camp paid 800 yuan to the dispatch center.
The labor camp guards tortured detained Falun Gong practitioners at will. They were even more cruel towards out-of-province practitioners like Ms. Han. The practitioners were punched and kicked, had their hands cuffed, were deprived of sleep, and denied restroom use. To prevent the practitioners from shouting "Falun Dafa is good," the guards taped their mouth shut. The guards also forcibly washed the practitioners' hair with dirty water used to mop the floor.
Any practitioner who refused to do the unpaid labor would be subjected to severe torture, including being forced to squat or stand indoors for long periods of time, or stand outdoors from 5 a.m. to 10 p.m. (either during the freezing winter or hot summer). 
Another torture often used by the guards was to cuff the victim's hands and hang her up by the wrists (see image below). The handcuffs cut into the flesh, causing excruciating pain. The victim would not be let down until she fainted.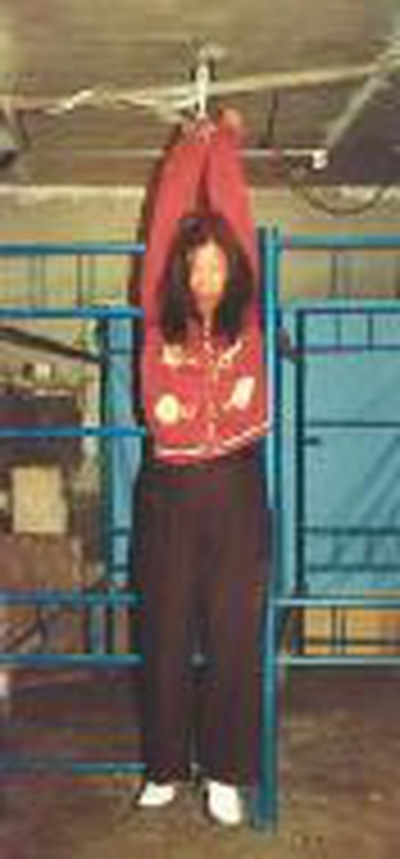 Torture reenactment: hung up by the wrists
Three and a Half Years of Prison
Ms. Han was arrested at Yonghui Supermarket in Haidian District at the beginning of 2015. The arresting officers were from the Huilongguan Police Station of the Changping District Branch of the Beijing Public Security Bureau. They took her to the Changping District Detention Center. 
Upon Ms. Han's arrival, the guards and the head inmate held her down and put torture instruments on her hands, feet, and back. She was forced to wear them 24 hours a day for nearly eight days. During the day, she was also forced to work and was often beaten and verbally abused. At night, she was in even more unbearable pain from being restrained by the torture devices and had trouble breathing.
Ms. Han was sentenced to 3.5 years by the Changping District Court on January 14, 2015. The presiding judge was Yang Weidong, and the assistant judges were Sun Ping and Zhao Huiyun. The clerk was Xiong Wenchao.
Ms. Han filed an appeal and the Beijing First Intermediate Court ruled to uphold her original verdict without holding a hearing. The presiding judge in charge of her appeals case was Sun Qinghong, with Yang Liang and Fan Lin as assistant judges. The clerk was Gu Xin. 
Ms. Han was transferred to Beijing Women's Prison, where she was subjected to various forms of abuse at the hands of the guards and the inmates. They often beat her and denied her restroom use. They also didn't allow her to drink water, wash herself, or purchase daily necessities. They reduced her food portion at will. They forced Ms. Han to work overtime and cut her sleep time. They forced her to relieve herself in the basin she used to wash her face. During the winter they stripped her naked and then poured cold water over her head. They also scratched and injured her back with sharp objects. 
While she was serving time, Ms. Han received a divorce decree from the Haidian District Court, which stated that she was divorced because she broke the law and that her ex-husband was given all their marital assets.
After she was released in 2018, Ms. Han was still harassed and intimidated from time to time by the authorities. 
Perpetrators' contact information:
Fangshan District CourtAddress: No. 10 Zhengtong Road, Gongchen Street, Fangshan District, Beijing (Postal Code: 102488)Tel: +86-10-89366877Presiding Judge: Dong JieAssistant Judges: Zhang Enlan, Guo DianchenClerks: Li Chao, Zhang Linlin
Fangshan District ProcuratorateAddress: No. 14 Zhengtong Road, Liangxiang, Fangshan District, Beijing (Postal Code: 102488)Tel: +86-10-81389810Prosecutor: Sui DanAssistant: Yang Dan
Beijing Second Intermediate CourtAddress: No. 10, Fangzhuang Road, Fengtai District, Beijing (Postal Code: 100078)Tel: +86-10-87552367Presiding Judge: Wang MinAssistant Judges: Li Kai, Wang HongboClerks: Zhao Xin and Shen Yi
All content published on this website is copyrighted by Minghui.org. Non-commercial reproduction must include attribution (e.g. "As reported by Minghui.org, ...") and a link to the original article. For commercial use, contact our editorial department for permission.