Moscow, Russia: The Art of Zhen Shan Ren International Exhibition Sparks Interest in Falun Dafa
(Minghui.org) The Art of Zhen Shan Ren International Exhibition was held in Mytishchi, Russia, on March 4 and March 5, 2023. Many locals from the Krasny Kit Mall stopped by and visited at the art gallery.
The art pieces portrayed practitioners' unwavering spirit and steadfast determination to hold to their belief in Falun Dafa while facing the Chinese Communist Party's (CCP) persecution.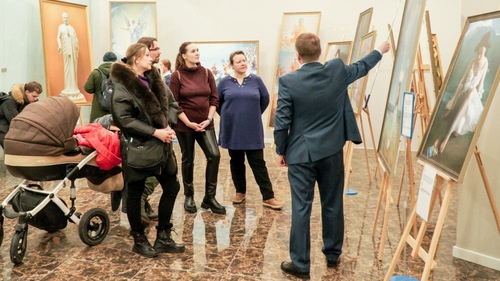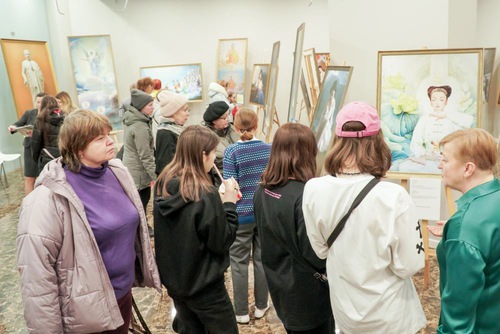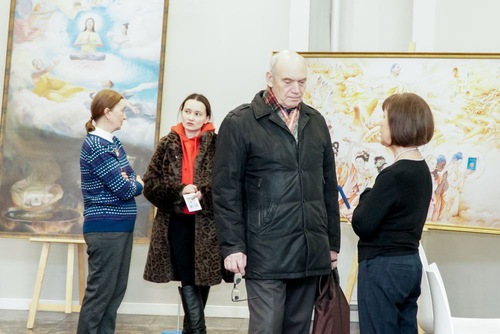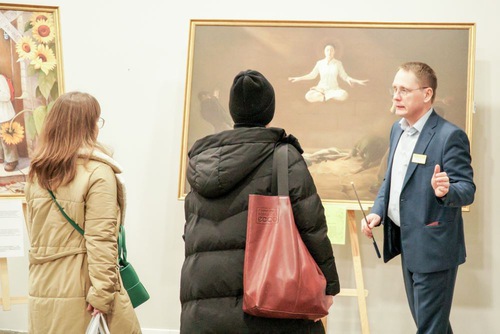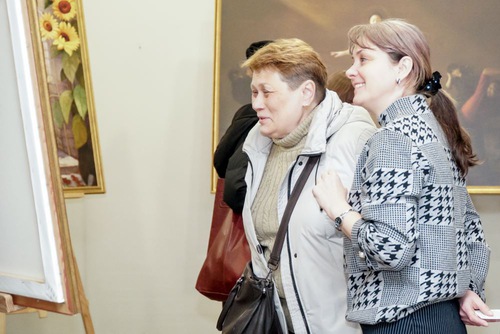 Visitors view the paintings in the Art of Zhen Shan Ren International Exhibition. Some chatted with Falun Dafa practitioners.
Roman, a sales representative and former news reporter, is currently learning how to sketch and draw. "The theme of this art exhibition is about love, benevolence, and how humankind should self-perfect," he said. "Regardless of the environment one is in, this is a quality that humans should have. The Falun Dafa practitioner in the art piece has achieved spiritual unity and highest level of compassion. She has surpassed everything.
"After viewing the painting, I've concluded that I need to pay attention to perfecting myself. For example, meditation is important because it connects one with higher beings," Roman said.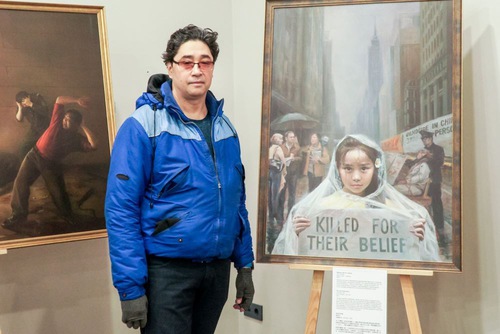 Roman in front of a painting
Anastasia, an engineer, and her daughter visited the art exhibition. Anastasia said, "The art pieces have a deep meaning. Each piece portrayed Falun Dafa practitioners' positivity and compassion. Despite tribulations in life, as long as one persists, one will elevate. Humans have the saying that kindness always prevails."
Her daughter said, "I can feel compassion from these art pieces. I also like the piece with the angel in white. Angels are always compassionate."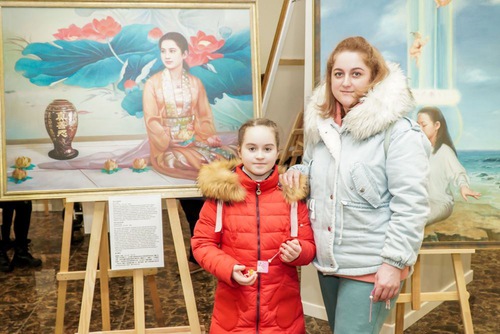 Anastasia, an engineer, and her daughter
Gevorg, a karate instructor, said, "I am grateful to the organizers of this art exhibition, because these art pieces left a deep impression on me. Practitioners have explained the paintings very well and I was empathetic toward the practitioners depicted in the paintings. Each piece had a soul in it and I was deeply touched by it. Through these art pieces, I've learned that kindness will always prevail. The kind will be rewarded for their kindness and the evil will meet retribution."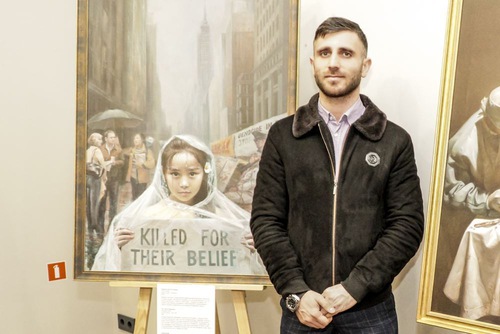 Gevrog, a karate instructor
Diana, Luminisa, and Eugene are college students who went to view the exhibition.
Eugene said, "The art exhibition touched on an important topic of CCP's ongoing persecution. I didn't know that the persecution existed in our modern world. This art exhibition left a deep impression on me, and I learned more about Falun Dafa. The art pieces are beautiful and touched my soul."
Eugene studies at a sports institute. She said, "I like how Falun Dafa practitioners exposed the persecution through this art exhibition. I did not know that the CCP is brutally persecuting Falun Dafa practitioners. More people should come and visit this art exhibition to understand the world a little bit more. Life is short and we should not waste our time on bad things."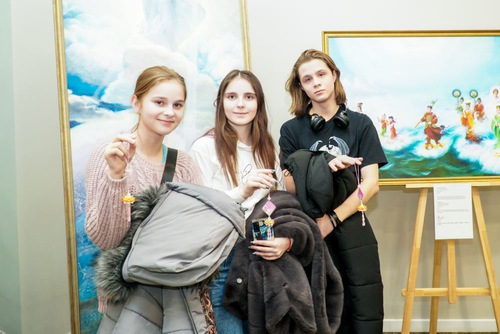 Diana (left), Luminisa (middle), and Eugene (right)
Diana said, "I liked these art pieces and it was inspiring. This exhibition raised the issue of the CCP's ongoing persecution. Falun Dafa practitioners meditate to cleanse their souls. It is terrible that they are being persecuted because of this."
A lady wrote in the guest book, "It has been as if I have entered into another world! This exhibition left a deep impression on me. It is an encouraging and sincere exhibition. It's hard to encounter something like this in our materialistic world. I am fortunate to have attended, and this was way beyond my expectations. Everything seemed to come to us when we most need it. I am touched to tears by these art pieces. I did not expect this myself. I am grateful to practitioners for bringing kindness into the world through art."
Background: What Is Falun Dafa and Why Is the CCP Persecuting It?
Falun Dafa (also known as Falun Gong) was first introduced to the public by Mr. Li Hongzhi in Changchun, China, in 1992. The spiritual discipline is now practiced in over 100 countries and regions worldwide. Millions of people who have embraced the teachings, which are based on the principles of Truthfulness, Compassion, and Forbearance, and have learned the five exercises have experienced improved health and well-being.
Jiang Zemin, former head of the Chinese Communist Party (CCP), perceived the spiritual discipline's growing popularity as a threat to the CCP's atheistic ideology, and on July 20, 1999, he issued an order to eradicate the practice.
Under Jiang's personal direction, the CCP established the 610 Office, an extralegal security organization with the power to override the police and judicial systems and whose sole function is to carry out the persecution of Falun Dafa.
Minghui.org has confirmed the deaths of thousands of practitioners as a result of the persecution over the past 24 years. The actual number is believed to be much higher. Countless practitioners have been imprisoned and tortured for their faith.
There is concrete evidence that the CCP sanctions the harvesting of organs from detained practitioners, who are murdered to supply China's organ transplant industry.
All content published on this website is copyrighted by Minghui.org. Minghui will produce compilations of its online content regularly and on special occasions.