Introducing Falun Dafa During a Series of Activities in Serbia
(Minghui.org) Local practitioners held an activity near the National Theater in Subotica, the fifth largest city in Serbia, on Saturday, November 16, 2023. Although it's November, many residents came out to enjoy the unusually warm, sunny weather. Upon hearing the gentle music and seeing people dressed in yellow practicing exercises, some stopped to learn about Falun Dafa and the Chinese Communist Party's (CCP) persecution.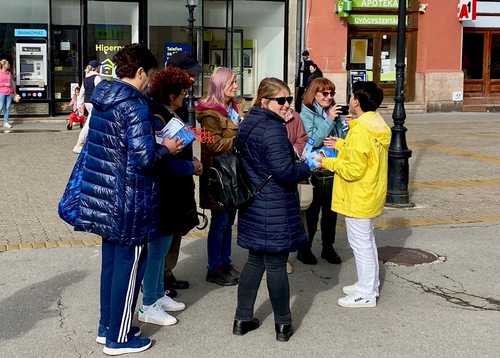 People stopped to learn about Falun Dafa and the CCP's persecution in China.
A policewoman on duty said, "It seems you are the biggest attraction in Subotica. Can you tell me what's it all about?"
A practitioner explained that Falun Dafa is ancient Chinese practice for cultivation of mind and body, and gave her a flyer to help her better understand why it has been persecuted by the CCP since 1999.
Some other locals learned about the event from social media and came to get more information and learn the exercises. A YouTuber, Snezana, was interested in the health effects of Falun Dafa and the persecution in China. She made videos which she plans to publish on her YouTube channel.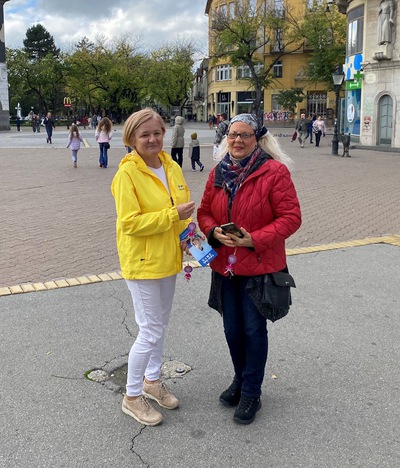 Snezana made videos for her YouTube channel.
"A Golden Glow"
One of those who specifically came to learn the practice was Livia. This was her second encounter with Falun Dafa.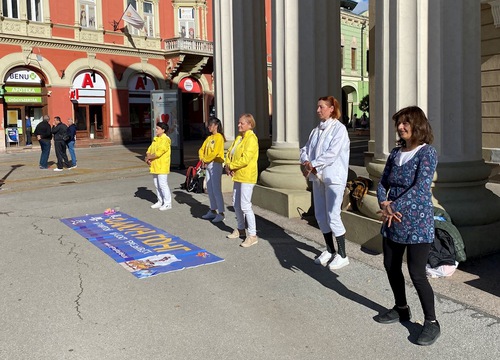 Livia (second from right) and Natasha (first from right) learn the exercises.
Livia said, "Four or five years ago, I read an article in the newspaper in which different types of exercises were described, such as Tai Chi, and qigong. Falun Dafa was also mentioned. It was added in parentheses that it's still strictly banned in China. I wondered what kind of exercises could it be? They must be powerful if China is fighting against it. The words in those parenthesis motivated me to research and learn more. I found the exercise video and listened to the recordings of the teachings. I slowly started practicing by myself, but eventually stopped.
"Today, after only ten minutes of practice, I felt warmth that started from my feet and went through my entire body. It feels like there's a small sun inside my body. And when it stopped in the region of my heart, heat spread everywhere, and it seemed I could see a golden glow inside me.
"I'll continue to practice. This was really a special and wonderful day. Thank you for coming here," she said.
"You Are a Cure for Heart and Soul"
Serbian practitioners have held activities on regular basis since World Falun Dafa Day, May 13. On Saturdays, they visit various cities around Serbia, and they also visited Bijeljina in Bosnia, and Herzegovina.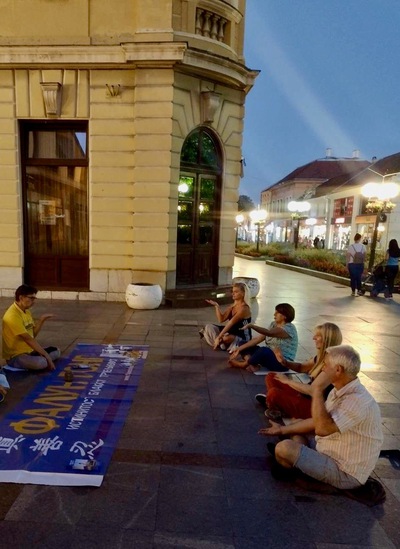 Valjevo residents learn the fifth Falun Dafa exercise.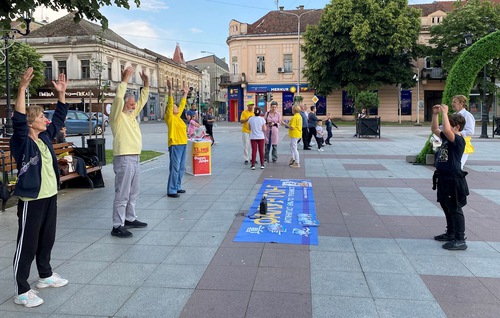 People in Ruma learn the second Falun Dafa exercise.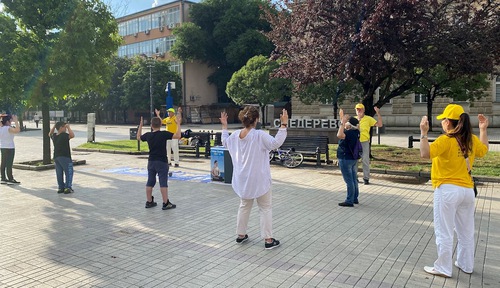 Smederevo residents learn the second Falun Dafa exercise.
Each event was advertised a few days ahead on social media networks, and many people liked the promo video. Some of them, such as Ljubica from Smederevo, sent a message, "Thanks for your visit to beautiful Smederevo. Big hug to you, you are wonderful. You are a cure for heart and soul."
Activities in Belgrade
Serbian practitioners also held multiple activities in the capital, Belgrade, at a major tourist site, the Kalemegdan fortress. Kalemegdan was built by the Serbian king in the 13th Century and was later rebuilt by the Ottoman empire and the Austro-Hungarian empire. Today it's a popular spot frequented by locals and tourists from all over the world, including China.
Hearing the exercise audio and spotting "Falun Dafa is Good" on practitioners' T-shirts, some of them greeted practitioners with "Falun Dafa is good," or smiled. Some accepted flyers.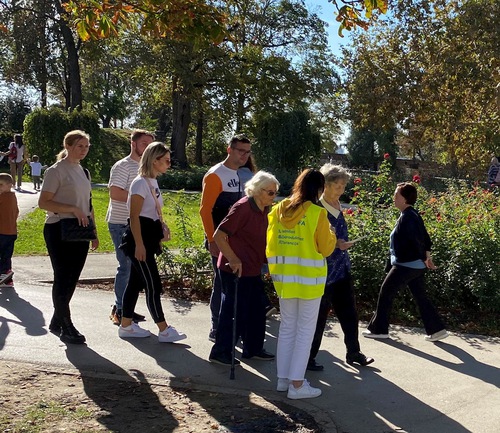 Introducing Dafa at a major tourist spot in Belgrade
When he noticed practitioners doing the exercises, a young man from eastern China was stunned and curious. He didn't expect to see this in Serbia and asked, "Why do you practice Falun Dafa here? Isn't this illegal in China?" A practitioner explained that the news reports about Falun Dafa on Chinese TV are all false, and that Falun Dafa can be freely practiced in every country except China.
When he asked why Falun Dafa was not allowed in China, the practitioner said the CCP is atheist and killed many people. He strongly agreed and said that he knew the truth about the "June 4" incident on Tiananmen Square. He was happy to see Falun Dafa practitioners, and asked for another English language flyer. Before departing, he sincerely said thank you several times.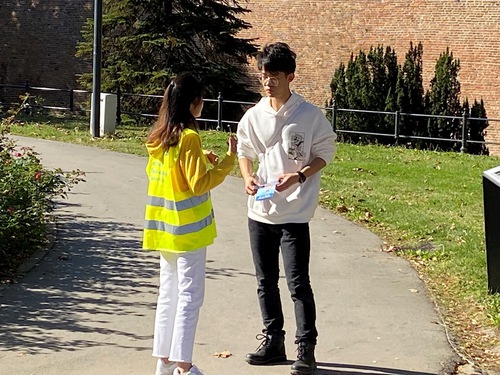 A young man from eastern China said he didn't expect to see Falun Dafa in Serbia.
Practitioners in Serbia plan to continue holding activities throughout the winter.
Copyright © 2023 Minghui.org. All rights reserved.