Ireland: People Learn Falun Dafa in a Dublin Park
(Minghui.org) January 2, 2023 is a public holiday in Ireland. That day, Falun Dafa practitioners went to St. Stephen Green Park in the center of Dublin and did the Dafa exercises. Local practitioners also practice together there every Sunday and teach the exercises to the public.
Although the weather was cold, the air was fresh and the sun was shining. Many people stopped to watch. Some took pictures, and others wanted to learn the exercises.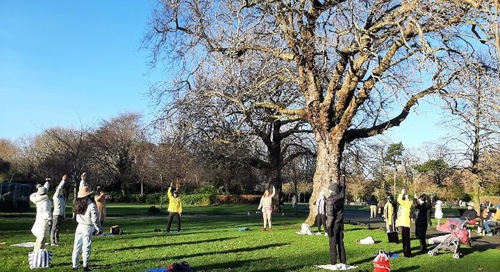 Practitioners regularly do the exercises at St. Stephen Green Park in Dublin.
Victoria is a Dubliner who joined the practitioners in the park a few months ago. She said, "The first time I did the exercises, I felt that Falun Dafa was so peaceful and the exercises were so gentle." So she started practicing Falun Dafa. She said that her life has changed a lot these past few months.
She said that before she began practicing Falun Dafa she was sometimes depressed, and frequently worried about trivial things. After solving one problem, she would worry about the next one. After she began practicing Dafa she became more cheerful and began to actively face her problems. Now she feels that her life is flourishing and full of sunshine every day.
Luke and Filipe were strolling through the park and stopped to talk with practitioners. Practitioner Michael showed them the exercises and explained that the book Zhuan Falun guides practitioners in their daily lives. Luke and Filipe then did the exercises with the other practitioners.
After doing the exercises, the young men talked about their experiences. Luke said he was a native Dubliner. He's seen practitioners on the street before, and he was very interested in learning more about Falun Dafa. After he did the full set of exercises for two hours he said he felt, "comfortable, with strong energy, and that this practice was clean." He said that the fifth exercise, the meditation, was difficult for him, but he persisted and did all five exercises.
Luke said he was really happy to be able to persevere and do all the exercises. "I often suffer from insomnia, and I will definitely have a good night's sleep after doing the exercises today," he said.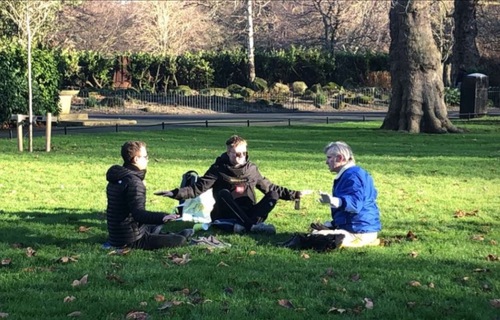 Luke (middle) and Filipe (left) learn the sitting meditation. 
Felipe is from Brazil said that he felt peaceful and relaxed after doing the exercises. "This is the first time I've heard of Falun Dafa. I finished all five exercises. I could do the full lotus position when we meditated." He said he was happy to learn the exercises, and said he felt peaceful and relaxed afterwards.
Background: What Is Falun Dafa?
Falun Dafa (also known as Falun Gong) was first introduced to the public by Mr. Li Hongzhi in Changchun, China, in 1992. The spiritual discipline is now practiced in over 100 countries and regions worldwide. Millions of people who have embraced the teachings, which are based on the principles of Truthfulness, Compassion, and Forbearance, and have learned the five exercises, have experienced improved health and well-being.
All content published on this website are copyrighted by Minghui.org. Minghui will produce compilations of its online content regularly and on special occasions.