Crimes of Hao Shuanji and Song Weizhong, Director and Deputy Director of the Jidong Prison Administration Bureau, in Persecuting Falun Gong
(Minghui.org) Around this year's Human Rights Day on December 10, Falun Gong practitioners in 38 countries submitted a new list of perpetrators to their governments, urging to sanction these individuals for persecuting Falun Gong, including barring from entry and freezing overseas assets. These countries consist of the United States, Canada, United Kingdom, Australia, New Zealand, 22 European Union nations, and 11 additional countries from Asia, Europe, and the Americas. Among the perpetrators listed were Hao Shuanji and Song Weizhong, director and deputy director of the Jidong Prison Administration Bureau in Hebei Province.
* * *
Perpetrator Information
Full Name of Perpetrator: Hao (last name) Shuanji (first name) (郝拴记)Gender: MaleCountry: China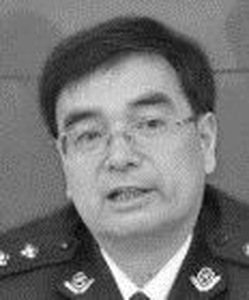 Hao Shuanji
Title or Position
January 2017 – Present: director of the Jidong Prison Administration Bureau
Perpetrator Information
Full Name of Perpetrator: Song (last name) Weizhong (first name) (宋维忠)Gender: MaleCountry: China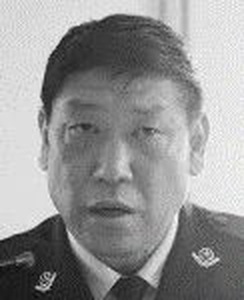 Song Weizhong
Title or Position
2017 – Present: deputy director and member of the Standing Committee of the Party of the Jidong Prison Administration Bureau; former political commissar of the Gaoyang Labor Camp in Hebei Province
Main Crimes
There are nine prison branches under the Jidong Prison Administration Bureau. Most of the male practitioners sentenced in Hebei Province were detained there. To gain promotion and rewards, the prison guards resorted to all kinds of cruel methods to force the practitioners to give up their belief. Among the 320 documented cases of practitioners incarcerated there, at least 20 were tortured to death.
After director Hao Shuanji and deputy director Song Weizhong of the Jidong Prison Administration Bureau took office in 2017, they closely followed the persecution policy against the practitioners. Seven innocent men, including Mr. Ge Zhijun, Mr. Bian Qunlian, Mr. Cao Jinxing, Mr. Li Jinku, Mr. Pan Yingshun, Mr. Yang Zhixiong, and Mr. Han Junde, died there.
Select Death Cases
Case 1: Mr. Bian Qunlian Persecuted to Death in Jidong Prison
Mr. Bian Qunlian was arrested on July 8, 2016, for talking to people about Falun Gong. The police beat him, cursed at him, and slapped him in the face with the soles of their shoes at the Chengde County Detention Center.
Mr. Bian was sentenced to six years in Jidong Prison and fined 20,000 yuan by the Chengde County Court on February 15, 2017. He was diagnosed with rectal cancer in early January 2020, and he had surgery on April 13, 2020. The prison authorities did not allow his family to accompany him in the hospital and took him back to the prison after he was discharged.
When Mr. Bian was brought home in an ambulance on August 9, 2020, he was emaciated. A feeding tube was inserted into his stomach, as he could no longer eat after the cancer metastasized. He had a high fever and could not recognize his own brother. He passed away four days later. He was 69.
Case 2: Twice Jailed for 12 Years, Mr. Ge Zhijun Dies at 42 After Suffering Brutal Torture and Mental Collapse in Prison
Mr. Ge Zhijun worked for the Lingyun Industry Group in Zhuozhou City. He was sentenced to four years in prison on February 11, 2015. After he was released from the Jidong Prison on February 5, 2019, he was mentally unstable and spoke incoherently. He locked himself in his room. He couldn't hold a job or live independently. He passed away on November 29, 2020. He was only 42. He is survived by his wife, a nine-year-old daughter, and his paralyzed father.
Case 3: Dr. Pan Yingshun Dies in Prison
Dr. Pan Yingshun and his wife, Ms. Zhai Suping, were arrested on January 19, 2018. Dr. Pan was sentenced to four years and six months in prison on January 30, 2019. Ms. Zhai was given four years and nine months.
Dr. Pan was taken to the No. 5 Jidong Prison in May 2019. His family received a phone call from the prison in July 2021, telling them that Dr. Pan was in the intensive care unit of the Tangshan Union Hospital. When his family went to see him, he was unconscious and could not speak. Dr. Pan passed away on July 30. Ms. Zhai was incarcerated in the Shijiazhuang Women's Prison and was not informed of his death.
Case 4: Mr. Han Junde Denied Medical Parole While Serving 8.5 Years, Dies Months Later
The Jidong No. 5 Prison in Hebei Province notified Mr. Han Junde's family on April 14, 2022, that the Baoding City, Hebei Province man had passed away at 10:35 a.m. that day.
Mr. Han died less than three years after he was admitted to the prison to serve an 8.5-year term for making gourd crafts with "Truthfulness-Compassion-Forbearance" carved on them.
After Mr. Han was taken to the prison, the guards repeatedly ordered him to plead guilty and renounce Falun Gong. Because he refused to comply, they took away his rights to see, call, or write to his family.
Mr. Han's family later learned that he had developed severe anemia due to the abuse in prison. He became blind in one eye and had to be wheeled around in a wheelchair in prison. The family had applied for medical parole for him, but the Jingxiu District Justice Bureau denied their application, even after the doctor determined that he qualified.
Mr. Han was hospitalized around early 2022 after becoming critically ill. He was wearing a drainage tube after he was discharged. He was taken to the hospital again on April 5, 2022. He was unable to breathe on his own and was put on a ventilator. He passed away nine days later.
Case 5: Mr. Yang Zhixiong Dies in Prison Hospital 16 Months after Being Jailed
Mr. Yang Zhixiong was arrested on September 26, 2019, and sentenced to 6.5 years in prison on December 1, 2020. His appeal was rejected and he was taken to the Jidong No. 5 Prison around April 2021. Sixteen months after he was transferred to the Jidong No. 5 Prison, he passed away on August 10, 2022, in the hospital affiliated with the prison. He was 58 years old.
According to Mr. Yang's family, when they saw his body at the Tangshan Union Hospital, he was emaciated and his eyes and mouth were wide open.
Mr. Yang had fallen into a coma due to myeloma (cancer of the plasma cells) on June 30, 2022, but the guards waited for two days before taking him to the hospital. Prior to that, he had often struggled with pain in his back and legs.
Mr. Yang was kept in the intensive care unit for nearly 40 days, between July 2 and August 10, and his family visitation was restricted. The guards also kept him handcuffed and shackled. A prison guard told his family after his passing that if Mr. Yang had renounced Falun Gong, they wouldn't have treated him this way.
Select Torture Cases
Case 1: Mr. Lai Zhiqiang Tortured to the Brink of Death in Jidong Prison
Mr. Lai Zhiqiang, a taxi driver in his 50s from Tangshan City, Hebei Province, was arrested on March 31, 2016, while visiting another practitioner. He was sentenced to seven years and admitted to Jidong Prison on October 17, 2016.
He has been bedridden and largely unresponsive since suffering a stroke in prison in 2019. When his wife saw him in January 2020, a guard had to carry him out. He had no expression and did not recognize her.
He was hospitalized in August 2020, after he began to have difficulty breathing. The doctor performed a tracheotomy on him because he was paralyzed and suggested that he was unlikely to recover. Even when he couldn't move, the prison authorities kept shackles on him while he was in the hospital. They fed him through a tube. His lips cracked because the caretaker seldom gave him water.
Mr. Lai, still in critical condition, was taken back to prison on September 9, 2020, to finish serving his term.
Case 2: Mr. Cui Lu Endured More Than a Dozen Types of Torture in Prison
Mr. Cui Lu, a government employee in Zhuolu County, Hebei Province in his 50s, was arrested on March 19, 2009 and sentenced to nine years in the Jidong Prison.
Below are the torture methods he suffered.
1. Brutally force-fed for about five months2. Deprived of sleep for about one month3. Punched, kicked, and beaten by several people at once. Once, a tooth was knocked out. (Prison officials did not allow his family to see him afterward so they wouldn't see what happened to him.)4. Had his fingertips jabbed with needles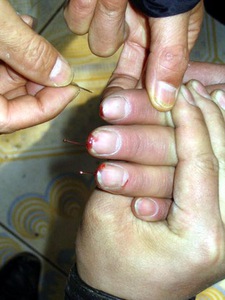 Torture reenactment: Piercing fingertips with needles
5. Burned on his neck with cigarette butts6. Nearly drowned by being pushed into a large water barrel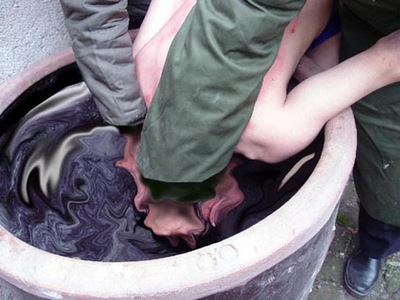 Torture reenactment: Drowning
7. Doused with cold water after being stripped8. Confined 10 times in a solitary cell and forced to sit in one position (for more than 200 days total)9. Sprayed in the face and eyes with hot pepper water, causing skin burns and force-fed salty hot pepper water10. Forced to watch videos that defamed Falun Gong11. Handcuffed, shackled, and shocked with electric batons and beaten with an electric baton after being shocked12. Restrained on a Tiger bench for more than seven hours (The rope had to be loosened every 15 minutes because he had trouble breathing. His lungs were damaged and he vomited blood.)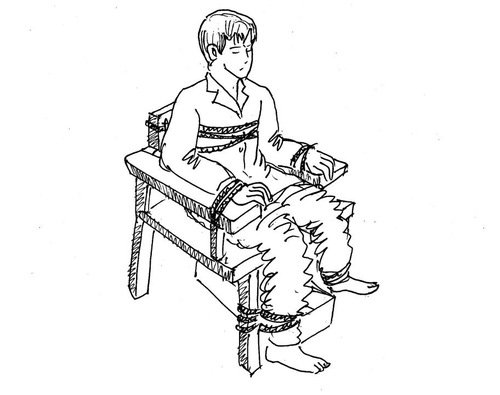 Torture illustration: Tiger Bench
13. Restrained on a Death bed for more than two months total
14. Starved15. Almost suffocated by having his mouth stuffed with rags16. Exposed to the cold on winter nights with open windows, deprived of warm clothes and blankets17. Tied to a bed for more than ten nights in freezing weather with the windows open (His legs were injured and his toenails eventually loosened and sloughed off.)18. Sent to the strictly-controlled unit on March 6, 2018, because he said loudly "Falun Dafa is good!"
Mr. Cui's mother suffered long-term stress and depression due to his incarceration. She passed away in July 2017.
All content published on this website are copyrighted by Minghui.org. Minghui will produce compilations of its online content regularly and on special occasions.