Russia: Practitioners Reflect on Their Positive Changes and Wish Master a Happy Chinese New Year
(Minghui.org) Practitioners from St. Petersburg, Moscow, Yalta, and Kingisepp held a Fa study and experience sharing meeting on January 5-7, 2023. They discussed how their morals were uplifted and their health improved after they began practicing Falun Dafa. With Chinese New Year just around the corner, they wished their founder, Master Li Hongzhi a Happy New Year, and expressed their profound gratitude.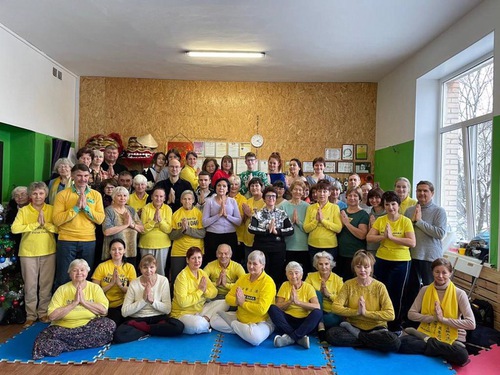 Practitioners held a Fa-study and experience sharing meeting January 5-7, 2023. They wish Master Li a Happy Chinese New Year!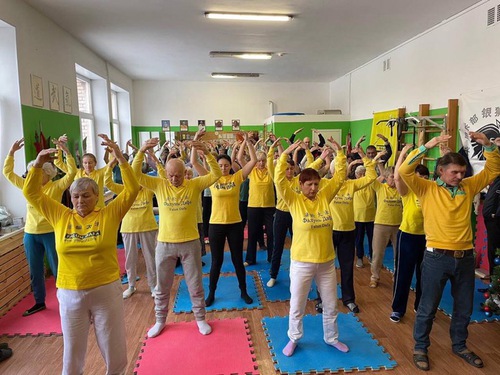 Group exercise practice
77-Year-Old St. Petersburg Practitioner: Falun Dafa is My Greatest Blessing
Inna, a 77-year-old practitioner who lives in St. Petersburg, said, "I was 59 years old when I started practicing Falun Dafa. My health was very poor, and I could hardly go out, and my doctor said my condition would not improve. I was a burden on my family. I later learned about Falun Dafa at a clinic and was amazed by its profound teachings. After studying the Fa and doing the exercises daily, my health gradually improved. Being able to cultivate Falun Dafa is my greatest blessing."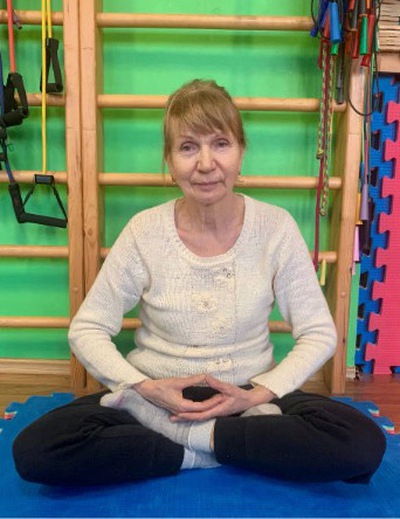 Inna from St. Petersburg said, "Practicing Falun Dafa is my greatest blessing."
"Although cultivation has been hard, practicing Falun Dafa helped temper some undesirable traits, such as my short temper. I have become more patient when dealing with my husband and now try to avoid quarrels with him. Studying the Fa and practicing the exercises with other practitioners has been a great source of energy and motivation. I feel at ease and ready to embrace the world.
Mother of Four: Practitioners Treat My Children with Kindness and Tolerance
Tatyana from Moscow with her four children
Tatyana from Moscow has four children, two of whom are foster children with disabilities. "During their first visit to the practice site, my children remained calm and confident despite encountering so many new people (Falun Dafa practitioners). No one displayed bad intentions towards my children, and they even smiled and helped them. I felt comfortable in this kind and inclusive environment. My youngest son, Andre, behaved naturally and did not hide. For my hyperactive son Vasya, everyone greeted him enthusiastically and treated him with understanding. My children returned home happily after meeting many Falun Dafa practitioners.
Practitioner from Kingisepp: Questions about Life Answered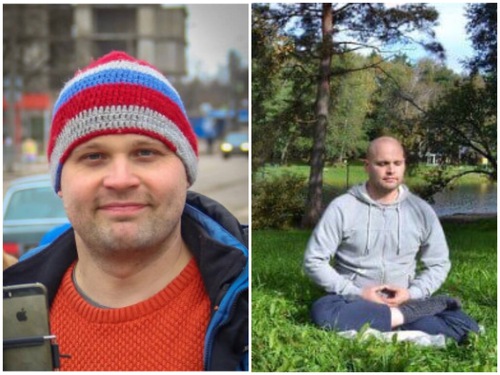 Nikola from Kingisepp
Nikola from Kingisepp said, "I have practiced Falun Dafa for more than 15 years. The principles of Truthfulness-Compassion-Forbearance are of utmost importance to me, as they help people become better."
Reflecting on his cultivation journey Nikola said, "Falun Dafa provided answers to questions that had deeply puzzled me - our origins and the reason for our existence in this world. I accumulated many bad habits, including gambling, drinking alcohol, and a fixation with movies. These bad habits consumed my energy and worsened my constitution. My condition improved after I started practicing Falun Dafa, and I learned how to manage my mental issues.
"I can't say my condition was immediately rectified, since it isn't possible. It is an ongoing process, though in the right direction, so I'm getting better.
"I can say that (after practicing Dafa) I stopped falling ill almost immediately. Whenever symptoms crop up, I now take it as retribution in repaying my debt to someone I hurt before. Understanding this concept has made my life much easier and enlightening."
Practicing Falun Dafa Helps Overcome Difficulties
Sisters Natalia and Maria from Moscow
Natalia said, "I have practiced Falun Dafa for more than ten years, getting rid of my bad habits and temper along the way. The principles and wisdom from Falun Dafa's teachings has helped me deal with many difficulties in life."
Views expressed in this article represent the author's own opinions or understandings. All content published on this website are copyrighted by Minghui.org. Minghui will produce compilations of its online content regularly and on special occasions.