Having Once Lost Memory Due to Toxic Injection, Heilongjiang Woman Dies After Two Decades of Detention and Harassment
(Minghui.org)
Name: Wang YufangChinese Name: 王玉芳Gender: FemaleAge: 59City: JiamusiProvince: HeilongjiangOccupation: Clothing store ownerDate of Death: September 28, 2022Date of Most Recent Arrest: December 13, 2012Most Recent Place of Detention: Jiamusi City Lockup
Ms. Wang Yufang's colon cancer disappeared after she took up Falun Gong in December 1998, so she was deeply grateful for this ancient mind-body self-improvement practice.
Ms. Wang remained firm in her faith after the Chinese Communist Party ordered a nationwide persecution of Falun Gong in 1999. She was harassed many times and arrested six times for her faith. She once lost her memory after being injected with toxic drugs in a detention center. The ongoing persecution took a toll on her health. The Jiamusi City, Heilongjiang Province resident passed away on September 28, 2022. She was 59.
Ms. Wang said in the criminal complaint she filed in 2015 against Jiang Zemin, the former head of the communist regime who ordered the persecution, "Because of the persecution, all of my hair turned gray when I was only in my 40s. The persecution didn't only bring tremendous mental and physical harm to me but also left my family living in deep distress. While I was in detention, my mother worried about me so much that her health deteriorated and she was hospitalized. My daughter grew up in fear and constantly worried that I might be arrested again."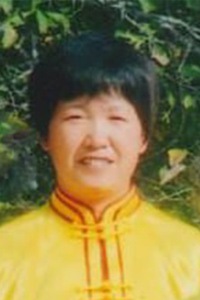 Ms. Wang Yufang
Below is Ms. Wang's own account of the persecution she suffered.
***
Colon Cancer Disappeared After Taking Up Falun Gong
I ran a clothing business with my sister for years. I usually spent half of the year traveling to purchase clothes. Unable to have good rest or regular meals, I had digestion problems and severe insomnia. While going to Harbin City, Heilongjiang Province one day, I suddenly had intense pain on the left side of my abdomen. I went to the hospital and was diagnosed with colon cancer.
I was scared. I didn't know what to do. My husband died of a disease when my daughter was only two. Now my daughter had just turned four and I was diagnosed with colon cancer. If I died, she would become an orphan.
With the strong will to take care of my daughter, I tried all kinds of medication and exercises, yet my condition didn't have any improvement.
One day in December 1998, while I was working in the clothing store co-owned with my sister, the owner of the store next to us came over and introduced Falun Gong to me. She said it's a Buddha school practice that is very powerful in improving health. She told me where to buy Falun Gong books and I got one later that day.
Upon returning home, I started to read Zhuan Falun, the main text of Falun Gong. I was so deeply drawn to it that I couldn't put it down. Shortly after I started to practice Falun Gong, my colon cancer was gone and I felt my life was renewed. I couldn't express my gratitude enough to Falun Gong and its founder Master Li.
Arrested for Appealing for Falun Gong
After the communist regime ordered the persecution of Falun Gong on July 20, 1999, I decided to go to Beijing to appeal for the right to practice my faith. The summer in Beijing was especially hot, but it didn't stop Falun Gong practitioners like me from around the country to come here to appeal.
After I checked in to a hotel, I was reported to the police and then arrested. The authorities in Jiamusi soon took me back and held me at the Jiamusi City Detention Center. My family frequented the local police station to demand my release. Seven days later, I was released.
Three More Arrests
Months later, I went to Guangzhou City, Guangdong Province to attend a gathering with other Falun Gong practitioners. The police broke into the rental place I shared with several other practitioners. A male officer beat and pushed a practitioner to the ground, simply because he moved a little. When the police officer was about to beat the practitioner again, I stopped him. Shortly after, all of us were taken in the police car.
I was first held at the Tianhe Detention Center, where I was forced to work long hours without pay. The inmates verbally abused me whenever I slowed down. Later, Sun Fuli and Li Jun of the Xiangyang Police Department in Jiamusi took me back and detained me at the Jiamusi City Detention Center. My family also had 5,000 yuan extorted from them.
The Jiamusi City Detention Center had two cells for female detainees. But after the persecution of Falun Gong started, the authorities added three more. Each cell was about 100 square feet, including beds and a restroom. The guards kept 20 to 30 people in each cell. When we slept, we had to sleep on our sides. If we went to the restroom, our spot would be gone when we came back. The food we were given was steamed buns with sand and watery soup with very few pieces of vegetables.
A few practitioners and I wrote to the detention center head, telling him that Falun Gong has been wronged and that many of us have become better people and enjoyed better health after taking up the practice. But he refused to listen and retaliated by torturing us with the "flying an airplane" posture.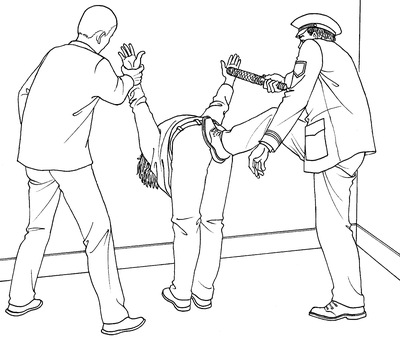 Torture illustration: "Flying an airplane"
To protest the torture, we started a hunger strike. The detention center doctors force-fed us with raw corn meal and concentrated saline water.
I was arrested again on June 2, 2000. The police lifted my clothes and covered my head. Then they took me to a secret location for interrogation. I was chained to a metal chair. One officer pulled my hair from behind so hard that my head was at a 90-degree angle from my neck. Then he hit on my neck with the side of his palm. I was unable to talk. They also tried to force me to stand in the "flying an airplane" position, but I refused to comply.
I was taken to the Jiamusi City Detention Center after the interrogation. A big bump appeared on my head. Because of the mental and physical distress, I suffered a heart attack. When I was taken to the hospital, my throat was so badly swollen that I couldn't talk or drink water. The police stayed in the hospital 24/7 to monitor me. Another practitioner, Ms. Ma Xiaohua, was arrested and given three years of forced labor, simply for delivering food to me.
I was later transferred to the local Chinese medicine hospital by my family and released after I recovered.
The police stopped me and took me to the Xigemu Forced Labor Camp when I was walking on the street in May 2001. I held a hunger strike to protest the persecution and was released when I was on the verge of death.
The police attempted to arrest me again in the spring of 2002. I strongly resisted and fainted due to my weak physical condition. The police relented and left.
Memory Loss After Toxic Injection in the Jiamusi City Detention Center
I was arrested another time in 2003. I missed my daughter so much at the Jiamusi City Detention Center that I lost my appetite. The detention center doctor Zhang Guifan gave me IV drips. After a period of time, my body suddenly became frozen one day. I couldn't move my arms or legs. My fingers remained stiff and couldn't bend. I lost my memory and couldn't even remember that I had a daughter.
During that time, the Qianjin District Court sentenced me to three years. I was taken to the Heilongjiang Province Women's Prison before the 2004 New Year, but the guards refused to accept me and I was taken back to the detention center the next day.
The detention center doctor Zhang planned to take me to prison again months later. But due to my physical condition, they released me shortly after.
More Arrests and Harassment
Upon returning home, I still couldn't recognize my daughter and I frequently fell while walking. I resumed practicing Falun Gong and regained my health.
One morning after I came back from grocery shopping in the spring of 2006, I was stopped in front of the residential committee office and ordered to come back later in the day. The officers threatened to harass me at home if I didn't. I went there after lunch. The police took my photo and questioned whether I was still practicing Falun Gong. I refused to answer and the police let me go after moments of a standoff.
The police stayed outside of my home and broke in when a relative of mine left. They searched my place and took away a few Falun Gong books. Fearing further persecution, I was forced to live away from home after the police left.
For distributing Falun Gong materials, I was reported and arrested on December 13, 2012. I threw out my back while struggling during the arrest. Because of the pain, I couldn't sit up or lie down. I was taken to the Jiamusi Lockup in the evening.
On December 17, my daughter went to the Changsheng Police Station to demand my release. The police chief Yan Limin was very impatient and he denied that he had the authority to release me. My daughter appealed to the police that she needed my care. A police officer said with an indecent attitude, "I will take care of you then." A week later, I developed a physical condition and was released on December 22, 2012.
The police came to my sister's place with my photo in July 2021 and asked her neighbor whether I lived there. By then, I had already moved, but the police stayed outside of the apartment for a few days, in an attempt to arrest me.
The persecution rendered me unable to find a stable job. I often suffered stiffness of my limbs and heart palpitations. As my health kept declining, I was unable to go downstairs and stayed at home all the time. Yet the police never stopped monitoring and harassing me.
Related report:
Ms. Wang Yufang, Paralyzed Following Forced Drug Injection, Regains her Health After Continuing Her Practice of Falun Gong
All content published on this website are copyrighted by Minghui.org. Minghui will produce compilations of its online content regularly and on special occasions.