Nagoya, Japan: Locals Encourage Practitioners to Continue their Efforts to Raise Awareness of Persecution in China
(Minghui.org) The local Chinese consulate organized activities to celebrate Chinese New Year (January 22) outside the Hisaya-Odori Park in Nagoya Aichi Prefecture from January 6-9, 2023. Falun Dafa practitioners held activities nearby to inform people of the ongoing persecution in China and to encourage Chinese citizens to quit the CCP (Chinese Communist Party) and its youth organizations. Many passersby learned the facts about organ harvesting atrocities and happily accepted the informational materials. More than 20 Chinese nationals agreed to withdraw their membership in the CCP and its affiliated organizations.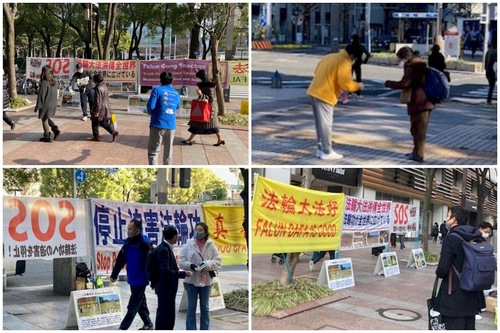 Practitioners informed people about the persecution in China near the Hisaya-Odori Park in Nagoya Aichi Prefecture.
Practitioners displayed banners with messages in Chinese, English, and Japanese: "Falun Dafa is great," "Truthfulness, Compassion, Forbearance," "Falun Dafa Is Practiced Around the World," "SOS Stop the Persecution of Falun Gong," and "The CCP Must Stop Organ Harvesting."
Nagoya is located in the central region of Japan and is the capital of Aichi Prefecture. It is Japan's fourth-largest city in terms of population. Practitioners met many people during the four days of activities. Most people who received the information said, "Thank you," "You have worked hard," or "Keep going."
"We Know a Lot about Falun Gong"
On Sunday, January 8, just as practitioners were setting up for their activities, a middle-aged Western couple passed by. A practitioner approached them to give them a flier and asked if they had heard of Falun Dafa. They immediately said, "Yes, we know a lot about Falun Dafa!"
They explained that they were from England and came to visit their son who is working in Osaka. They had been to Japan many times but this was the first time they came to Nagoya. They told practitioners they lived in London and that they pass by the Chinese Embassy every day. For many years, practitioners in England were there, raising awareness of the persecution in China, and therefore they had in-depth knowledge of Falun Dafa.
They encouraged practitioners to persist in exposing the persecution.
"I Hope China Will End This Dark Period Soon"
A Japanese man took a flier from a practitioner on January 8. He said he was aware of the persecution and had seen a Shen Yun performance. He said he knew it was not easy for practitioners to keep holding such activities and told practitioners, "Keep up the good work!"
Another Japanese man in his 70s chatted with practitioners for a long time. He is a member of the Sanseito party and was aware of Falun Dafa and the CCP's dark history. He told practitioners, "I hope China will end this dark period of rule soon!"
Chinese Nationals Quit the CCP
Many people passed by Hisaya-Odori Park in central Nagoya. Among them were Chinese citizens living in Japan. Practitioners talked to them during the four days of activities and offered them much useful information.
A practitioner spoke to a woman from China. After explaining the facts to her, she agreed to quit the CCP's Young Pioneers using an alias.
A young man from China told practitioners he recently moved to Japan and did not know much about Falun Dafa. He was eager to learn more about the practice and asked several questions. After practitioners answered his questions, he took a photo of the banners.
Background: What Is Falun Dafa and Why Is the CCP Persecuting It?
Falun Dafa (also known as Falun Gong) was first introduced to the public by Mr. Li Hongzhi in Changchun, China, in 1992. The spiritual discipline is now practiced in over 100 countries and regions worldwide. Millions of people who have embraced the teachings, which are based on the principles of Truthfulness, Compassion, and Forbearance, and have learned the five exercises, have experienced improved health and well-being.
Jiang Zemin, former head of the Chinese Communist Party (CCP), perceived the spiritual discipline's growing popularity as a threat to the CCP's atheistic ideology and on July 20, 1999, he issued an order to eradicate the practice.
Under Jiang's personal direction, the CCP established the 610 Office, an extralegal security organization with the power to override the police and judicial systems and whose sole function is to carry out the persecution of Falun Dafa.
Minghui.org has confirmed the deaths of thousands of practitioners as a result of the persecution over the past 23 years. The actual number is believed to be much higher. Countless practitioners have been imprisoned and tortured for their faith.
There is concrete evidence that the CCP sanctions the harvesting of organs from detained practitioners, who are murdered to supply China's organ transplant industry.
All content published on this website are copyrighted by Minghui.org. Minghui will produce compilations of its online content regularly and on special occasions.