Introducing Falun Dafa at Utah Polynesian Days Festival
(Minghui.org) Falun Dafa practitioners were excited to join a celebration of Polynesian heritage in Lehi, Utah. Polynesian Days was a three-day festival held on September 2, 3, and 5, 2022. It is the largest Polynesian cultural festival in Utah. Falun Dafa practitioners took the opportunity to tell people about the Chinese Communist Party's (CCP) persecution of the practice in China.
Despite the long, hot hours under the sun, local practitioners clarified the truth to attendees about the corruption and evil nature of the CCP. Over the three-day event, practitioners obtained almost 300 signatures calling for support for "H.R. 6319 - The Falun Gong Protection Act." This vital piece of legislation is currently under review by the US Congress and is a formal condemnation of the Chinese Communist Party for its persecution of Falun Gong, also known as Falun Dafa. Two Utah Representatives, John Curtis and Burgess Owens, have cosponsored this bill.
Falun Gong is a peaceful meditation practice with a moral component of living by the tenets of Truthfulness-Compassion-Forbearance. Falun Gong practitioners in China have been harassed, tortured, and even murdered by the CCP for their faith since 1999, and the brutal persecution continues today.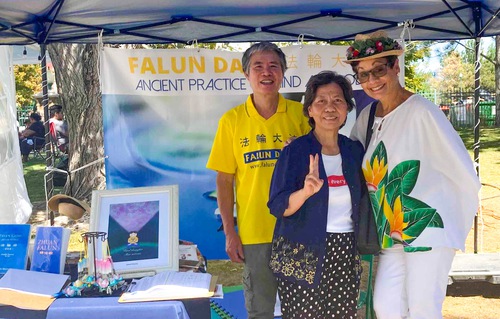 Mrs. Gwen Anderson poses for a photo with practitioners at the Falun Dafa booth at the Polynesian Days festival in Lehi, Utah
Mrs. Gwen Anderson, 82, offered practitioners some words of encouragement and said that she supports all of what Falun Gong stands for. "I wish you the best of luck," she said.
Mrs. Magna signed the petition and pledged to bring awareness of forced organ harvesting in China.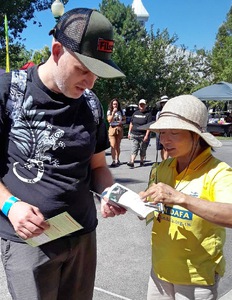 A practitioner tells a festival attendee about Falun Dafa
A couple of gentlemen wanted more information about the persecution after signing the petition.
A former Hong Kong resident came to the booth since she knew about the persecution. She signed the petition and shown interest in the meditation practice as well. Before she left, she said, "Keep up the good work!" in Chinese to our fellow practitioners.
At the end of the day, although local practitioners had toiled in the relentless heat for three days to bring awareness of the brutal persecution by the CCP, their spirits were uplifted as they took comfort that the community had shown their support and positioned themselves well by protecting people who practice Truthfulness-Compassion-Forbearance.
All content published on this website are copyrighted by Minghui.org. Minghui will produce compilations of its online content regularly and on special occasions.