Crimes Committed By Liu Jianmin, Director of Hebei Provincial Prison Administration in the Persecution of Falun Gong
(Minghui.org) July 20, 2022 marked 23 years since the Chinese Communist Party (CCP) began to suppress Falun Gong in 1999. Around this anniversary, Falun Gong practitioners in 38 countries submitted an updated list of perpetrators, including those in the law enforcement, judiciary branches, as well as the Political and Legal Affairs Committee, to their respective governments, urging that those on the list (and their family members) be barred from entry and their assets frozen.
The 38 countries are: the United States, the United Kingdom, Canada, Australia, New Zealand, France, Italy, Spain, the Netherlands, Poland, Belgium, Sweden, Austria, Ireland, Denmark, Finland, Czechia, Portugal, Greece, Hungary, Slovakia, Luxembourg, Croatia, Slovenia, Latvia, Estonia, Cyprus, Malta, Japan, South Korea, Indonesia, Switzerland, Norway, Liechtenstein, Israel, Mexico, Chile, and Dominica.
Please refer to the article "New List of Perpetrators Submitted to 38 Governments on the 23rd Anniversary of the Persecution of Falun Gong" for details.
Liu Jianmin, director of Hebei Provincial Prison Administration, is on the list.
Perpetrator Information
Full Name of Perpetrator: Liu (last name) Jianmin (first name) (Chinese 刘剑民)Gender: MaleCountry: ChinaDate/year of Birth: April 1961Place of Birth: Shenze County, Hebei Province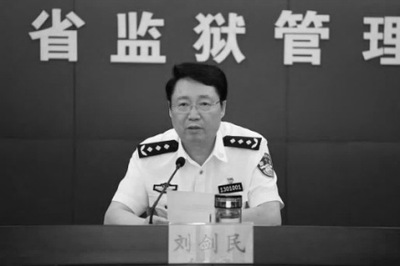 Liu Jianmin
Title or Position
June 2015 – Present: deputy director of Hebei Provincial Department of Justice; director and secretary of the CCP Committee of Hebei Provincial Prison Administration
Past Positions: deputy director of the Political Department of Hebei Provincial Public Security Department, chief justice of Chengde Municipal Intermediate Court, director of the Political Department of the Higher Court of Hebei Province, member of the Standing Committee of the Cangzhou Municipal Party Committee, and minister of the Organization Department
Main Crimes
Hebei Province is one of the provinces with the most severe persecution of Falun Gong, right after Heilongjiang and Liaoning Province. As of September 14, 2022, 547 Falun Gong practitioners were confirmed to have died in the persecution in Hebei Province, accounting for 11.3% of the total confirmed death cases in the country.
Since Liu Jianmin became the deputy director of Hebei Provincial Department of Justice and director of Hebei Provincial Prison Administration on June 24, 2015, he has continued to carry out the persecution policy of Falun Gong. He is the commander-in-chief of the persecution in the Hebei prison system. During Liu's tenure, at least 11 practitioners died in prison, including Ge Zhijun, Bian Qunlian, Cao Jinxing, Zhou Xiuzhen, Gao Suzhen, Chen Lingmei, Li Jinku, Li Kai, Dong Hanjie, Han Junde, and Pan Yingshun. Many more were disabled, injured, or suffered mental breakdowns.
Jidong Prison (also known as the Jidong Division of Hebei Provincial Prison Administration, containing nine branches) and the Hebei Women's Prison are two major facilities used to incarcerate the practitioners, where the guards use all kinds of torture methods trying to force the practitioners to give up their belief.
Below are select death and torture cases under Liu's tenure.
Case 1: Mr. Han Junde Denied Medical Parole, Dies in Custody
Three Baoding City, Hebei Province residents were sentenced on February 26, 2020, for making gourds that contained the words: "Truthfulness, Compassion, Forbearance." Mr. Han Junde was sentenced to eight years and six months. Ms. Li Yanqiu and Ms. Sun Liying were both given 8 years.
After Mr. Han was taken to Jidong Prison, the guards repeatedly ordered him to plead guilty and renounce Falun Gong. When he refused to comply, they denied his right to meet with, call, or write to his family.
Mr. Han's family later learned that he developed severe anemia due to the abuse in prison. He became blind in one eye and had to be wheeled around in a wheelchair. The family applied for medical parole for him, but the Jingxiu District Justice Bureau denied their application, even after the doctor determined that he qualified.
Mr. Han's family received a call from the prison on April 14, 2022, and were told that he passed away that morning. He was 77.
Case 2: Dr. Pan Yingshun Dies in Prison
Dr. Pan Yingshun and his wife, Ms. Zhai Suping, were arrested on January 19, 2018. Dr. Pan was sentenced to four years and six months in prison on January 30, 2019. Ms. Zhai was given four years and nine months.
Dr. Pan was taken to the No. 5 Jidong Prison in May 2019. His family received a phone call from the prison in July 2021, telling them that Dr. Pan was in the intensive care unit of the Tangshan Union Hospital. When his family went to see him, he was unconscious and could not speak. Dr. Pan passed away on July 30. Ms. Zhai was incarcerated in the Shijiazhuang Women's Prison and was not informed of his death.
Case 3: Mr. Bian Qunlian Dies Four Days After Being Released from Prison
Mr. Bian Qunlian was arrested on July 8, 2016, for talking to people about Falun Gong. The police beat him, cursed at him, and slapped him in the face with the soles of their shoes at the Chengde County Detention Center.
Mr. Bian was sentenced to six years in Jidong Prison and fined 20,000 yuan by the Chengde County Court on February 15, 2017. He was diagnosed with rectal cancer in early January 2020, and he had surgery on April 13, 2020. The prison authorities did not allow his family to accompany him in the hospital and took him back to the prison after he was discharged.
When Mr. Bian was brought home in an ambulance on August 9, 2020, he was emaciated. A feeding tube was inserted into his stomach, as he could no longer eat after the cancer metastasized. He had a high fever and could not recognize his own brother. He passed away four days later. He was 69.
Case 4: Mr. Ge Zhijun Dies at 42 After Suffering Brutal Torture and Mental Collapse in Prison
Mr. Ge Zhijun worked for the Lingyun Industry Group in Zhuozhou City. He was sentenced to four years in prison on February 11, 2015. After he was released from the Jidong Prison on February 5, 2019, he was mentally unstable and spoke incoherently. He locked himself in his room. He couldn't hold a job or live independently. He passed away on November 29, 2020. He was only 42. He is survived by his wife, a nine-year-old daughter, and his paralyzed father.
Case 5: Blinded and Incapacitated in Prison, Ms. Chen Lingmei Died Within Months of Release
Ms. Chen Lingmei, 67, was arrested in August 2014 and sentenced to three years in prison. She was severely abused while serving her prison term at Shijiazhuang City Women's Prison. Once a healthy woman, Ms. Chen was totally blind and incapacitated when she was released from prison on August 22, 2017. She passed away on December 7.
Case 6: Mr. Li Kai Dies During Imprisonment
Mr. Li Kai was arrested on July 29, 2015, and secretly sentenced to three and a half years in prison on September 21. The authorities took him to the Jidong Prison in early December 2015, without the family's knowledge. Only after he suffered a stroke (cerebral hemorrhage) in prison, did his family receive a notice on January 14, 2016, to take him home. He passed away two weeks later on January 29, 2016.
Case 7: Mr. Dong Hanjie Dies During Wrongful Imprisonment
Mr. Dong Hanjie, an engineer from Zhuozhou, Hebei Province, was sentenced to five years in prison by the Zhuozhou City Court on February 11, 2015. He appealed the verdict, but the Baoding Intermediate Court ruled to uphold his original sentence on June 15, 2015. Mr. Dong was still healthy when his lawyer visited him at the detention center on August 16, 2015. But he passed away on October 10, 2015, less than two months after he was transferred to Jidong Prison.
Case 8: Ms. Gao Suzhen Dies from Brutal Torture
Ms. Gao Suzhen, a practitioner in Shijiazhuang City, was sentenced to a four-year term after signing a petition to rescue a detained practitioner. In Hebei Women's Prison, she was tortured and humiliated, which led to life-threatening conditions many times. In the end, officials released her on bail due to poor health after extorting over 30,000 yuan from her family. Her family then spent at least 250,000 yuan keeping her in a hospital the following year but to no avail. She died at the age of 64 in March 2018.
According to Ms. Gao, when she was held in Ward 14 in Hebei Women's Prison, guards took her to a room with no security camera, grabbed her head, and knocked it against the wall. Inmates swore at her, slapped her in the face, and hit her in the head. They also bit her hands, wrote defamatory words on her body, and stabbed her hands with pens. Similar mistreatment continued after she was later moved to Ward 17.
Case 8: Mr. Lai Zhiqiang in Critical Condition Denied Medical Parole
Mr. Lai Zhiqiang, a taxi driver in his 50s from Tangshan City, Hebei Province, was arrested on March 31, 2016. He was sentenced to seven years and admitted to Jidong Prison on October 17, 2016. He was bedridden and largely unresponsive since suffering a stroke in prison in 2019. When his wife saw him in January 2020, a guard had to carry him out. He had no expression and did not recognize her.
He was hospitalized in August 2020, after he began to have difficulty breathing. The doctor performed a tracheotomy on him because he was paralyzed and suggested that he was unlikely to recover. Even when he couldn't move, the prison authorities kept shackles on him while he was in the hospital. They fed him through a tube. His lips cracked because the caretaker seldom gave him water. Despite his critical condition, he was taken back to prison on September 9, 2020, to finish serving his term.
Case 10: Ms. Zhao Guiyan Tortured in Prison
Ms. Zhao Guiyan was arrested on July 30, 2014, and was later taken to Hebei Women's Prison to serve a three-year prison term. In the prison, Ms. Zhao was forced to stand still from 6 a.m. to midnight every day for several days straight. In their attempts to force her to give up her belief, the guards and inmates slapped her face, poked her mouth, and broke three of her teeth. They also hung her up with her feet off the ground. Ms. Zhao was later moved to Division 5, where she was forced to do hard labor without pay. Every day she got up at 5 a.m. and worked from 6:30 a.m. until 9 p.m. The workload was heavy, and she was often deprived of sleep and food.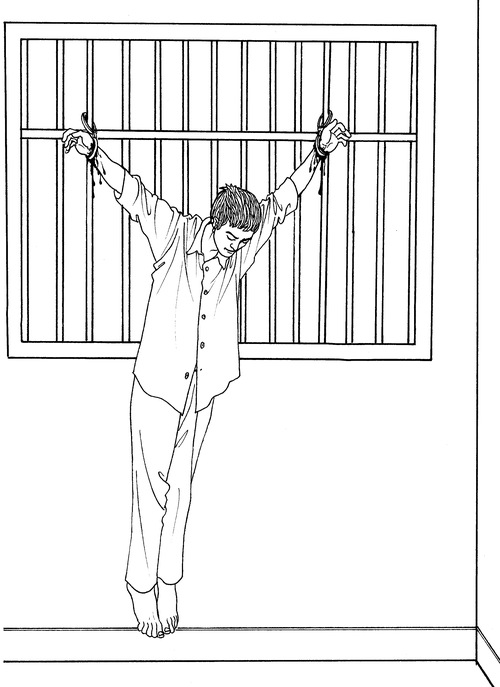 Torture illustration: hung up
All content published on this website are copyrighted by Minghui.org. Minghui will produce compilations of its online content regularly and on special occasions.