79-year-old Woman's Pension Reduced After She Serves Second 3-Year Term for Her Faith
(Minghui.org) Ms. He Guizhen, a 79-year-old resident in Kunming City, Yunnan Province, was seized at home in August 2019 and sent to a detention center for upholding her faith in Falun Gong. She sustained lower back injury in the detention center, but wasn't rendered adequate medical care. After she was later sentenced to three years, the prison guards subjected her to various forms of abuse, which worsened her lower back problems.
In May 2021, while she was still serving time, Ms. He received a notice ordering her to return a large sum of pension funds she received between August 2019 and August 2020, as well as between March 2011 and March 2014 when she was serving her first three-year sentence. Her family managed to pay about a quarter of the funds during her imprisonment, and the authorities have been deducting funds from her current pension benefits since she was released on March 11, 2022. The local police and officials also frequently harassed her at home.
Falun Gong, also known as Falun Dafa, is a spiritual discipline that has been persecuted by the Chinese communist regime since 1999.
Latest Arrest and Detention
Four plainclothes officers broke into Ms. He's home on August 11, 2019. One officer waved a piece of paper that he claimed to be a search warrant in front of her while the rest raided her home. They claimed that they had a video showing that she talked to people about Falun Gong, but they never played the video to verify it was indeed her. The officers confiscated her Falun Gong books and photos of its founder, without issuing a list of confiscated items or letting her go through what they had taken.
The officers took her to Xiaonammen Police Station and fixed her on a metal chair before interrogating her. They forced her to sign the deposition without letting her read it. The police kept her in the police station overnight and did not provide her any food until the next morning.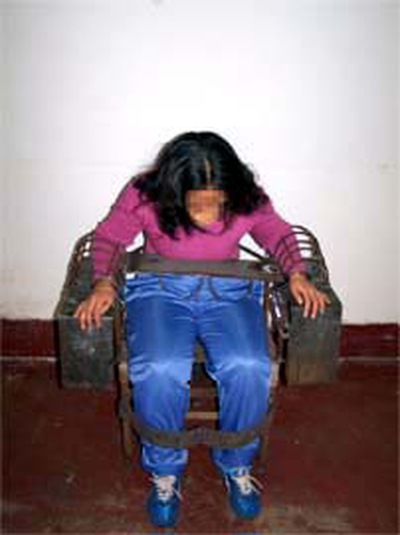 Torture reenactment: metal chair
After forcibly collecting her fingerprints, the police took her to a street and attempted to photograph false evidence against her. They also ordered her to provide information about other practitioners. She refused to comply.
The police then took her to a hospital and forced her to have a health exam before taking her to Kunming City Detention Center, which, however, declined to admit her upon reading her health report. The police took her to another hospital for another checkup, brought her back to the detention center, argued with the guards for an hour, eventually convincing them to take her in.
A week after she was detained, the authorities at Wuhua District Police Station officially arrested her and transferred her case to Wuhua District Procuratorate. A prosecutor went to the detention center to interview her, and offered her a lighter sentence if she pleaded guilty. She refused to comply and maintained that practicing Falun Dafa is not a crime in China.
Severe Back Injury Sustained at Detention Center
Ms. He's cell was over-crowded and the detainees slept closely to one another on a large floor bed. A detainee accidentally stepped on her stomach when getting up at night to use the restroom. A few days later, her lower back sustained sharp pain, and she asked the guards for a medical parole. They accused her of lying, and asked if anyone could testify that she was stepped on. When the detainee on duty that night came forward to testify, a guard ordered her to keep quiet.
A doctor at the detention center gave Ms. He some pills and, instead of of relieving her pain, the pills made her swell up. She asked for medical parole again, and was still denied. She stopped taking the pills and her swelling went away. However the back pain got so severe that she could barely move. Her face was extremely pale. The detainee on duty at night often came to check whether she was still breathing, fearing she might die there.
Sentenced to Three Years and Tortured in Prison
The Wuhua District Court held a hearing of her case on November 28, 2019 without appointing her a legal counsel. In the 40-minute-long hearing, the judge only allowed her to speak a few words, and the prosecutor did not present any evidence, including the video that supposed to show her promoting Falun Gong. A month later, the judge sentenced her to three years in prison and fined her 10,000 yuan.
The authorities transferred her to Yunnan Province Second Women's Prison on April 29, 2020. At first, the prison guards locked her in a cell all day and appointed two prisoners to watch her around the clock and bring her food. The pain in her lower back got so bad that she couldn't get up or lay down without help.
The authorities later took her to a hospital but did not let her see the report. They told her that she had severe osteoporosis and made her take "medicine" three times a day. The pain continued, and she could barely get out of the bed to use the restroom. Anyone who tried to help her would be intimidated by the guards.
As the back pain continued to worsen, the guards made her take more drugs. Eventually the doctor warned that the dose was heavy for someone her age, and could cause her stomach to bleed. One night her nose bled profusely, and she stopped taking the medicine.
One morning she couldn't get up due to the pain. When the guard on duty noted Ms. He was absent during the inmates' gathering, she ordered three inmates to drag her out of the bed, put the inmates' uniform on her, drag her to the workshop, and force her to do unpaid labor, assembling electronic parts that required running two wires through a small bead. With her chronic cataract and degenerated eyesight, she could barely do the work.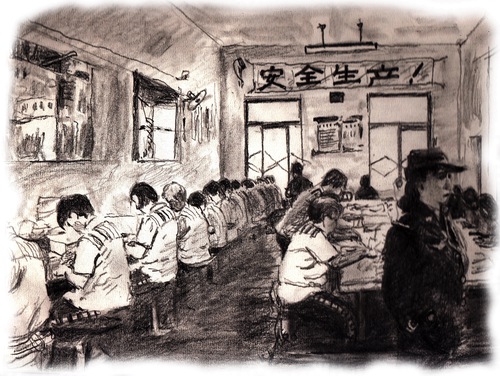 Torture illustration: forced labor in the prison
The guards did not allow her to purchase a phone card, and hence she couldn't contact her family. The authorities later changed all the inmates' bank accounts, and her family could not send her money as she had no way to inform them. When the Covid-19 pandemic hit, the authorities stopped all family visits and did not inform her family that they could apply for online meetings.
Not being able to talk to or visit her, her family got worried and hired a lawyer to find out what happened. Eventually, her family was granted a virtual meeting with her. But the place for the meeting was far from the workshop, and she couldn't walk that far due to her poor health. She had to stop meeting her family online, and was allowed to call home once a month.
The guards appointed one inmate to watch everyone in her cell. This person bullied her, dumped cold water on her, and took away the things she purchased. The guards turned a blind eye to it.
Forced to Return Pension
About two years after her arrest, the Xishan District Bureau of Social Security sent Ms. He a letter in May 2021 and demanded that she return the 133,814 yuan of pension that she received, including the 33686.87 yuan she received between her latest arrest in August 2019 and August 2020, as well the 91508.27 yuan she received between March 2011 and March 2014, while serving a previous three-year sentence.
The authorities coerced her family to pay 33686.87 yuan and forced them to sign an agreement promising to have 1,500 yuan deducted from her pension every month until the 33686.87 yuan was paid off. As such, she only had 700 yuan of pension benefits each month. The agreement also included a provision that if Ms. He died before the amount was paid back, her children would have to pay off the outstanding balance in a lump sum.
After Ms. He was released on March 11, 2022, the officers from Xiaonanmen Police Station and staff members from the local community continued to harass her at home.
Previous Persecution Accounts
Ms. He, born in 1943, lives in Wuhua District in Kunming City and is a retiree from a textile factory. She used to have problems with her gallbladder, heart, stomach, and nose. She also suffered insomnia, migraine, hemorrhoids, and anemia. She tried many types of qigong to heal her illnesses, and ended up with more pain and eventually in a wheelchair. Her husband introduced Falun Gong to her in 1997. A week later she no longer needed the wheelchair, and soon after she recovered from all her illnesses.
Husband Dies as A Result of Persecution
Ms. He was detained for a month in 2000 for doing the Falun Gong exercises outdoors. After that, the factory from which she retired listed her as a person to monitor. A group of people including the factory Communist Party secretary, the director of the factory Security Office, officers from Panlong District Police Department, agents from the District 610 Office, and officers from the Changchun Police Station, followed and monitored her. They repeatedly threatened her with arrest and sending her to a brainwashing center. She left home and went into hiding several times to avoid the persecution.
Her husband, Mr. Lyu Zuda, also a practitioner, was a senior engineer at the Yunnan Province Forestry Research and Planning Institute. He demonstrated at Kunming City Hall on July 22, 1999, two days after the onset of the persecution. The police arrested and detained him. From then on, his supervisor arranged a weekly meeting to criticize him and force him to write statements to denounce Falun Gong. He refused to do so, and was subjected to brainwashing.
When Ms. He left home to avoid the persecution, the police constantly came to harass her husband. Mr. Lyu lived in constant fear and at the same time worried about his wife's safety. His health declined and he passed away on December 4, 2003. He was 68.
Arrested for Handing out Informational DVDs
Ms. He was giving out DVDs that contained information of Falun Gong on the morning of March 31, 2011 in a market. The security personnel took her to a nearby police station. The agents from Panlong District 610 Office searched and interrogated her. They ransacked her home that afternoon. The police did not have a search warrant, nor did they give her a list of confiscated items.
The police interrogated her until almost midnight, and took her to a hospital for a health examination. The agents from the 610 Office forced her to sign the notice of detention, before strip-searching her. She was locked in Panlong District First Detention Center for 18 months.
The agents from the 610 Office had her sign the arrest warrant on April 26, 2011. Five months later, she was indicted by the Kunming City Procuratorate, with the charge of "sabotaging law enforcement with cult practice," the standard pretext used to criminalize Falun Gong.
Sentenced to Three Years in Prison
Without notifying her and her family, the authorities took Ms. He to Kunming Intermediate Court on October 21, 2011 for a hearing. The judge interrupted her defense statement and adjourned the hearing in 10 minutes. She was sentenced to three years on February 17, 2012. When she told the judge that she wanted to appeal the case, the judge did not notify Yunnan Province High Court of her appeal.
According to Article 216 of the Criminal Procedure Law, defendants who refuse to accept the ruling of the trial courts have the right to appeal to a higher court, with a written statement or orally, and the right of appeal shall not be deprived of any pretext.
Tortured at Yunnan Province Women's Prison
The authorities transferred Ms. He to Yunnan Province Women's Prison on September 12, 2012. The guards made her sit still on a tiny stool for long hours, which hurt her lower back and buttocks. They tried to coerce her into renouncing her faith, and at the same time forced her to do labor intensive work. Every day she had to sew 19 small purses. She couldn't finish the work load due to her poor eyesight. The guards then made her stand still for hours. They made her call her family and had them send her a pair of glasses. She still couldn't finish the workload with the glasses on. Nonetheless the guards continued to press her to finish her quota every day until the day she was released.
After she returned home, the local police and community officials frequently harassed her and ordered her to give up Falun Gong.
Related reports:
Having Lost Her Husband to the Persecution of Falun Gong, 78-year-old Woman Gets Second Prison Term for Her Faith
Retired Textile Worker Imprisoned for Three Years for Distributing Shen Yun DVDs
Three Practitioners Secretly Tried and Sentenced in Kunming
Older Couple from Kunming City, Yunnan Province, Suffered Relentless Persecution; Husband Passed Away as a Result
All content published on this website are copyrighted by Minghui.org. Minghui will produce compilations of its online content regularly and on special occasions.