Four Beijing Residents, Including a Married Couple, Sentenced to Prison for Their Faith
(Minghui.org) The families of four Beijing residents learned on August 9, 2022 that their loved ones had been sentenced to prison for their faith in Falun Gong, a spiritual discipline that has been persecuted by the Chinese communist regime since 1999.
Ms. Wu Fangling was given two years and eight months. Ms. Yang Jinxiang, 58, was sentenced to two years and four months. Ms. Yang's husband, Mr. Han Shimin, 57, received one year and ten months. The fourth practitioner, Mr. Guo Jinshan, 61, was sentenced to one year and four months.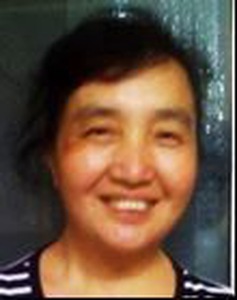 Ms. Yang Jinxiang
The four practitioners were arrested on June 27, 2021. Mr. Han experienced serious medical conditions while being held at the Yanqing District Detention Center, including having excessive blood in his urine. He was later released on bail. Mr. Guo was kept at the Yanqing District Detention Center, and the two female practitioners at Changping District Detention Center.
Ms. Yang held a hunger strike starting in November 2021 to protest the persecution, and was force-fed. The guards put her on an IV drip between February 11 and 15, 2022, and began to force-feed her again starting on February 15.
When the four practitioners were tried by the Yanqing District Court on April 8, both of their lawyers argued that no law criminalizes Falun Gong in China, and also asserted that their clients were very kind and considerate people who are having a very positive influence on society.
All four practitioners are appealing the sentences.
Past Persecution of Mr. Guo
Mr. Guo began to practice Falun Gong in 1998. Many of his ailments were cured shortly after.
He was arrested and had his home ransacked on November 17, 2003 after being reported. The police later gave him two years at the Tuanhe Forced Labor Camp.
Guard Zhao Jiang allowed Mr. Guo to sleep only between 12 a.m. and 4 a.m. each day. For the rest of every day he was forced to stand or sit still, while watching videos smearing Falun Gong and its founder.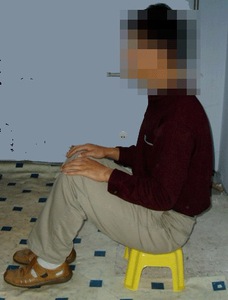 Torture reenactment: Sitting on a small stool
Zhao often instigated inmates who had been given at least three forced labor camp terms to torture Falun Gong practitioners. If Mr. Guo didn't keep a 90-degree angle between his thighs and body, the two inmates assigned to monitor him beat him and verbally abused him. The inmates also beat him if he couldn't keep his back straight while standing.
One of the inmates once said to Mr. Guo, "You are nothing here. Look at me. I have all the freedom, just like the guards. I am the bad guy. I once stole the money an old woman borrowed to pay for her hospitalization. When she burst into tears upon finding the money was missing, I still didn't return it to her. I know you are a good person. But that's useless here and only invites trouble and suffering for yourself."
Another one said, "I was stealing money at the train station. We had a group between three and ten people. Each of us paid the police the first 2,000 yuan we stole every day and then kept the remaining money for ourselves. When I was detained in the past, the police once paid my bail bond to get me out. I'm earning extra points for term reduction by monitoring you here. I bet you wouldn't pick up money if you saw it on the ground."
Mr. Guo once fell asleep while watching TV at night after a long day of forced labor. A guard surnamed Wang turned off the TV and ordered all of his cellmates to go back to work, in order to incite hatred against him.
The same guard also verbally abused Mr. Guo when he gave his position in line to use the restroom to two elderly men behind him who were struggling to hold it.
Past Persecution of Mr. Han
Mr. Han took up Falun Gong on December 16, 1996. He appealed in Beijing for the right to practice Falun Gong several times between November 1999 and 2001. Every time he went to Tiananmen Square, he was arrested, beaten, and taken back to Yanqing District. The Yanqing police beat him, shocked him with electric batons, slapped him in the face, and whipped him with leather belts.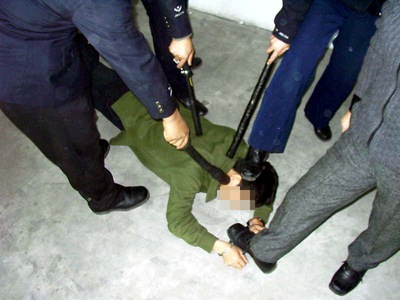 Torture reenactment: Electric shocks
Mr. Han was arrested again on July 26, 2001. The police shocked him with electric batons at the Yuegezhuang Police Station, handcuffed his hands behind his back, held him to the ground, then placed a chair on his body and sat on the chair to prevent him from getting up. He suffered severe internal injuries and had difficulty breathing. The handcuffs cut deeply into his wrists, leaving deep scars. The police then whipped him with a shoe, causing his teeth to be knocked out. He also lost hearing in one ear.
Mr. Han was later transferred to the Wen'an County Detention Center and sentenced to seven years at Qianjin Prison. The prison guards forced him to stand all day long, with only three or four hours of sleep. He was forced to do unpaid labor, deprived of family visits, and prohibited from buying daily necessities. He was on the verge of death from the torture. While he was resuscitated, the doctor issued four critical condition notices of him. He was taken back to the prison after being discharged, and kept there until his term ended in 2008.
Related reports:
Four Beijing Residents Stand Trial for Their Faith in Falun Gong
Yanqing District, Beijing: Three Women Sentenced for Practicing Falun Gong, Three More Face Prosecution
Having Survived Nine Years of Torture in Prison, Beijing Woman Faces Prosecution Again for Her Faith
All content published on this website are copyrighted by Minghui.org. Minghui will produce compilations of its online content regularly and on special occasions.