Four Beijing Residents Stand Trial for Their Faith in Falun Gong
(Minghui.org) Four Beijing residents appeared in Yanqing District Court on April 8, 2022 for their faith in Falun Gong. Their two lawyers entered not guilty pleas for them.
Falun Gong, also known as Falun Dafa, is a spiritual discipline that has been persecuted by the Chinese communist regime since 1999.
The four practitioners, including Ms. Wu Fangling, Ms. Yang Jinxiang, her husband Mr. Han Shimin, and Mr. Guo Jinshan, were arrested on June 27, 2021. Another two practitioners, Mr. Liu Jun and Ms. Song Mizhi, were also arrested, but both were later released.
Mr. Han experienced serious medical conditions while being held at the Yanqing District Detention Center, including having excessive blood in his urine. He was later released on bail. Mr. Guo remains incarcerated at the Yanqing District Detention Center and the two female practitioners at Changping District Detention Center.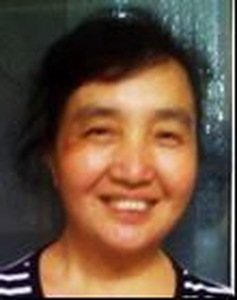 Ms. Yang Jinxiang
Ms. Yang, 59, held a hunger strike starting in November 2021 to protest the persecution and was force-fed. The guards put her on IV drips between February 11 and 15, 2022, and began to force-feed her again starting on February 15. It's not clear whether she is still on hunger strike at the time of writing.
The four practitioners had their arrests approved by the Yanqing District Procuratorate in August 2021. The prosecutor indicted them three months later and moved their cases to the Yanqing District Court.
When the four practitioners were tried on April 8, they all denied the charges against them and maintained that they didn't violate any law in practicing Falun Gong. One of their lawyers, Han Zhiguang, attended the hearing in person, while the other lawyer, Li Xiongbing, called in through his cellphone, as he didn't receive the notice to have a negative COVID-19 test ready to attend the session in person.
Both lawyers argued that no law criminalizes Falun Gong in China. On the contrary, their clients are very kind and considerate people who are bringing much positive influence to society.
The judge announced a guilty verdict for all four practitioners at the end of the hearing. Mr. Han faces eight to nine months in prison, Mr. Guo 10 to 22 months, Ms. Yang 16 to 28 months, and Ms. Wu 20 to 32 months. The judge has yet to announce the final verdicts against the practitioners at the time of writing.
Perpetrators' contact information:
Zhang Zhixiang (章志详), judge of Yanqing District CourtHuang Jinliang (黄金良), judge of Yanqing District CourtLyu Xingfei (吕行菲), judge of Yanqing District Court: +86-10-61115416, +86-10-61115404, +86-10-61115402Ma Wenyuan (马文源), prosecutor of Yanqing District Procuratorate: +86-18210878593Xu Jie (许杰), head of Yanqing District Police DepartmentBai Jixue (白计雪), head of Yanqing District Domestic Security Office: +86-15910496098Liu Yuanbao (刘元宝), head of Yongning Police Station: +86-10-60171217, +86-10-60171169
(More perpetrators' contact information is available in the original Chinese article.)
Related reports:
Yanqing District, Beijing: Three Women Sentenced for Practicing Falun Gong, Three More Face Prosecution
Having Survived Nine Years of Torture in Prison, Beijing Woman Faces Prosecution Again for Her Faith
Views expressed in this article represent the author's own opinions or understandings. All content published on this website are copyrighted by Minghui.org. Minghui will produce compilations of its online content regularly and on special occasions.