Having Been Incarcerated for 11.5 Years, Shanghai Resident Sentenced Again for His Faith
(Minghui.org) Mr. Luo Wei, 68, of Shanghai, was arrested on March 1, 2021 for distributing information about Falun Gong. He was held at the Putuo District Detention Center. The Putuo District Court sentenced him to a 1.5 year prison term on August 4, 2022.
Since the Chinese communist regime ordered the persecution of Falun Gong, a spiritual discipline, in 1999, Mr. Luo, a former employee of Shanghai Petroleum Company, has been given one labor camp term and two prison terms, for a total of 11.5 years, for upholding his faith.
1.5-year Forced Labor Camp Term
Mr. Luo, his wife Ms. Chi Bo, and their 16-year-old daughter Ms. Luo Dan went to Tiananmen Square in Beijing on February 15, 2000 to appeal for the right to practice Falun Gong. They displayed a banner that said "Falun Dafa is good" and were arrested. The police beat them and kicked Ms. Luo on the back of her head.
The family was held for a month at the Xuhui District Detention Center after being taken back to Shanghai. Mr. Luo was later given 1.5 years of forced labor. He was fired by his workplace during that time.
Both Husband and Wife Sentenced
When Ms. Chi was arrested again for distributing Falun Gong materials in January 2002, the police also seized Mr. Luo and Ms. Luo. The couple was then sentenced. Mr. Luo received three years and Ms. Chi's term wasn't clear. Their 17-year-old daughter was taken to the Shanghai Legal Education Center, a brainwashing center in disguise.
Sentenced Again to Seven Years
Mr. Luo was arrested one more time on March 10, 2009 and held at the Jinshan Detention Center. He was later sentenced to seven years at the Tilanqiao Prison, where he was constantly tortured.
24-hour Monitoring
The prison arranged two inmates in the same cell to monitor Falun Gong practitioners around the clock. The practitioners were forced to sit facing the wall during the day. They were often beaten, verbally abused, and starved. Sometimes the guards instigated the inmates to deprive the practitioners of sleep.
Physical Torture and Forced Labor
One common torture was electric shocks by several guards with multiple batons at the same time. They shocked the practitioners' sensitive areas, such as head, lips, palms, soles of the feet, back, and chest.
When the practitioners held hunger strikes to protest the persecution, the guards force-fed them very hot congee or salty food. Some added toxic drugs to the food.
Some practitioners reported that they were tied up on a bed in a spread eagle position. To prevent them from shouting, the guards taped their mouths.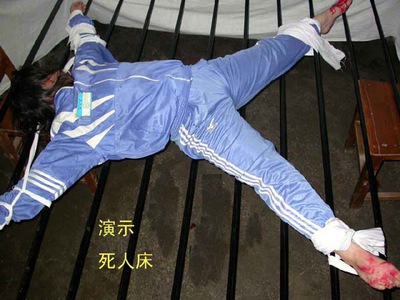 Torture reenactment: Tied up on a bed
In addition to torturing the practitioners, the guards also forced them to do very long hours of unpaid labor. Those who refused to do it were shocked with electric batons.
Perpetrators' contact information:
Zhu Wenbo (朱文波), president of Putuo District Procuratorate: +86-21-52553688Wu Xiaojun (吴晓军), prosecutor of Putuo District ProcuratorateQian Lina (钱丽娜), judge of Jing'an District Court: +86-21-36120000
Related report:
All content published on this website are copyrighted by Minghui.org. Minghui will produce compilations of its online content regularly and on special occasions.