Former Nurse Remains in a Coma One Year after Being Arrested for Her Faith
(Minghui.org) Ms. He Xianggu fell into a deep coma one and a half months after she was arrested for practicing Falun Gong. Over a year has now passed, and the Changsha City, Hunan Province, resident remains unconscious. Family visits are also restricted.
Falun Gong, also known as Falun Dafa, is a spiritual discipline that has been persecuted by the Chinese communist regime since 1999.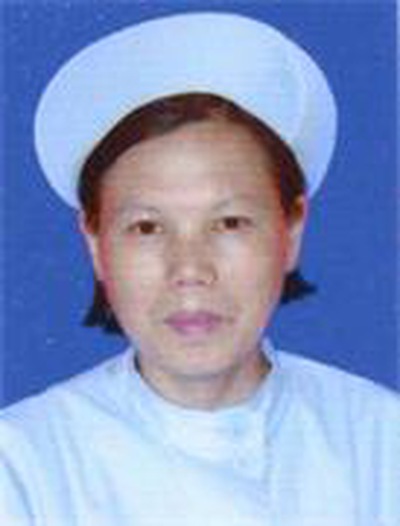 Ms. He Xianggu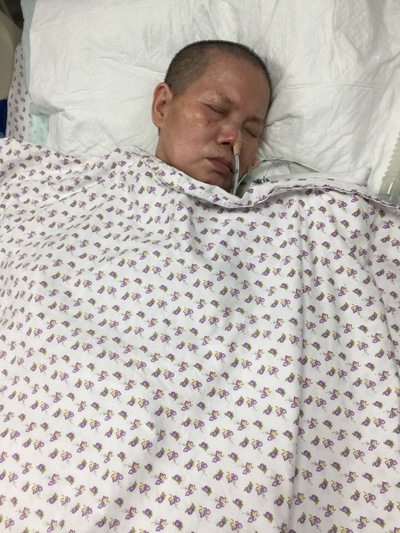 Ms. He Xianggu in a coma
Ms. He, a 61-year-old former nurse at a women and children's hospital, was arrested at home on May 16, 2021. She was held at the Changsha City No. 4 Detention Center and denied family visits. When her sister told the officer in charge of her case that they would be held responsible if Ms. He developed any life-threatening condition while in custody, the officer shouted at her.
The police called Ms. He's family on July 3 and told them to go to Changsha City No.1 Hospital. When they got there, Ms. He was already in a coma. They cried and called her name, but she did not respond. Her sister insisted that she be given emergency care. She was admitted to an intensive care unit on July 4 and has been unconscious ever since.
While other patients in the intensive care unit are allowed daily visits from family, the police only allow Ms. He's family to visit once a week and for only five minutes. Except for her immediate family, any other relatives or friends who want to visit her must apply for permission from the Qingshuitang Police Station.
When Ms. He's family visits her, they always say to her, "Please recover soon. As long as you can eat and talk, we will take you home." But no matter how they call to her, she has never responded.
Huang Kang, the attending physician in the intensive care unit, told Ms. He's family before the 2022 Chinese New Year that he had applied to transfer her to the regular ward so her family could care for her themselves. But after the New Year holiday, Huang told the family that the municipal police department had turned his proposal down.
Prior to her latest arrest, Ms. He was repeatedly targeted over the past 23 years for her faith. She was given four labor camp terms and held in psychiatric hospitals three times. She wasn't allowed to work and her salary and medical insurance were suspended. Her husband was also forced to divorce her.
Her family asked what the police did to her during the month and a half she was detained following her latest arrest that caused her to fall into a coma.
Perpetrators' contact information:
Long (龙), officer, the Qingshuitang Police Station: +86-18073183816Zou Chong (邹冲), officer, Qingshuitang Police Station: +86-15343014567Cao (曹某), officer, Qingshuitang Police Station who claimed that he force-fed Ms. He over ten times: +86-13808433707Huang Kang (黄康), attending physician, Changsha City No.1 Hospital: +86-13574886917
Related reports:
Former Nurse in a Deep Coma for Nearly Two Months
Hunan Woman Falls Into Deep Coma Following Second Arrest Within Two Months
Ms. He Xianggu Barred from Work at Hunan Province Women's and Children's Health Institute
Changsha Practitioner Ms. He Xianggu Sent to a Forced Labor Camp a Fourth Time
Nurse He Xianggu is Injected with Harmful Drugs at Hunan Mental Hospital Because She Practices Falun Gong
Account of the Persecution Suffered by Practitioner Ms. He Xianggu, a Nurse at the Hunan Province Mother and Child Care Hospital
Ms. He Xianggu Calls For Outside Help After Being Forcibly Injected With Nerve-Damaging Drugs in Mental Hospital
Ms. He Xianggu Still Detained in a Mental Hospital
Ms. He Xianggu in Critical Condition in a Mental Hospital
The Heartbreaking Story of He Xianggu, a Changsha Practitioner in Hunan Mental Hospital
All content published on this website are copyrighted by Minghui.org. Minghui will produce compilations of its online content regularly and on special occasions.