International Alliance Calls for Religious Freedom and End of the Persecution of Falun Gong in China
(Minghui.org) The Inter-Parliamentary Alliance on China (IPAC) is calling on the governments of western countries to "stand up and speak out for an end" to the 23-year long repression of Falun Gong and uphold "the human rights and religious freedom of all peoples in China."
"Today marks the solemn anniversary of the beginning of the Chinese government's brutal campaign of persecution against Falun Gong practitioners. 23 years later, we remember all those in China who have been denied freedom of religious belief." read the statement by IPAC on July 20, 2022.
IPAC is a non-governmental political alliance of democratic countries formed to curb the Chinese Communist Party (CCP)'s totalitarian influence in the world. The coalition was founded in June 2020 and has nearly 200 members of senior government officials from 20 countries.
The IPAC recognized that over the past two decades, imprisoned Falun Gong practitioners, in the hundreds of thousands, have been subjected to "the most severe forms of torture and credible reports of widespread, state-sponsored forced organ harvesting."
The alliance commends "the courage of all those who have stood against the Chinese government's persecution of religious and ethnic groups in China, including Tibetan Buddhists, Christians and the Uyghurs and other predominantly Muslim Turkic groups."
The alliance recognized two human rights lawyers, Gao Zhisheng and Chang Weiping, who have both been imprisoned for defending Christians and Falun Gong practitioners, as well as house church leader Pastor Wang Yi, who was sentenced to nine years in prison in December 2019.
In addition to the IPAC, many elected officials in Canada, the U.S. and the U.K. also spoke up for the practitioners and condemned the persecution.
Canadian MP: The Parliament Will Do More to Protect Falun Gong Practitioners
On July 19, 2022, forty Canadian parliamentarians wrote to Prime Minister Trudeau and the Minister of Foreign Affairs, urging the federal government to "include Falun Gong explicitly in Global Affairs Canada's China Policy Framework (while other persecuted groups are mentioned), condemn the CCP's continued attack on this peaceful faith, and call for an end to the persecution in China."
As a member of IPAC and also co-chair of the Parliamentary Friends of Falun Gong, Canadian MP Garnett Genuis, said that he was glad to see the officials taking action to protect human rights and religious freedom in China. Speaking up for these fundamental rights is essential in a liberal democratic society like Canada.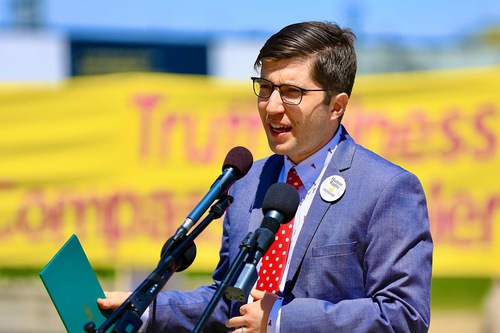 Garnett Genuis spoke during the celebration of Falun Gong's 30th anniversary of public introduction
MP Genuis is also the sponsor of S-223 that prohibits live organ harvesting from Falun Gong practitioners. He said that after 15 years of effort, the current parliament is finally going to pass the bill against live organ harvesting and they have momentum behind it.
"This is another encouraging sign that the parliament is ready to do more to protect Falun Gong practitioners. We have seen that the CCP has not taken any substantive action to address human rights abuses. Members of all parties must strengthen our resolve and continue to push the Canadian government to do the right thing," he said.
U.S. State Department: The Abuses, Imprisonment and Torture Must End
On July 20, 2022, the Office of International Religious Freedom under the U.S. State Department tweeted, "23 years ago, the People's Republic of China began its brutal persecution of the spiritual discipline Falun Gong, its practitioners, advocates, and human rights defenders. The abuses, imprisonment and torture of peaceful practitioners are unacceptable and must end."
Rashad Hussain, the U.S. Ambassador-at-Large for International Religious Freedom, echoed in another tweet, "I stand in solidarity with the Falun Gong community. Yesterday marked the 23rd year of persecution at the hands of PRC authorities. Thousands have been tortured, harassed, imprisoned, and forced to renounce their beliefs. This unjust campaign must end."
On July 21, over 2,000 Falun practitioners gathered on National Mall in Washington, D.C. for a rally and subsequent march, calling for the end of the persecution.
Before the event, 15 U.S. senators and congressmen sent letters or video messages to the Falun Dafa Association, expressing their solidarity with Falun Dafa and condemning the persecution and the organ harvesting from living practitioners.
Representative Gus Bilirakis from Florida, one of the co-sponsors of H.R.6319 Falun Gong Protection Act, said in a video, "Millions of people who practice Falun Gong in China have been imprisoned, tortured, or killed. If we remain silent in the face of these transgressions, we neglect that moral imperative and do so at the peril of civil society."
H.R.6319 was introduced by Representative Scott Perry in December 2021. If passed, the perpetrators who are "knowingly responsible for or complicit in, or have directly or indirectly engaged in the involuntary harvesting of organs within the People's Republic of China" would face sanctions.
Representative Bilirakis also said, "We must continue to hold the CCP accountable for its wrong deeds, and take a firm stand to show that the international community will no longer tolerate the CCP's misconduct."
More Officials Voice Support for Falun Gong Practitioners and Condemn the Persecution
In the U.K., fourteen members in both Houses of Parliament also issued statements to voice their support for Falun Gong practitioners and strongly condemned the 23-year long persecution.
Baroness Cox stated in her message, "The Communist Party kills these peaceful citizens who merely want to live by the tenets of 'Truthfulness, Compassion and Tolerance'. This behavior is tyrannical, and all good people and governments should stand with Falun Gong today and every day until the killing stops in China."
Chen Jiau-hua, a legislator in Taiwan, praised practitioners' efforts to end the persecution and called on the CCP to immediately stop the atrocity of forced organ harvesting.
When Falun Gong practitioners in Ireland held a rally and a march, on July 14 and 16, respectively, sixteen elected officials, both in the federal and local government, issued statements or signed the petition in support of the practitioners.
Takashi Nagao, former Parliamentary Vice-Minister of Cabinet Office in Japan, remarked that the 23-year persecution is something all Japanese and everyone else in the world must face and remember. He called on the public to speak up for Falun Gong practitioners and support them. "The light of hope is there. Let us persevere to the end without giving up."
Views expressed in this article represent the author's own opinions or understandings. All content published on this website are copyrighted by Minghui.org. Minghui will produce compilations of its online content regularly and on special occasions.