U.S. State Department Calls on the Chinese Communist Party to Stop Persecuting Falun Gong
(Minghui.org) On July 20, 2022, the 23rd anniversary of the persecution of Falun Gong in China, the U.S. State Department condemned the persecution and called on the Chinese Communist Party to end its "abuse, imprisonment and torture of peaceful practitioners."
"23 years ago, the People's Republic of China began its brutal persecution of the spiritual discipline Falun Gong, its practitioners, advocates, and human rights defenders. The abuses, imprisonment and torture of peaceful practitioners are unacceptable and must end," read the tweet published by the Office of International Religious Freedom.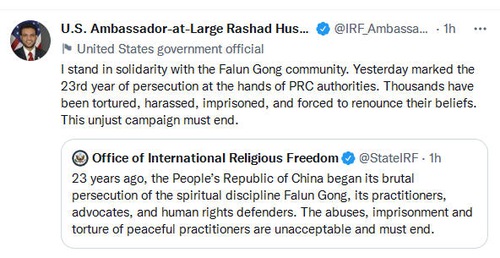 U.S. Ambassador-at-Large urges the Chinese Communist Party to end the 23-year long persecution of Falun Gong
Rashad Hussain, the U.S. Ambassador-at-Large for International Religious Freedom, echoed in another tweet, "I stand in solidarity with the Falun Gong community. Yesterday marked the 23rd year of persecution at the hands of PRC authorities. Thousands have been tortured, harassed, imprisoned, and forced to renounce their beliefs. This unjust campaign must end."
This April, Hussain met with Falun Gong practitioners in the State Department for an update on the persecution in China. He also reiterated support for Falun Gong practitioners and condemned the suppression in China. He emphasized that the communist regime's ruthless persecution of Falun Gong practitioners is unacceptable and intolerable.
Falun Gong, also known as Falun Dafa, is a spiritual discipline with the core tenets of Truthfulness, Compassion, Forbearance. It's introduced to the public in May 1992 and soon attracted millions of practitioners for its tremendous health benefits and moral improvement. Fearing its unprecedented popularity, the Chinese Communist Party ordered to eradicate Falun Gong from China in July 1999. In the past 23 years, countless practitioners have been arrested, detained, sentenced, and tortured. The persecution still continues today.
Views expressed in this article represent the author's own opinions or understandings. All content published on this website are copyrighted by Minghui.org. Minghui will produce compilations of its online content regularly and on special occasions.