New York: Residents Commend Falun Dafa Practitioners' Efforts to Expose the 23-Year-Long Persecution in China
(Minghui.org) Chinese and Western Falun Dafa practitioners held a candlelight vigil outside the Chinese Consulate on the evening of July 16, 2022. They demonstrated the Falun Dafa exercises and distributed information to passersby. As evening gently descended across New York they held candles and silently mourned practitioners who were tortured to death in China for refusing to give up their faith during 23 years of brutal suppression. Many people empathized with the unjust treatment and some joined the vigil.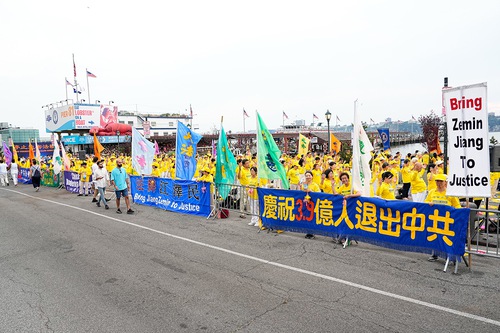 Practitioners held activities outside the Chinese Consulate on July 16, 2022, to commemorate those practitioners who were killed in the persecution.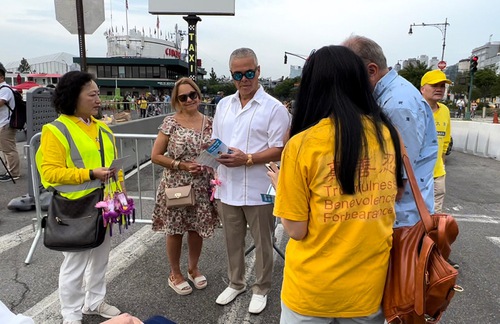 People stopped to talk with practitioners and learn about the persecution.
Practitioners displayed many banners with messages including: "Falun Dafa," "Truthfulness, Compassion, Forbearance," "Stop Persecuting Falun Gong," "Bring Jiang Zemin to Justice," "Stop CCP's Crimes of Forced Organ Harvesting," "Celebrate 390 Million People Who Quit the CCP." They called on people to condemn the Chinese Communist Party's 23 year-long brutal persecution and to pay attention to these human rights violations.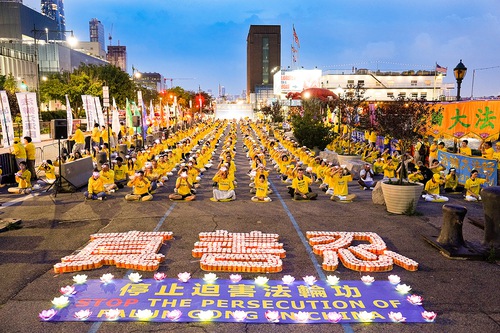 Practitioners held a candlelight vigil in front of the Chinese consulate office in New York on July 16, 2022.
Calling for an End to the Atrocities
Lu Na, who attended the event, said that her younger sister Lu Wei, who teaches English in a high school in Harbin City, and her husband Fu Minhua, were arrested at their home on July 11, 2022. The couple is now detained in the No. 1 Detention Center in Harbin.
Lu Na said that her sister had previously been subjected to one year of forced labor, and incarcerated at the notorious Wanjia Forced Labor Camp. Her brother-in-law was also targeted for persecution many times, including being held for two years in the Changlinzi Forced Labor Camp in Harbin City and three years in the Meizhou Prison in Guangdong. Lu Na called on the Chinese Communist Party (CCP) to release her sister and brother-in-law immediately, "They are kind and good people. They should be able to practice Falun Gong freely. It is their constitutional right and is protected by Article 251."
She said, "If my relatives are unjustly sentenced, I will pursue the matter and collect information on the perpetrators and submit it to international courts so that they can be punished under the Magnitsky Act."
According to reports on the Minghui website, Fu Minhua and Lu Wei are among many practitioners in Heilongjiang Province who were recently targeted by the CCP. Since July 1 this year, the 610 Office and police in Heilongjiang Province have been arresting practitioners in many areas throughout the province. To date, at least 37 have been arrested.
Deng Rong from Shanghai stood outside the Chinese Consulate holding a photo of two practitioners from her hometown. They are married couple Mr. He Binggang and Ms. Zhang Yibo, who were illegally arrested by Shanghai police on October 9, 2021. Deng Rong said that both of them now have health problems: "He Binggang was taken to the detention center in a wheelchair. He is now half paralyzed and cannot control his bowels or look after himself. His family and lawyer many times requested that he be released on medical parole, but received no response. Zhang Yibo developed a tumor in her chest. The detention center claimed that she is fine and refused to let her go home. Her family is very worried about her health."
The couple's cases have been sent to the court. They are charged with taking part in developing software to break through the CCP's Internet firewall.
Deng Rong said, "I came here today to call on governments and people to help us end this persecution."
Zhong Can, who is from Chengdu City, Sichuan Province, witnessed his father being repeatedly arrested by the CCP seven times for practicing Falun Gong when Zhong was still a child. His mother could not bear the pressure and was forced to divorce his father.
Zhong Can addressed the rally outside the Chinese Consulate and said, "There are countless families in China who have been broken apart as a result of the CCP's persecution of Falun Gong. My family is just one of them.
"For 23 years, the regime has never stopped persecuting us. Every day you read on the Minghui website reports about practitioners who are arrested. Just last month, it was reported that Ms. Huang Sulan from Chengdu died three days after she was arrested. Last month, the 610 Office in Leshan City pressured and harassed many practitioners in the area to force them to give up Falun Gong."
According to reports on the Minghui website, in the first half of 2022, the regime continued to carry out former president Jiang Zemin's campaign of genocide. It has begun the "zero out" campaign as an excuse to harass, suppress, and victimize Falun Gong practitioners.
Passersby Support Falun Dafa
Ricardo Evans, 39, is a general manager at UPS (United Parcel Service). He and his mother were catching a ferry ride at the Hudson pier to return to their home in Brooklyn. After seeing the touching scene and listening to practitioners narrate the unjust treatment happening in China, Evans joined practitioners in the candlelight vigil. He sat down and held a lotus flower lantern raised above his head, shut his eyes, and prayed silently to express his support. He sat quietly for over an hour until the vigil ended.
Mr. Evans said he was moved by the scene. He felt at peace sitting there, and said he believed he was guided by God. He explained that he had visited Hong Kong and China, and said, "This persecution must end, Chinese people must have freedom. I think we all need to be free. Everyone has to have the right to freedom... to become someone they want to be. I hope many countries can come together and work hard to help China change."
He also said, "I hope to have the opportunity to experience and learn Falun Dafa and teach it to my friends."
Francis Rosario, an Internet influencer, used her mobile phone to broadcast the vigil live on social media. She said she planned to share this on her social platform and over 1,000 people will see it.
Ms. Rosario said, "I am moved by the music. This persecution taking place in China must stop. Many Chinese nationals are killed for their belief. These people are peaceful, we must unite and help Chinese people have freedom. The time is now! These are words from my heart."
Tony Perez, who is a retired New York police officer, said, "We stand with any one of them, in particular those Chinese citizens who are seeking justice and those who are unjustly treated."
Isabel Maria Rivera passed by the candlelight vigil and said, "This is very powerful, the practitioners told me what is happening in China, organ harvesting, personal stories and the flier told us what we didn't know before. We support you!"
Background: What Is Falun Dafa and Why Is the CCP Persecuting It?
Falun Dafa (also known as Falun Gong) was first introduced to the public by Mr. Li Hongzhi in Changchun, China, in 1992. The spiritual discipline is now practiced in over 100 countries and regions worldwide. Millions of people who have embraced the teachings, which are based on the principles of Truthfulness, Compassion, and Forbearance, and have learned the five exercises, have experienced improved health and well-being.
Jiang Zemin, former head of the Chinese Communist Party (CCP), perceived the spiritual discipline's growing popularity as a threat to the CCP's atheistic ideology and on July 20, 1999, he issued an order to eradicate the practice.
Under Jiang's personal direction, the CCP established the 610 Office, an extralegal security organization with the power to override the police and judicial systems and whose sole function is to carry out the persecution of Falun Dafa.
Minghui.org has confirmed the deaths of thousands of practitioners as a result of the persecution over the past 23 years. The actual number is believed to be much higher. Countless practitioners have been imprisoned and tortured for their faith.
There is concrete evidence that the CCP sanctions the harvesting of organs from detained practitioners, who are murdered to supply China's organ transplant industry.
All content published on this website are copyrighted by Minghui.org. Minghui will produce compilations of its online content regularly and on special occasions.