68-year-old Man Missing for 15 Months and Counting
(Minghui.org) A 68-year-old Yanji City, Jilin Province resident has gone missing since late February 2021. Weeks before Mr. Piao Guangxun's disappearance, several police officers threatened the disabled man that he wasn't allowed to go out to talk to people about Falun Gong.
Since the Chinese communist regime began to persecute Falun Gong, a spiritual and meditation discipline, in 1999, Mr. Piao has endured repeated arrests, incarceration, and torture for upholding his faith. He became disabled from the torture and rarely went out in recent years.
Between August and September 2020, several officers of the Jinxue Police Station ransacked Mr. Piao's home and confiscated his Falun Gong books and a photo of Falun Gong's founder. He was released the next day.
The police harassed Mr. Piao again on February 6, 2021, and intimidated him not to go out. Shortly after the harassment, Mr. Piao went missing and his family hasn't heard any update about him since.
Past Persecution
Mr. Piao, of Korean ethnicity, began to practice Falun Gong on March 26, 1995. Many of his ailments, including headaches and a heart condition all disappeared. Living by Falun Gong's principles of Truthfulness-Compassion-Forbearance, his character also improved.
Mr. Piao was arrested at home on April 10, 2004. He was interrogated by officers Wu Shunri, Xu Guangzhe and Zhang Wenzhu for nearly a day. They hung him up in excruciating positions, for 1-4 hours each time.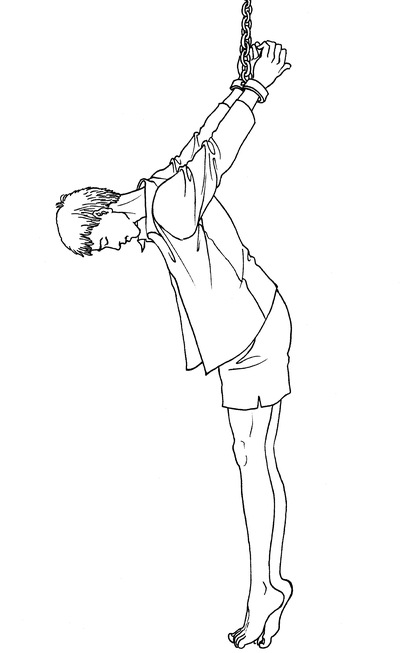 Torture illustration: hanging up by the wrists behind one's back.
Mr. Piao lost consciousness after he was hung up by the wrists behind his back. In the evening, the guards forced him to sit in a big split position. Officer Xu pressed his head down and injured his neck. As Mr. Piao still refused to give in, the officers handcuffed him behind his back and pulled his arms to the front, causing a severe sprain in his right arm. The officers also covered his head with a plastic bag to suffocate him and whipped his head with a leather belt until they became exhausted themselves. He was later given three years of forced labor.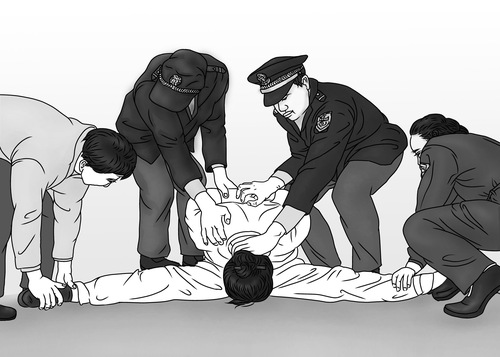 Torture illustration: pressing one's head down while doing a big split.
Although Mr. Piao was released ahead of time, he was arrested again on January 1, 2007, while distributing informational materials about Falun Gong. At the Longmen Police Station, officer Jin Qianji hung him up with his toes barely touching the ground and hit his head with a thick board.
The deputy police chief surnamed Zheng, later came and interrogated Mr. Piao. As he remained silent, Zheng slapped him in the face dozens of times. Mr. Piao was later taken to another room and chained to a metal chair. The police continued to beat him, eventually causing him to be incapacitated. The police gave him 3.5 years of forced labor, but he was soon released. His family spent more than 100,000 yuan in total trying to secure his release after both forced labor camp terms.
The torture caused Mr. Piao to have trouble lifting his arms and walking. Unable to work to support himself, he sold his house and land and relied on low-income subsidy to get by. He stayed at home most of the time and occasionally did odd jobs to earn extra income.
Mr. Piao was arrested again on October 25, 2012, and taken to a brainwashing center. The police kept ordering him to renounce Falun Gong. As he refused to comply, they pressured his family to persuade him. The head of the brainwashing center talked to him in person on the third day, but he still remained firm in his faith. He was released that afternoon.
Perpetrators' contact information:
Zhang Hailong (张海龙), head of Jinxue Police Station: +86-433-2522487Cui Changxuan (崔昌铉), deputy director of Yanbian Prefecture Police Department: +86-433-8150001, +86-18043302001Xu Guangzhe (许光哲), deputy secretary of Yanji City Political and Legal Affairs Committee: +86-433-2518330
(More perpetrators' contact information is available in the original Chinese article.)
Related reports:
Yanji City, Jilin Province: Six Senior Falun Gong Practitioners Targeted for Their Faith
Arrested and Tortured in the Past, Mr. Piao Guangxun Arrested Again
All content published on this website are copyrighted by Minghui.org. Minghui will produce compilations of its online content regularly and on special occasions.