US Department of State: Annual Report on Religious Freedom Highlights Persecution of Falun Gong in China
(Minghui.org) The US State Department released its 2021 Report on International Religious Freedom on June 2. With detailed examples, the report found that the Chinese Communist Party (CCP) continued its persecution of Falun Gong practitioners in China.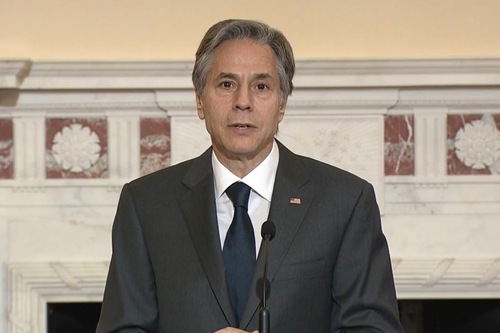 US Secretary of State Antony J. Blinken released the 2021 Report on International Religious Freedom on June 2, 2022.
"The PRC continues to harass adherents of other religions that it deems out of line with Chinese Community Party doctrine," said US Secretary of State Antony J. Blinken in a press conference on June 2. This includes "erecting barriers to employment and housing" for groups such as Falun Gong.
Rashad Hussain, Ambassador at Large for the Office of International Religious Freedom at the US State Department and the person who steered the committee responsible for producing this year's report, said, "Religious freedom is a critical part of the American story. Our nation was founded centuries around by individuals fleeing religious persecution. It is natural then that freedom of religion was enshrined in America's founding documents, including in the First Amendment to our Constitution in our Bill of Rights. Freedom of religion is also a universal right enshrined in several international instruments and covenants, including in the Universal Declaration of Human Rights."
Suppression Continues During the Pandemic
Although the Chinese constitution promises freedom of religious belief, it clearly follows the narrative of the CCP and only allows so-called "normal religious activities" without defining "normal." This led to the severe suppression of numerous religious groups.
"According to Minghui, a Falun Gong-affiliated publication, 101 Falun Gong practitioners died during the year as a result of persecution of their faith, compared with 107 in 2020, and both Minghui and the Falun Dafa Infocenter reported police arrested more than 5,000 practitioners and harassed more than 9,000 others," wrote the report.
Those numbers did not go down during the pandemic, the report found. In fact, the CCP intensified its campaign targeting religious groups it labeled "cults" and churned out hate propaganda to vilify them.
The persecution is not limited to detention. A number of groups including Falun Gong practitioners "reported severe societal discrimination in employment, housing, and business opportunities." That is why the US has started to impose sanctions on some CCP officials for the religious persecution.
Detention and Torture
Before the persecution of Falun Gong started in 1999, the Chinese government estimated there were about 70 million practitioners. Numerous sources have confirmed "the CCP maintains an extralegal, Party-run security apparatus to eliminate the Falun Gong movement and other organizations."
The Political Prisoner Database of the human rights NGO, Dui Hua Foundation, reported that 3,793 individuals were imprisoned as of September 30, 2021, for their religious beliefs. Among them, 2,751 are Falun Gong practitioners.
Minghui reported that the police often used violence when arresting Falun Gong practitioners, followed by torturing them in custody. For example, Mr. Li Xianxi, a shopkeeper in Anyang City, Henan Province, was arrested on May 11, 2021, for talking about Falun Gong in a market. When Mr. Li did the Falun Gong exercises in the detention center, guards handcuffed him and tortured him.
"On June 13, authorities informed his family that Li had died on June 12. According to those who saw his body, he was emaciated, his head was swollen, and there were injuries to his back and knees," wrote the report.
Bitter Winter reported that, on April 12, 2021, authorities informed the family of Colonel Mr. Gong Piqi of Qingdao City, Shandong Province, that he had died in prison. Gong was a Falun Gong practitioner and former deputy chief of staff of the Shandong Provincial Reserve Artillery Division. Although officials attributed his death to a "sudden cerebral hemorrhage," his family and friends reported seeing signs of torture on his body.
Very often officials refused to release the deceased practitioners' bodies to the families and that happened to Ms. Hu Hanjiao of Xiaochang County, Hubei Province.
Minghui reported that Ms. Hu Hanjiao died in prison while serving a four-year sentence for practicing Falun Gong. She was arrested on March 15, 2021, for talking to people about Falun Gong, and the Xiaochang County Court sentenced her to four years in prison in late June 2021. Thirteen days after she was transferred to the Hubei Province Women's Prison, prison authorities called her husband on November 9 to inform him she had died. They did not return her body to the family.
Systematic Human Rights Abuses
The persecution of Falun Gong is widespread. Citing information from Minghui, the report stated "police arrested and harassed Falun Gong practitioners throughout the country." In addition, massive arrests often happened around April 25 (the anniversary of Falun Gong practitioners' peaceful appeal in 1999) and May 13 (World Falun Dafa Day).
"According to Minghui, harassment was also driven by the 'stability maintenance' campaign prior to the CCP's centennial anniversary. From July to August, Hebei, Heilongjiang, Shandong, Jilin, Sichuan, Shanxi, and Liaoning were the provinces where the highest number of practitioners were targeted," wrote the report. "Those arrested included teachers, restaurants, librarians, construction workers, factory workers, academics, nurses, engineers, farmers, shop owners, and many retirees."
There are many such cases. For example, Minghui reported on September 12, 2021, that multiple incidents of police harassment and practitioner arrests took place in various regions. One of the targeted practitioners was Yang Xiaozhi from Fushun City, Liaoning Province. She was arrested on March 10 for distributing Falun Gong materials. Guards shocked her with electric batons. Another was 98-year-old Cai Xiufang from Jilin City, Jilin Province. The police arrested her on May 14 for talking to people about Falun Gong. "They held her in a metal cage at the police station for several hours and ransacked her home before releasing her on bail," wrote the report.
Practitioners from all walks of life were targeted. For example, authorities arrested Ms. Gong Ruiping, a former elementary school teacher in Beijing, on July 20. She was force-fed when she went on a hunger strike. Three days later, the police arrested Ms. Li Lihong, a middle school teacher in Hunan Province on July 23 for talking to people about Falun Gong.
The abuse often led to injuries, so the authorities also resorted to mental abuse. "On August 15, a plainclothes officer in Handan City, Hebei Province, beat Ms. Wang Shuqin for talking to him about Falun Gong. Ms. Wang suffered two broken ribs and was taken to the hospital," wrote the report. "Minghui reported that Baimaqiao police station head Zhang Jie threatened to shoot and kill her."
Forced Organ Harvesting
Another crime is forced organ harvesting. "On June 14, the Office of the UN High Commissioner for Human Rights published a statement from a group of 11 UN-affiliated independent human rights experts, including UN Special Rapporteur on freedom of religion or belief Ahmed Shaheed, who were 'alarmed by reports of alleged organ harvesting targeting minorities including Falun Gong practitioners, Uyghurs, Tibetans, Muslims, and Christians, in detention in China,'" wrote the report.
Citing information from Minghui, the report found authorities collected DNA, blood samples, and other biometrics from Falun Gong practitioners against their will.
Enemies of the State
The CCP has abused its legal system to persecute Falun Gong. "On April 20, RFA reported the police department of Yulin City, Shaanxi Province, confirmed to his wife that it was still detaining Gao Zhisheng, a human rights lawyer taken into custody in September 2017," the report wrote. "Previously, Gao's family had not known his whereabouts or whether he was alive. Gao had previously defended on-trial members of Christian groups, Falun Gong practitioners, and other minority groups."
By labeling various religious groups as cults (xie jiao), the CCP launched waves of campaigns spreading hate propaganda to discredit them. "Bitter Winter reported that on National Security Education Day on April 15, authorities mounted exhibitions as part of an anti-xie jiao campaign, and students across the country signed pledges to renounce illegal religious activities by groups labeled cults," wrote the report.
This led to these groups being discriminated against by the general public. "Discrimination against potential or current tenants based on their religious beliefs reportedly continued. Since 2017 and 2018, when articles in the 2005 Public Security Administration Punishment Law related to 'suspicious activity' began to be enforced in earnest," the report continued. "Falun Gong practitioners reported ongoing difficulty in finding landlords who would rent them apartments."
Children are no exception. "In November, Minghui reported that on October 14, nine officials went to Ms. Yi Shuying's home and ordered her to sign a letter renouncing Falun Gong. They threatened that her granddaughter, a junior high school student, would be denied admission to college in the future if Ms. Yi did not renounce Falun Gong. She refused to comply," wrote the report.
In recent years, the US government has imposed sanctions against human rights perpetrators. For example, Blinken and the US State Department announced on May 12, 2021, that Yu Hui, former director of the Central Leading Group on Preventing and Dealing with Heretical Religions in Chengdu City, Sichuan Province, would be sanctioned for persecuting Falun Gong.
All content published on this website are copyrighted by Minghui.org. Minghui will produce compilations of its online content regularly and on special occasions.