President and Vice President of Taiwan Welcome the Return of Shen Yun
(Minghui.org) Shen Yun Performing Arts will return to Taiwan with 27 performances in seven cities from June 7 to July 10, 2022.
This will be the first time that the New York-based dance company has performed in Taiwan since 2019, before the pandemic. Over the past decade, Shen Yun has performed a total of 458 shows in Taiwan. This June, Shen Yun will visit Taiwan for the 14th time.
Prior to Shen Yun's arrival, President Tsai Ing-wen, Vice President Lai Ching-te, along with almost 100 elected officials issued remarks to the hosting organization of Shen Yun.
President and Vice President Issue Congratulatory Remarks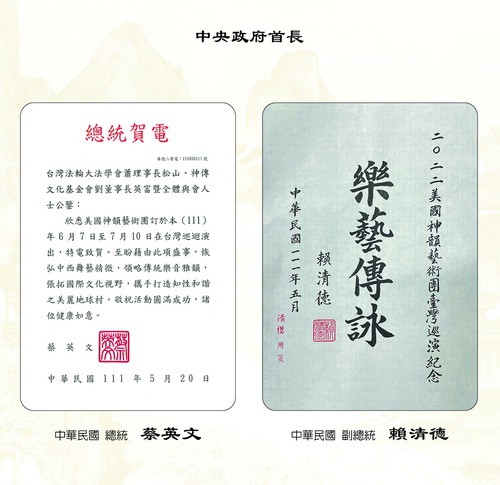 Welcome letter from President of Taiwan Tsai Ing-wen (left), and congratulatory calligraphy art from Vice President Lai Ching-te (right).
In her letter, President Tsai wrote: "I am happy to send this letter to congratulate and welcome Shen Yun Performing Arts to perform in Taiwan from June 7 to July 10. Shen Yun revives and promotes classical dance techniques, enables the audience to enjoy the gracefulness of traditional music, and broadens the international artistic horizon. Together we build a beautiful, harmonious, and culturally rich earth village. I wish your performances great success, and everybody in good health and spirit."
Vice President Lai's calligraphy art stated, "Music and Arts to Be Cherished and Passed On."
Central Government Officials Extend Welcome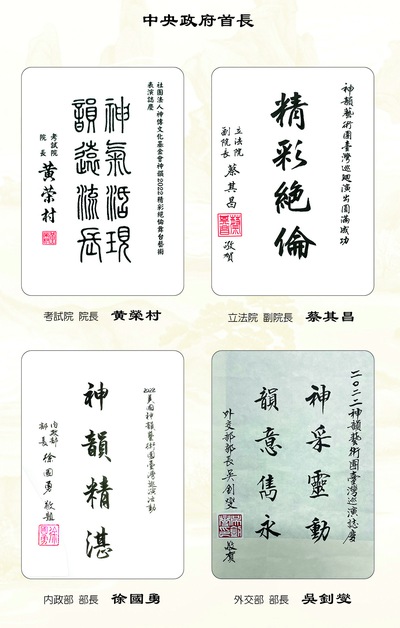 Congratulatory remarks from: (left to right, top to bottom) President of the Examination Yuan Huang Jong-tsun, Vice President of the Legislative Yuan Cai Chi-chang, Minister of Interior Hsu Kuo-yung, and Minister of Foreign Affairs Joseph Wu.
"Unparalleled excellence," wrote Cai Chi-chang, Vice President of the Legislative Yuan.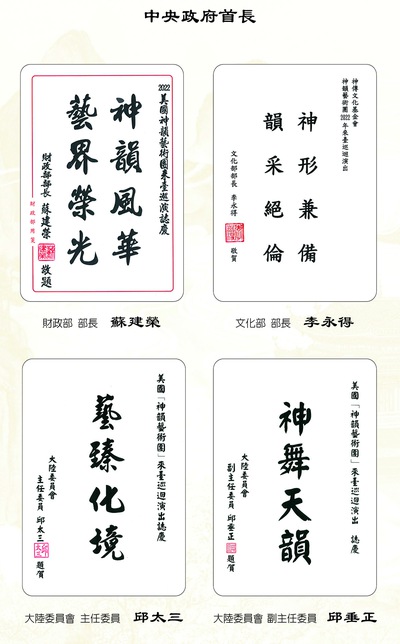 Remarks from: (left to right, top to bottom) Minister of Finance Su Jain-rong, Minister of Culture Lee Yung-te, Minister of the Mainland Affairs Council Chiu Tai-san, and Deputy Minister of the Mainland Affairs Council Chiu Chui-cheng.
"Pride of the art field," wrote Su Jain-rong, Minister of Finance.
"Possessing both spirit and form; unparalleled beauty," wrote Lee Yung-te, Minister of Culture.
"Art of a higher realm," wrote Chiu Tai-san, Minister of the Mainland Affairs Council.
Municipal Officials Welcome Shen Yun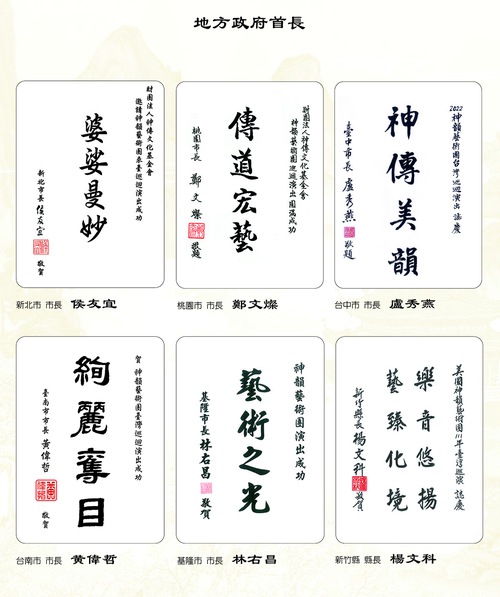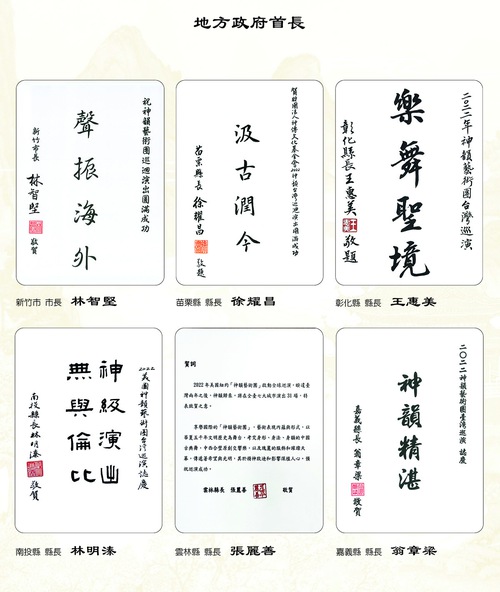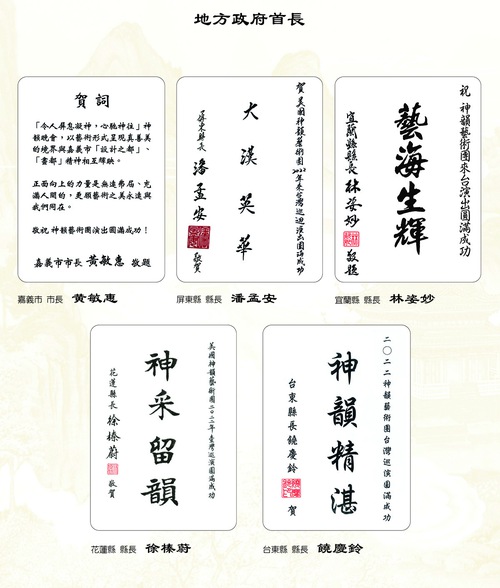 Recognitions from 17 municipal officials: Mayor of New Taipei Hou You-Yi, Mayor of Taoyuan City Cheng Wen-tsan, Mayor of Taichung Lu Shiow-yen, Mayor of Tainan Huang Wei-cher, Mayor of Keelung Lin Yu-chang, Magistrate of Hsinchu County Yang Wen-ke, Mayor of Hsinchu City Lin Chih-chien, Magistrate of Miaoli County Hsu Yao-chang, Magistrate of Changhua County Wang Huei-mei, Magistrate of Nantou County Lin Ming-chen, Magistrate of Yunlin County Chang Li-shan, Magistrate of Chiayi County Weng Chang-liang, Mayor of Chiayi City Huang Min-hui, Magistrate of Pingtung County Pan Men-an, Magistrate of Yilan County Lin Zi-miao, Magistrate of Hualien County Hsu Chen-wei, and Magistrate of Taitung County Rao Ching-ling.
Remarks from Legislators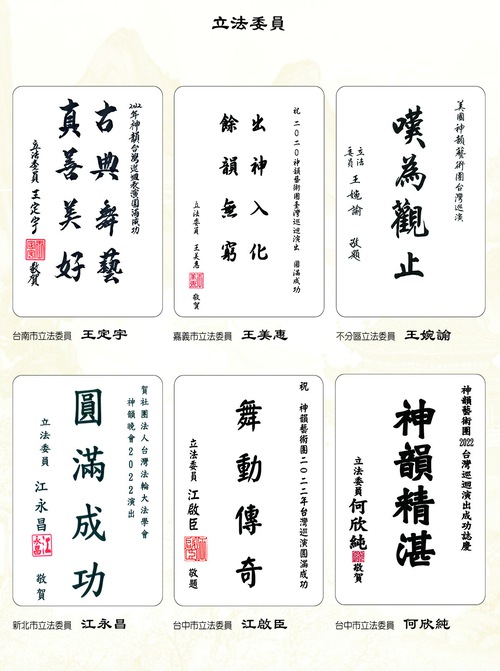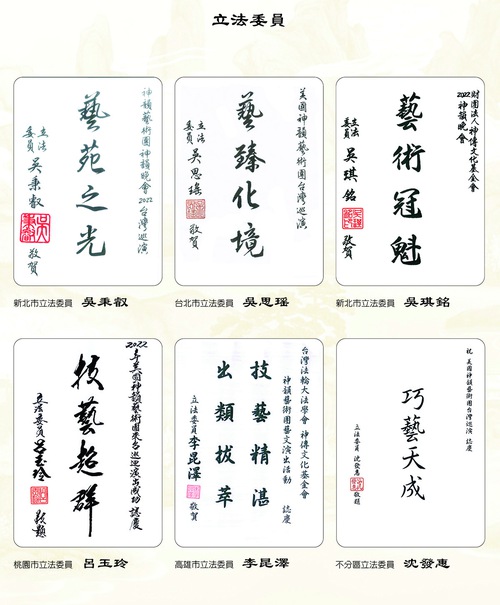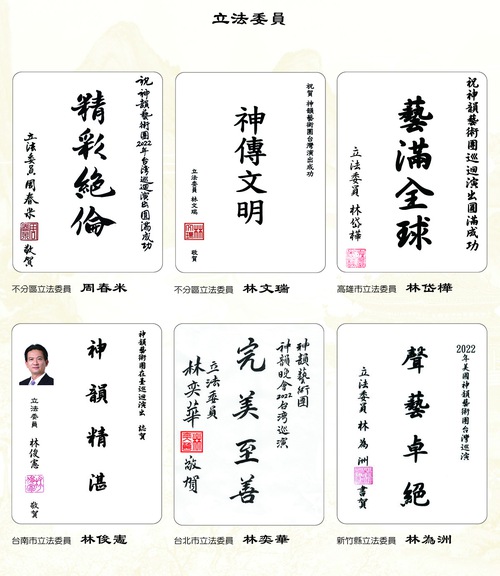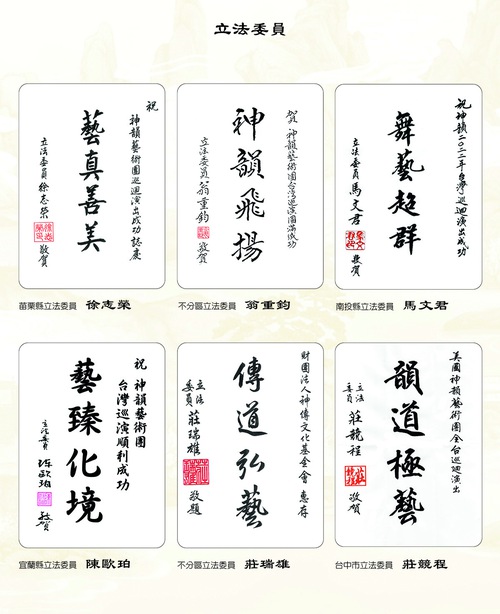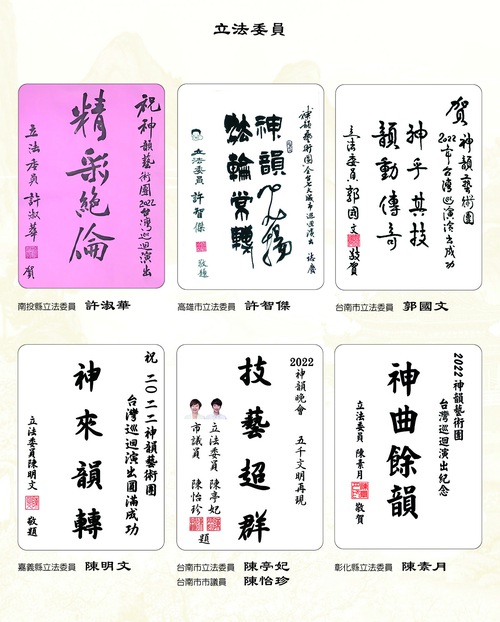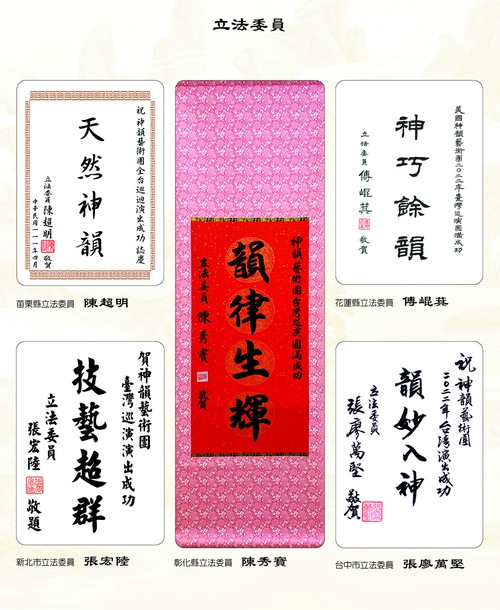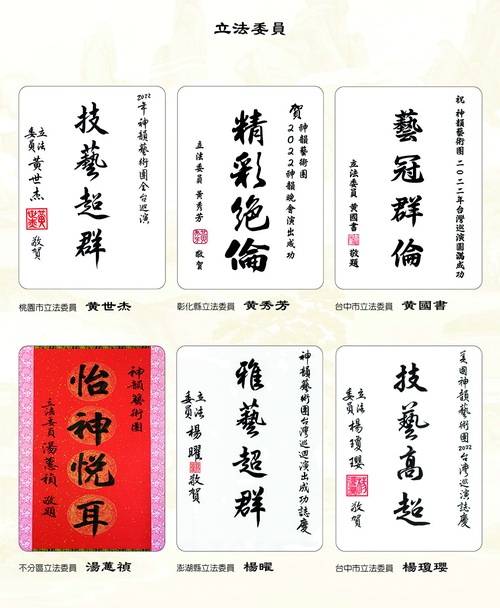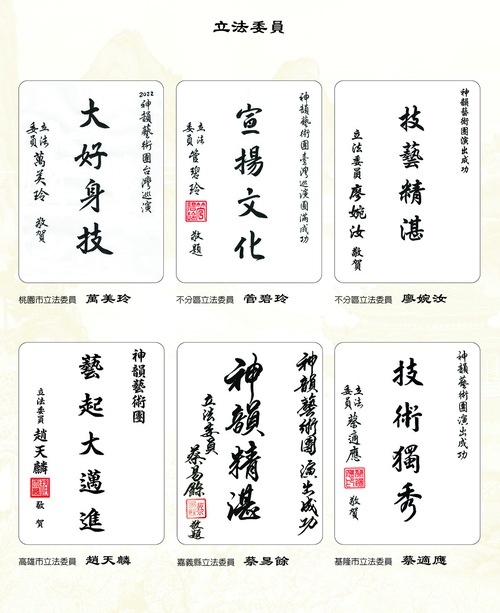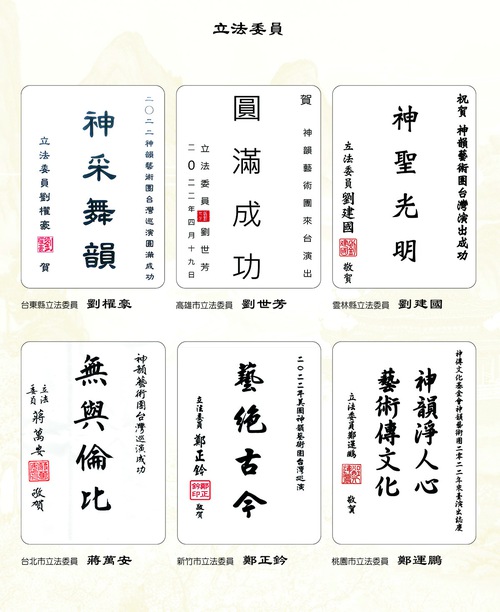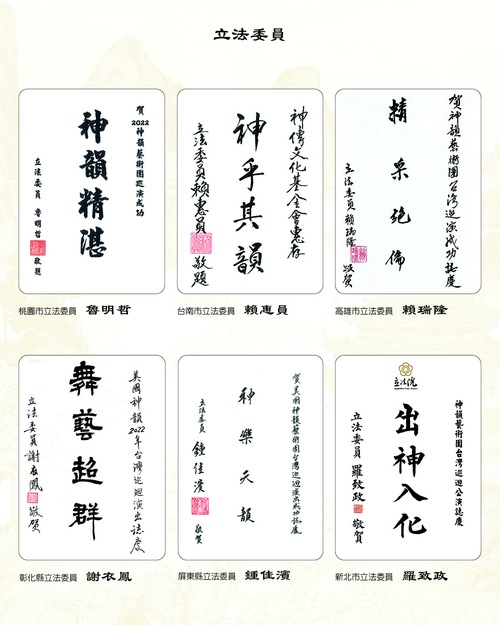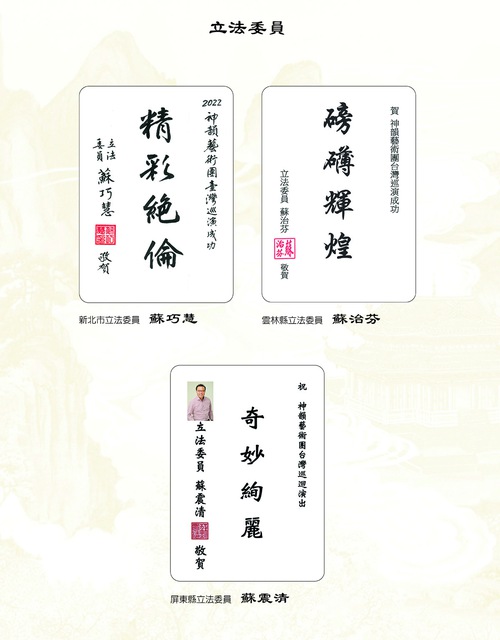 65 legislators issued recognitions to the performing arts company.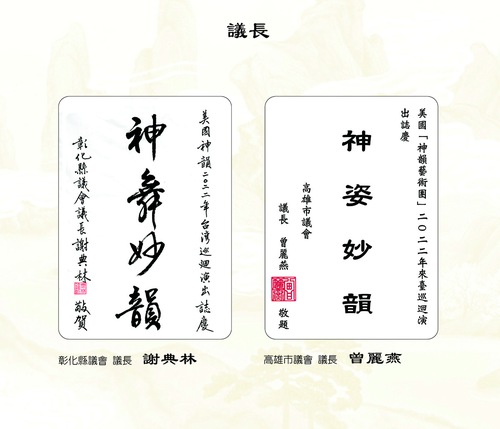 Remarks from Changhua County Council Speaker Hsieh Tien-lin and Kaohsiung City Council Speaker Zeng Li-yan.
Local Taiwanese Excited for Shen Yun's Return
The vice president of an insurance company ordered 54 tickets for the employees, hoping that Shen Yun could bring new hope and new directions to employees during the pandemic.
Mr. Lai owns a restaurant in south-central Taiwan. When he learned the news that Shen Yun was coming to Taiwan, he immediately called Mr. Wang, who works in a company in Douliu. Mr. Wang then ran to purchase tickets. When he saw the volunteer promoting the performance, he said, "I've been waiting for you for so long!"
All content published on this website are copyrighted by Minghui.org. Minghui will produce compilations of its online content regularly and on special occasions.