Singapore: New Falun Dafa Practitioners Participate in Nine-Day Class
(Minghui.org) The Singapore Falun Dafa Association held a nine-day Chinese-English bilingual Falun Dafa class for new practitioners from June 11 - 19, 2022. The new practitioners watched videos of the lectures given by Mr. Li Hongzhi, the founder of Falun Dafa, and guided by veteran practitioners, they learned the five exercises. On the last day, the new practitioners shared their insights and experiences.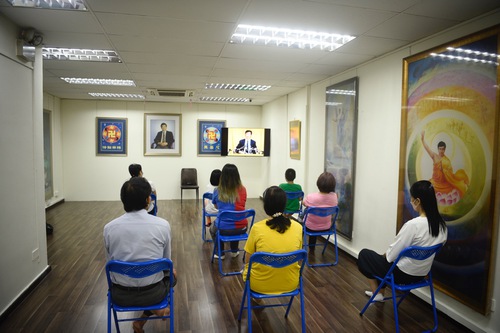 New practitioners watch videos of lectures given by Master Li.
New practitioners in the English class watch video of lectures given by Master Li.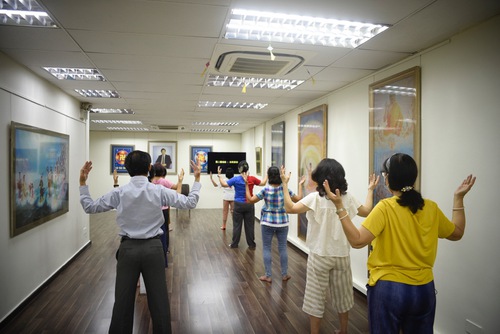 New practitioners learn the Falun Dafa exercises.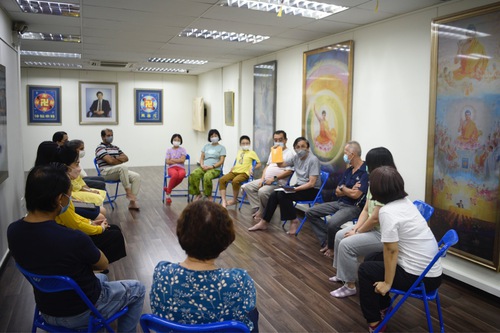 Practitioners share their insights and experiences on the last day of the class.
Ms. Sharon is a housewife who learned about Falun Dafa through the Internet. She said that she had problems with her blood circulation. She wished to improve her health. Because she heard from friends that practicing Falun Dafa sometimes resolves health issues, she signed up for the nine-day class. After learning more about Falun Dafa during the class, she said she realized that maintaining one's virtue is very important. She must remember the three words "Truthfulness, Compassion, Forbearance." While she did the exercises, she felt warm.
Leah, a practitioner who learned Falun Dafa in China in 1996, moved to Singapore many years ago. On May 9, 2022, when practitioners in Singapore held an event to celebrate the 30th anniversary of Falun Dafa's introduction to the world at Hong Lim Park, Leah happened to pass by. She said that she felt that she should resume practicing. Since then she has joined the weekly group Fa study. Since she had not participated in the nine-day class in Singapore, she also signed up this time.
Mr. Tay, a Singaporean, learned about Falun Dafa a long time ago through a Chinese practitioner. Because he is about to retire, Mr. Tai recently told a friend that he wanted to start practicing. Mr. Tai hopes that he can better control his emotions by practicing Falun Dafa.
Lina from Vietnam attended the nine-day class with her two children. Lina said that she started practicing Falun Dafa in 2017. She said her son told her that he felt the Falun spinning in his palms while doing the exercises. Her daughter sometimes saw pink lotus flowers when she did the exercises. Her son and daughter both attend the Minghui School on weekends, where they do the exercises and study the Fa with other young practitioners.
Hena Baru and Babu, a couple from India, attended the nine-day English class with their friend Shubha. Shubha said that the environment during the nine-day class was simple, and everyone was kind and caring. The practitioners taught everyone the exercises with patience and compassion. She said she felt warm while doing the exercises. Shubha said she believes there is energy in the universe and that Falun Dafa puts us in touch with this energy in a simple, beautiful, and gentle way, helping us improve ourselves, our family, and our relationship with others. "This is beneficial to society. I continue to practice Falun Dafa. Participating in this nine-day class was a beautiful experience," she said.
The Singapore Falun Dafa Association is located near Kallang MRT station. In order to help people with having healthy bodies and peaceful minds by practicing Falun Dafa, a free nine-day class is held every three months. The class is held for nine consecutive days from 7:15 p.m. to 9:45 p.m. The next nine-day class will be held September 3 - 11, 2022. To register please email: register@falundafa.org.sg
Background: What Is Falun Dafa?
Falun Dafa (also known as Falun Gong) was first introduced to the public by Mr. Li Hongzhi in Changchun, China, in 1992. The spiritual discipline is now practiced in over 100 countries worldwide. Millions of people who have embraced the teachings—which are based on the principles of Truthfulness, Compassion, and Forbearance—and learned the five exercises have experienced improved health and well-being.
All content published on this website are copyrighted by Minghui.org. Minghui will produce compilations of its online content regularly and on special occasions.