Montreal: Meditation and Music Draws Interest in Falun Dafa and Support to End the Persecution
(Minghui.org) Falun Dafa practitioners introduced the mind/body practice with activities at Phillips Square in central Montreal on June 11, 2022. They demonstrated the exercises and distributed fliers about Falun Dafa and how the CCP (Chinese Communist Party) is persecuting this group. 
There were also performances by the Tian Guo Marching Band celebrating the virtues of Falun Dafa.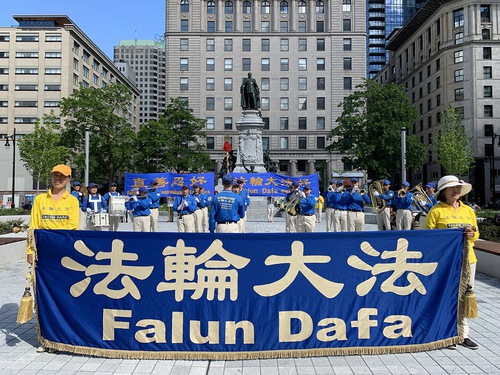 Practitioners introduced the practice at Phillips square in downtown Montreal on June 11, 2022.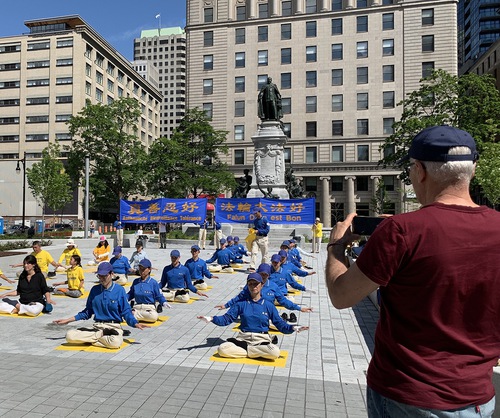 The sight of practitioners' tranquil exercises prompted passersby to take photos.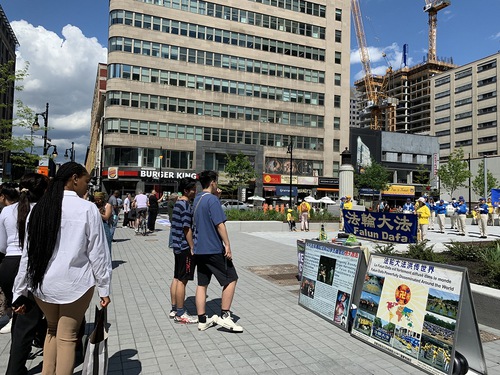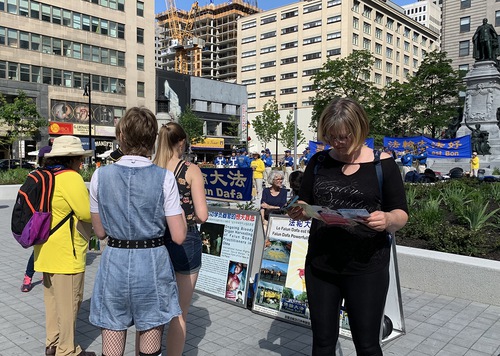 People stop to read the information about Falun Dafa and how the CCP persecutes it.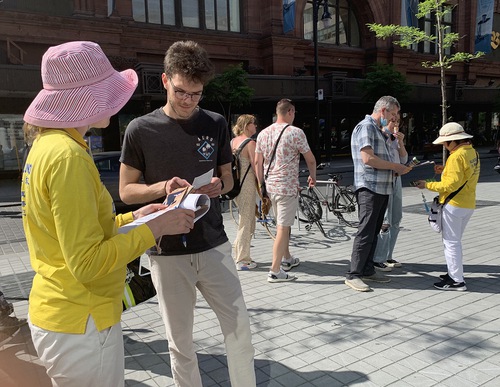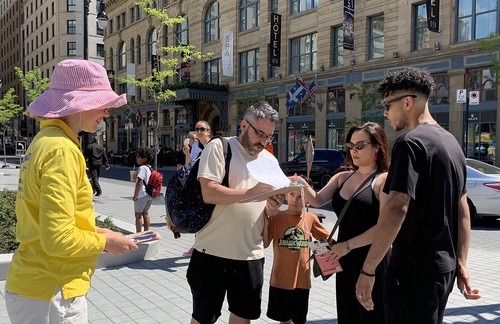 People sign the petition to call for an end to the persecution after learning the facts.
"Just What I Have Been Searching For"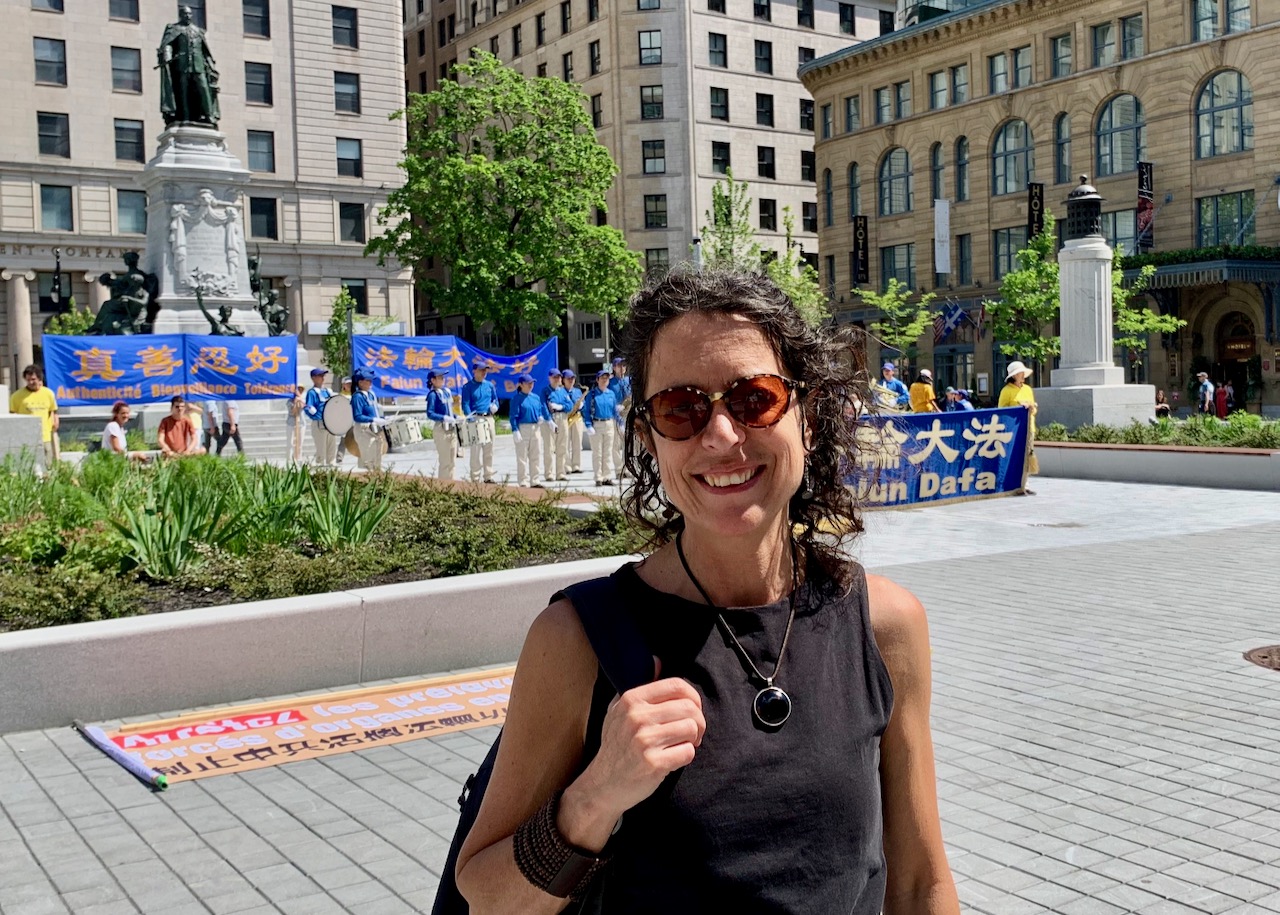 Sonia, a social worker in Montreal said, "Learning about Falun Dafa is a gift to me."
Sonia, a social worker had a long conversation with practitioners. She said, "Learning about Falun Dafa today is a gift to me. This is exactly what I need."
As a social worker she meets different people. She said she felt tremendous pressure at work and in her life at times. She has been doing meditation for many years and had been searching for a way to balance physical and mental well being.
Through chatting to practitioners, she learned that Falun Dafa enables one to improve one's physical and mental health. In addition, it teaches one to be considerate of others and thus benefits others as well. This is what she was most attracted to, she said. "I was in low spirits today. Now I feel especially joyful," she said. "This practice is excellent and there are even free classes online. I will give it a try!"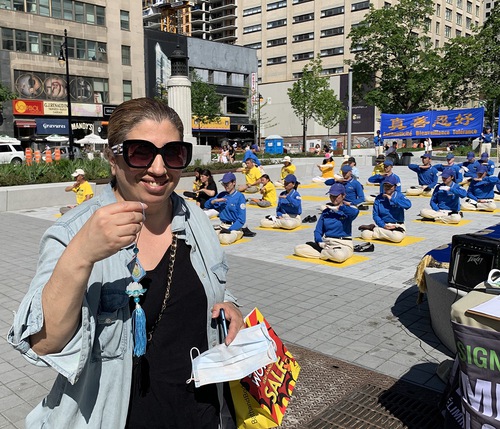 After talking to a Falun Gong practitioner, she said, "This is exactly what I'm looking for."
Another woman said she saw a bright light from across the road while passing by Phillips square. It prompted her to cross the road to find out more. When she saw practitioners doing the exercises, she kept saying, "Peaceful, beautiful." After speaking to practitioners, she said, "This is just what I have been searching for." She said she would look into signing up for online classes.
A student from China came forward to ask practitioners if they had the book on the main teachings Zhuan Falun. He explained that he attends McGill university and left China a year ago. When he was in China, he broke through the CCP's Internet firewall and learned quite a bit about the persecution. He also renounced his membership in the CCP. He told practitioners he would like to read Zhuan Falun and know more about the practice.
Local Residents Support Practitioners in Resisting the Persecution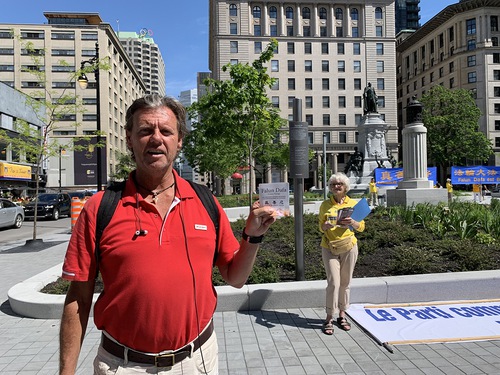 Denis, owner of a restaurant in Quebec, said he supports practitioners in protesting against the persecution.
Denis has a restaurant in the Laurentides region north of Montreal. He supports practitioners' efforts to expose the CCP's crimes. He said the COVID virus originated from the CCP, crippling economies and devastating the whole world. This helped him see the threat the Communist regime poses to the entire world. He said that he often sees practitioners' activities in downtown Montreal but never stopped to find out more. Today, he talked to practitioners for a long time, learned what Falun Dafa is and why practitioners continue to speak out. He admires practitioners for their sense of justice and said, "I truly hope Chinese people will regain their freedom through your efforts."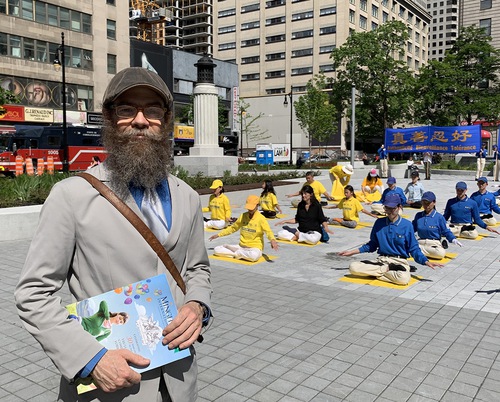 Jacob, a Montreal resident, said he supports practitioners' efforts to expose the persecution.
Jacob who lives in Montreal expressed his support and said, "I know Falun Dafa is good for people. I think people should be able to practice cultivation freely and should not be persecuted. The CCP thinks people should have only one opinion, but this is not the case. I wish Falun Dafa practitioners and other Chinese people who are persecuted all the best. I hope you succeed in what you do and that the situation changes."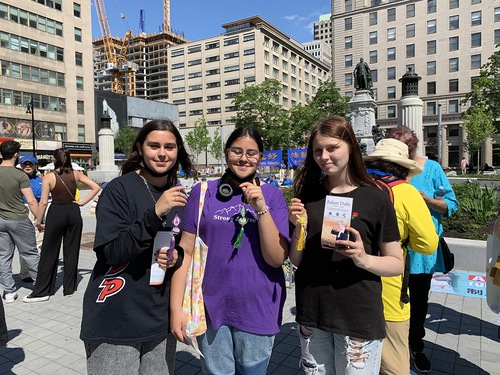 Students Solange, Catherine, and Lea (left to right) signed the petition to end the persecution of Falun Dafa.
Solange, Catherine, and Lea are middle school students. It was the first time they had heard of the persecution of Falun Dafa, and they signed the petition calling for an end to it. Catherine said she thinks Falun Dafa is great, and said, "It can bring peace to one's soul—it must be beneficial." Solange said it is important to expose the CCP's brutal crimes against good people, including torture and forced organ harvesting. "We must tell people about these horrible things that are being covered up," she said. "This is so important!"
All content published on this website are copyrighted by Minghui.org. Minghui will produce compilations of its online content regularly and on special occasions.