A Photographic Work: A Miraculous Udumbara Flower
(Minghui.org)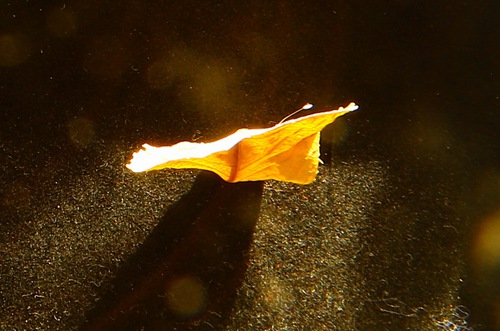 A Miraculous Udumbara Flower
Camera: Cannon 6D Mark IILens: EF24 – 70mm, 1:2.8, add close-up lensShutter: 4Aperture: 22ISO: 100
Photo introduction:
According to Buddhist scriptures, the udumbara is a sacred flower that comes from the Buddha's realms. It blossoms once every 3,000 years. The flower's name means "auspicious flower from heaven." It is of the purest white. 
The udumbara flowers blossomed on a stone at a Falun Dafa practitioner's home. She showed it to another practitioner, who then told her child: "This is a sacred flower; legend has it that udumbara flowers will blossom when the Holy King Who Turns the Wheel descends to the human world to teach the Fa and save people." 
The mother also taught the son to sing a song about udumbara flowers. The son often sang, "Udumbara flowers blossom and the Holy King returns."
One day while passing a small wooded area, the son suddenly had a thought: "I can also get an udumbara flower." He picked a leaf from a tree and looked at it: There was indeed a pure white udumbara flower on the leaf! It looked the same as those at the auntie practitioner's home.
The son showed it to his mother excitedly. They saved the leaf and flower (photographed in the beginning of the article) carefully.
Ten years have passed. The pure white udumbara flower is still blooming. The son has become a designer now. He takes this miraculous udumbara flower with him, which reminds him that Falun Dafa's Teacher has been with him all the time.
All content published on this website are copyrighted by Minghui.org. Minghui will produce compilations of its online content regularly and on special occasions.