Israel: Celebrating Falun Dafa Day on Rothschild Boulevard in Tel Aviv
(Minghui.org) On Friday, May 13, 2022, Falun Dafa practitioners in Israel took to Rothschild Boulevard in Tel Aviv to celebrate World Falun Dafa Day and to mark the 30th anniversary of Falun Dafa's public introduction.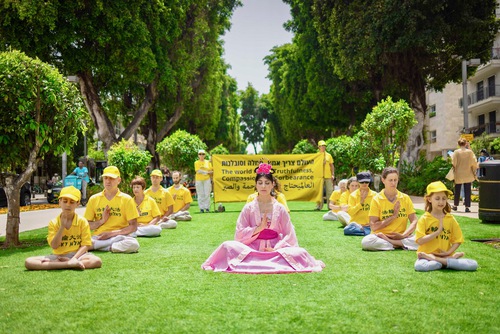 Practicing the exercises in the boulevard
Falun Dafa is a body and mind practice that consists of meditation, exercises, and cultivating the mind according to the principles of Truthfulness, Compassion, and Forbearance. Millions of people around the world who practice it have become better people, more considerate, and more virtuous. Only in China are its practitioners severely persecuted. They are arrested, incarcerated, and their organs are harvested for China's transplant industry. 
The sun illuminated the practitioners in a glowing light. Flowers bloomed yellow as if in honor of the occasion. Passersby admired the beauty and the quiet atmosphere that was created around the practitioners as well as the pleasant music. Many stopped to take photos.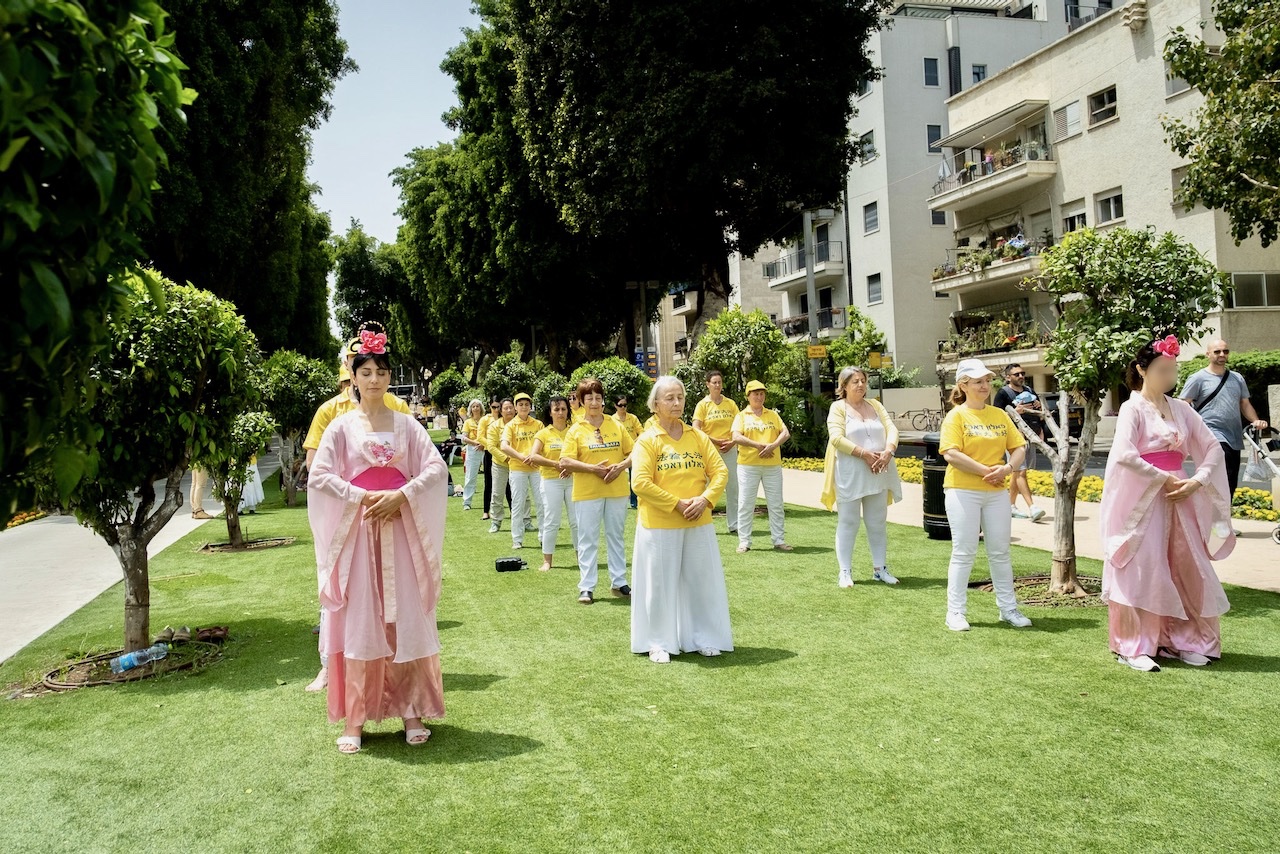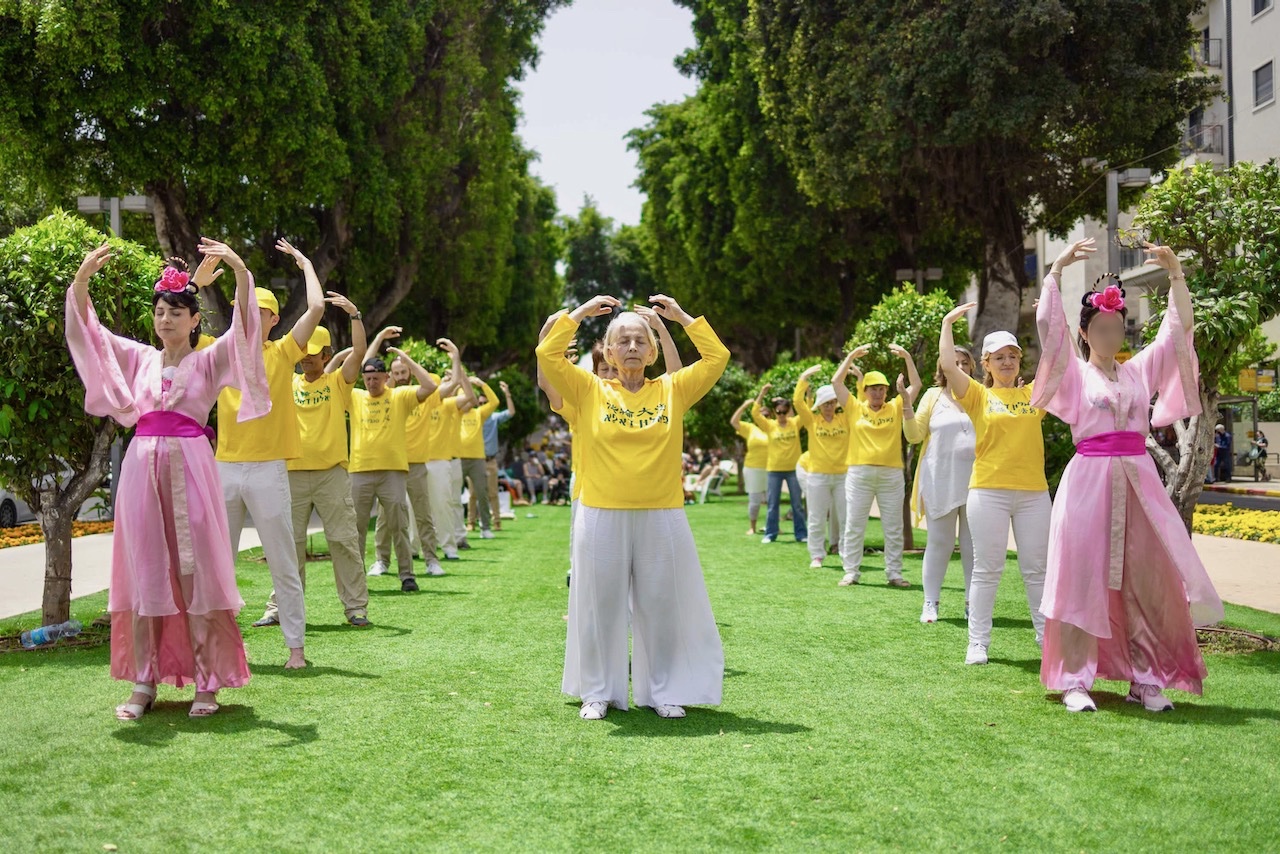 Practitioners handed out leaflets to passersby, and people signed a petition to stop the persecution.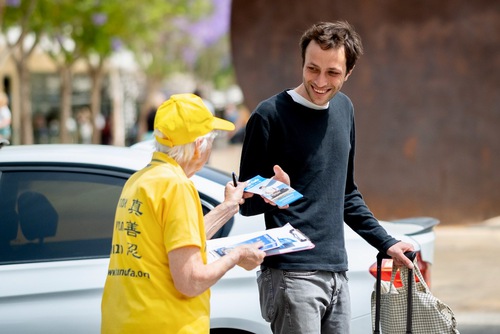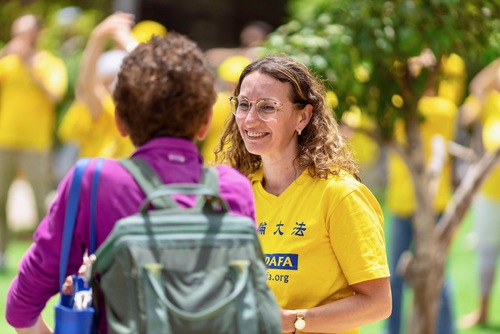 Practitioners raise awareness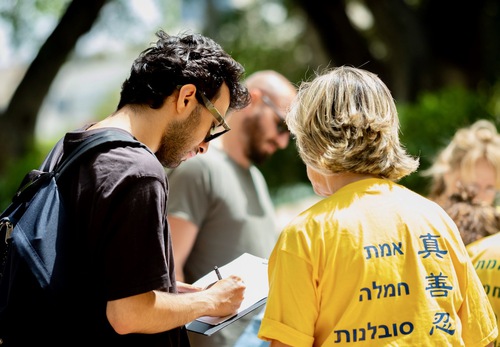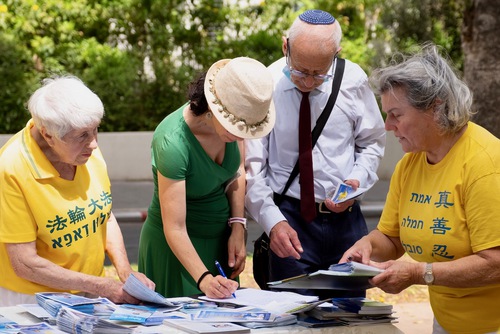 People sign a petition to stop the persecution
Official Recognition
Member of the Knesset Mr. Mossi Raz sent a greeting in honor of the event:
"For many years, the world has been silent in the face of human rights abuses in China in general and the human rights abuses of Falun Gong people in particular. These violations are an unforgivable crime.
"We demand that the Chinese government stop the criminal persecution of Falun Gong people ... allow freedom of belief and worship and ensure the human rights of Falun Gong practitioners who are fighting for their freedom.
"In recent years we have heard of the horrific organ harvesting. This is one of the most serious crimes in history ... We demand that the Chinese government stop organ harvesting, stop the persecution of Falun Gong, release all its members from prisons and allow freedom of speech and action."
Irit Kohn, former head of the International Department of the State Attorney's Office, said:
"I am a retired attorney. I headed the International Department of the State Attorney's Office, and I was the president of an international organization of Jewish lawyers and human rights lawyers. This is the first time I have heard about organ harvesting and the persecution in China. 
"I participated in an Israeli delegation to an international conference of lawyers held in China. We knew about the trials, the executions, and the killings that took place on Tiananmen Square. We were explicitly instructed not to address what we knew about human rights violations in China. At the conference, our Chinese colleagues noted the ancient cultural past that was shared by the Chinese and Jewish people, but in every vote at the UN, China voted against the State of Israel. 
"I had not heard about the organ harvesting until this day. It's horrible. You are doing an outstanding job and should raise this topic wherever possible, because harvesting organs in such a sweeping way while making a fortune is a first-rate violation of human rights."
Practitioners Share Their Stories
Nurit Anati, a Falun Dafa practitioner, said, "I started practicing in 2013. I was then in a physical and emotional crisis. I had a mysterious illness that the doctors did not recognize. I could not get out of bed for several months. All the tests, medications, and supplements that I took did not help. I was in despair. On top of that, I could not deal with the suffering I encountered in my work and with the fact that the world is full of suffering. 
"I grew up in an atheistic family and could not reconcile atheism with my feeling that there was something beyond what one sees. A friend told me about Falun Dafa and taught me the exercises and that is how I started. After two weeks I got back on my feet and went back to work.
"All aspects of my crisis have been addressed, and I have been given the strength to deal with suffering. I know today what life means, and I manage to bridge the disconnect between my scientific understanding of the world and my knowledge that there is a reality beyond. I have no internal conflict anymore.
"It has always been clear to me that my goal in life is to be a better person. It's simpler than I thought: Truthfulness-Compassion-Forbearance are my compass."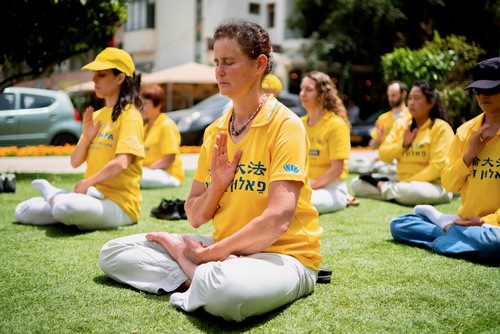 Nurit doing the meditation exercise
Daniela, a soldier, took a photo and said, "It looks really beautiful and interesting." She learned that one can learn Falun Dafa for free in Israel.
Shmuel, a restaurant worker, said, "I want to become a practitioner. I admire Falun Dafa. It is about recognizing what we need to do to avoid being caught up in the pursuits of life."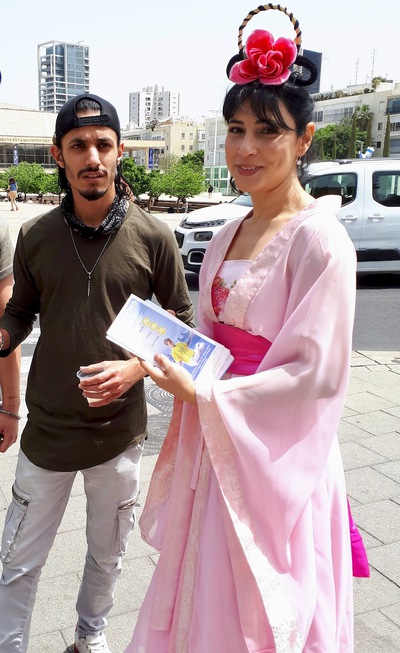 Shmuel wants to practice
Polina, a practitioner and one of the organizers of the event, said, "At first I did not know how to apply the principles of Truthfulness, Compassion, and Forbearance.
"It has been 14 years since I started practicing Falun Dafa. The practice gave me a way to develop and grow as a person. I always aspired to be a better person but did not know how to do it. It was only when I started practicing that I realized in depth what 'good' is. 'Truthfulness-Compassion-Forbearance' are magic words that accompany me and fill my life with meaning every day anew. Even my mother said I became more patient."
All content published on this website are copyrighted by Minghui.org. Minghui will produce compilations of its online content regularly and on special occasions.