Pennsylvania: Flag Raised and Governor Sends Greetings to Honor Falun Dafa
(Minghui.org) As practitioners celebrated World Falun Dafa Day, the Pennsylvania State Capitol raised a flag to honor Falun Dafa and Governor Tom Wolf sent them a greeting letter.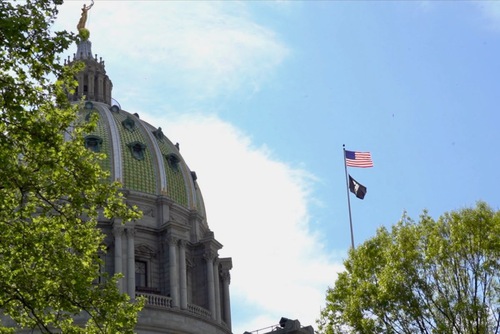 The U.S. national flag was raised in the Pennsylvania State Capitol in Harrisburg on May 13 to honor the contributions made by Falun Dafa and its founder Mr. Li Hongzhi.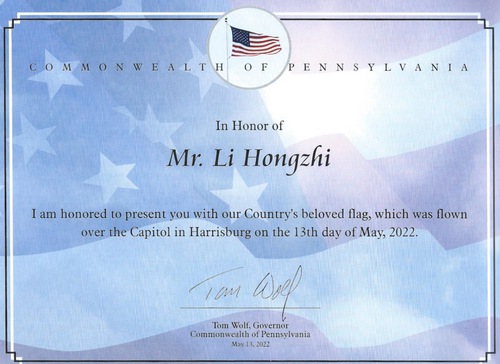 The flag flown on May 13, 2022 was given to Mr. Li Hongzhi along with a certificate from Pennsylvania Governor Tom Wolf.
Governor Wolf wrote, "I am honored to present you with our Country's beloved flag, which was flown over the Capitol in Harrisburg on the 13th day of May, 2022."
Since becoming governor in 2014, Wolf has been sending congratulatory letters to the Philadelphia Falun Dafa Association every year to honor World Falun Dafa Day and to thank the practice for its benefits.
"Falun Dafa, a self-improvement Qigong practice rooted in ancient Chinese culture, consists of five exercises and strong moral and ethical principles. As we celebrate this festive occasion, we should reflect on the teachings of truthfulness, compassion, and tolerance," Governor Wolf wrote in this year's greetings, "As Governor, and on behalf of all the citizens of the Commonwealth of Pennsylvania, I am delighted to celebrate the thirtieth anniversary of Falun Dafa's public introduction. I offer my best wishes for a joyous celebration."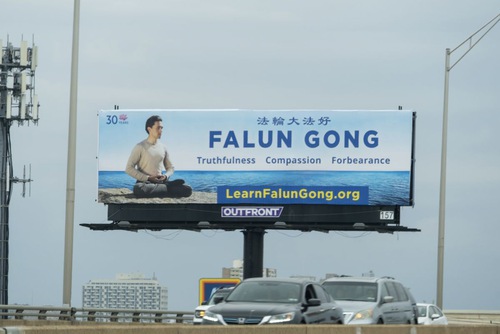 Two billboards with Falun Gong information on Interstate 95 (I-95).
To celebrate this year's World Falun Dafa Day, local practitioners also sponsored two billboards with Falun Gong (also known as Falun Dafa) information on Interstate 95 (I-95), the busiest road on the east coast.
Besides the Pennsylvania governor, many other elected officials also issued proclamations or sent greetings letters to congratulate World Falun Dafa Day. They include U.S. Congress members, state senators, state representatives, mayors of Philadelphia and Pittsburgh, city councils, and county commissioners.
All content published on this website are copyrighted by Minghui.org. Minghui will produce compilations of its online content regularly and on special occasions.