New Zealand: Dignitaries and Locals Express Their Support for Falun Dafa During World Falun Dafa Day Celebrations
(Minghui.org) May 7, 2022, was a day filled with golden sunshine as a gentle breeze ushered in Autumn in the Southern Hemisphere. Falun Dafa practitioners held day-long events at Elizabeth Square in Auckland to celebrate the 23rd World Falun Dafa Day and the 30-year anniversary of Falun Dafa's introduction. May 13 coincides with the 71st birthday of Dafa's founder, Mr. Li Hongzhi.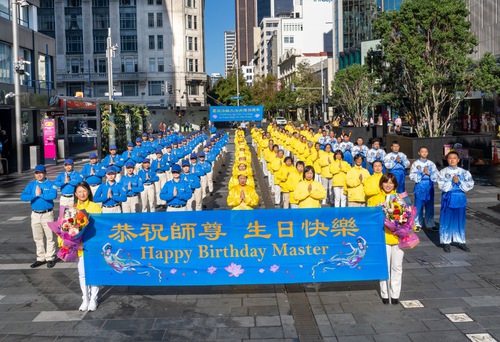 Practitioners in New Zealand celebrate Master Li Hongzhi's birthday.
Christopher Luxon, Leader of the National Party, and Marama Davidson, Green Party Co-Leader, sent their congratulations by email. They wished the event great success.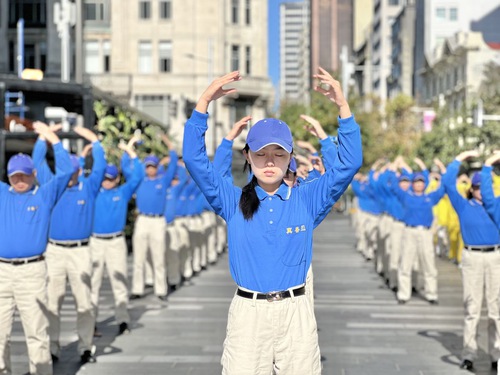 Practitioners demonstrate the Falun Dafa exercises.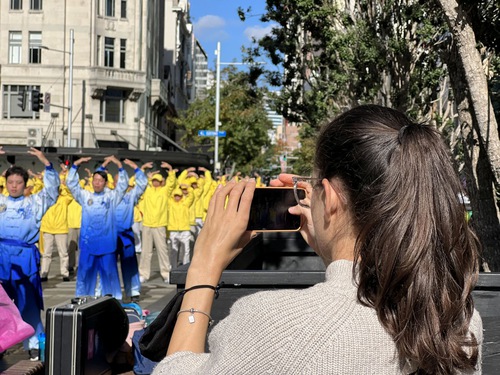 The serene exercise demonstration attracted many passers-by to stop and take photos.
The day started off with practitioners demonstrating the peaceful Falun Dafa exercises. The Tian Guo Marching Band played uplifting music and the dragon dance team's performance was joyful and energetic. The waist drum team was upbeat. Many people stopped and took photos of the lively performances, and many applauded and welcomed them warmly. The practitioners also set up tables and showed people how to make folded paper lotus flowers, do Chinese calligraphy, and they also taught people the Falun Dafa exercises. May people stopped and chatted with practitioners and signed the petition to end the ongoing persecution in China.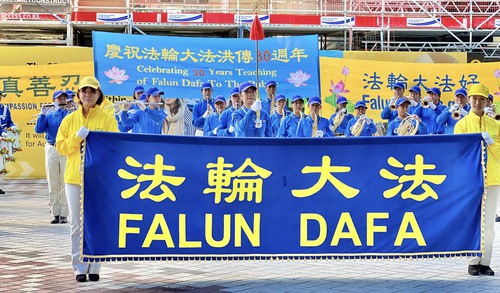 The Tian Guo Marching Band performs at the World Falun Dafa Day celebration.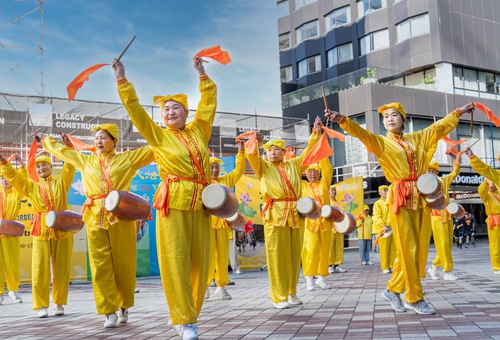 Waist Drummers perform during the Falun Dafa Day event.
Human Rights Lawyer: Principles of Truthfulness-Compassion-Forbearance Are Beneficial to Cultivators and the Society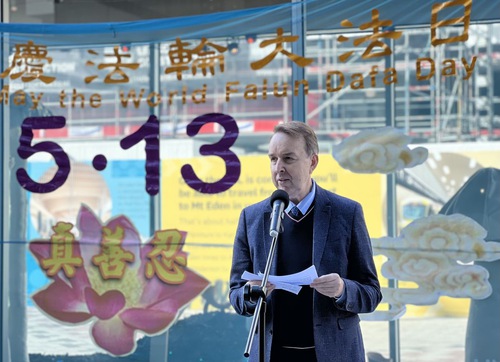 Lawyer Kerry Gore addresses the gathering.
New Zealand Human Rights Lawyer Kerry Gore made a speech during the gathering. He said that they were celebrating World Falun Dafa Day and it had been 30 years since Falun Dafa was introduced, in May 1992. He mentioned that since then, many people have gained physical and mental benefits and found the meaning of life, the meaning of human existence and purpose. He said that some people recovered from serious illnesses or even terminal illnesses and that some people improved their relationships with their family members and colleagues or members in society through cultivation.
Mr. Gore added that Falun Dafa's principles of Truthfulness-Compassion-Forbearance are beneficial not only to cultivators but to society. They bring hope to the Chinese people as well as mankind. He said that to solve the current crisis, rather than seeking answers from administrative, legal, social, political and economic solutions, it would be better to start with improving individuals. If everyone could be sincere, compassionate and tolerant, people would understand each other, make progress and end up with true prosperity. 
Computer Engineer: Falun Dafa Practitioners are Like Golden Sunflowers Forever Blossoming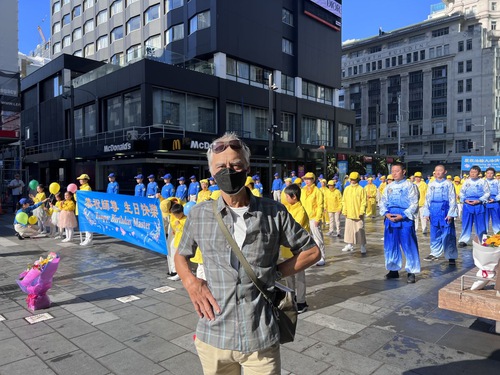 Danny Richards said he admires Falun Dafa practitioners.
Danny Richards is a former computer engineer in an insurance company. He said that the Chinese Communist Party (CCP) didn't want people to have their own thoughts, while Falun Dafa encouraged people to have their own thoughts and become individuals instead of having a single collective mind. "The CCP always attempts to control people mentally and mold them into its tools, but Falun Dafa lets individuals look for their own unique selves instead of becoming the tools of the CCP. So the CCP definitely tries to stop it. Falun Dafa opens people's mind and perspectives. The CCP wants everyone to be narrow-minded so that it can control them," he said. He added that the CCP persecuted Falun Dafa because it didn't have any way to brainwash Falun Dafa practitioners. 
Mr. Richards continued, "The CCP is like Hitler and the Nazis. They not only wanted to control people but also were very selfish; that they thought of everyone negatively and were enemies of the world which is the way a dictator acts. They don't give people the right to vote. Democracy and freedom are founded on mutual respect and doesn't turn people into machines."
He praised Falun Dafa practitioners and said that it was so nice to have such a group of good people in New Zealand who cultivate themselves. He likened practitioners to golden sunflowers blossoming towards the sun forever.
Member of Universal Peace Federation: The World Needs Truthfulness-Compassion-Forbearance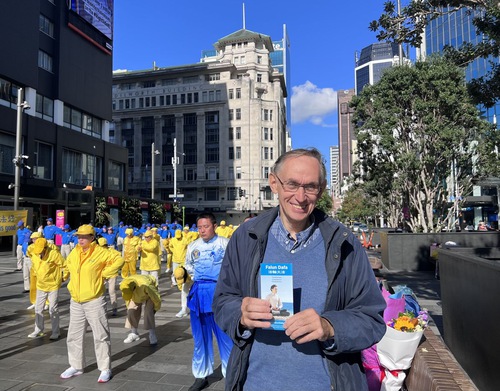 Robert Goijarts said, "We must resist communism."
Robert Goijarts is a member of the Universal Peace Federation. He began learning the Falun Dafa exercise movements and said he strongly acknowledged the principles of Truthfulness-Compassion-Forbearance and believes that the world needs such values. He understands that meditation purifies one's mind and is very good, and therefore he wants to join in.
Mr. Goijarts condemned communism and said that it was created by the devil to stop people from returning to Heaven. "It corrupts peoples' morals and advocates materialism. It's sad that communism exists on a large scale. We must stand up to oppose it. Kindness and evil are two camps and we must seek truth, unite and encourage more kind people to join. We must work together and cooperate so that we can resist communism." 
Photographer: Kindness Will Prevail over Evil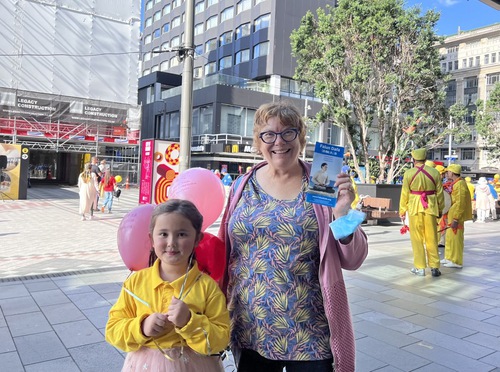 Karen Triggs: "My heart is with Falun Dafa practitioners."
Photographer Karen Triggs said she was drawn by the serene exercise demonstration and began taking photos. She said that the exercises and music are breathtaking. They allow practitioners to show themselves to the world in a good, peaceful way and bring peoples' attention to the CCP's atrocities. She said, "I feel very sad when I learned that the CCP kidnaps and persecutes practitioners and even harvests their organs for profit. This event today helps people know what is happening in China. My heart is with practitioners." 
Ms. Triggs continued, "Practitioners are so peaceful and calm but they don't have the freedom to practice their belief [in China], which is a basic human right. Many of the practitioners at this event were persecuted in China. I am very touched as practitioners are still celebrating their belief. Eventually, kindness will prevail over evil."
Chinese in New Zealand: Chinese People Should Be Proud of Falun Dafa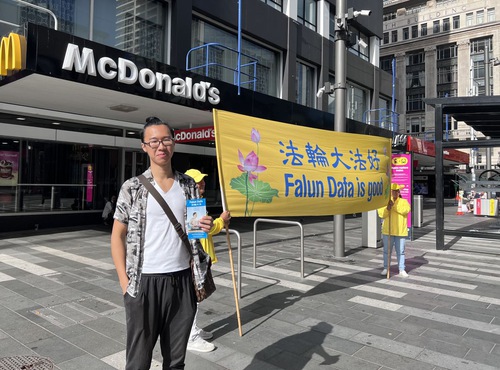 Michael hopes that Chinese people come to learn the facts about Falun Dafa and stop being deceived by the CCP. 
Michael Zhuang, 25 years old, came to study in New Zealand when he was 18. He suggested that all overseas Chinese students stop watching the CCP media and open their minds to think in a normal, logical way. 
He said, "Falun Dafa is very peaceful. Practitioners can practice their exercises freely here but they were persecuted to death in China. The CCP doesn't tolerate any thoughts and eliminates any religion, belief or thought. The CCP is the biggest cult. It doesn't let you withdraw once you've joined it. It controls you and brainwashes you. The CCP slanders Falun Dafa. But no practitioner has committed suicide or set themselves on fire like the CCP claims." 
Mr. Zhuang continued, "Falun Dafa is traditional cultivation from the Buddha school and is Chinese culture. The CCP has replaced China's traditional culture with its atheist Party culture. There is no traditional culture in China now. I taught in a primary school last year. We had Chinese Week. I told my students about Shen Yun Performing Arts. Shen Yun and Falun Dafa are China's true culture. Falun Dafa also improves Chinese people's health and morality."
Finally, Mr. Zhuang said, "Chinese people should be proud of Falun Dafa. I'd like to thank Dafa practitioners for upholding justice for so many years. Their righteous belief gives them the power to not give up. They have been spreading the truth for so many years in a most peaceful way, despite facing such an evil regime. The whole world needs to learn from them." 
All content published on this website are copyrighted by Minghui.org. Minghui will produce compilations of its online content regularly and on special occasions.