Toronto: Grand Parade Celebrates the 30th Anniversary of Falun Dafa's Introduction
(Minghui.org) May 13, 2022 marks the 30th anniversary of the public introduction of Falun Dafa and the 23rd World Falun Dafa Day. Practitioners in Toronto, Canada held a rally and a parade to celebrate the occasion.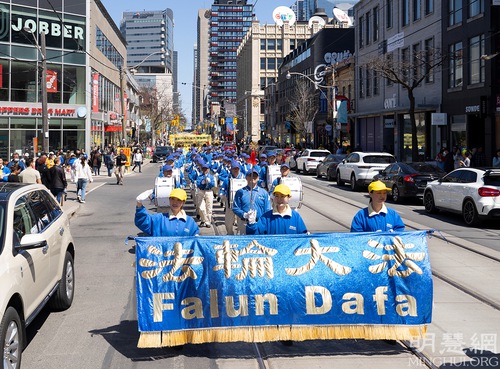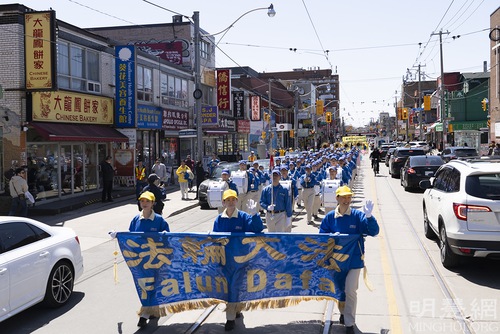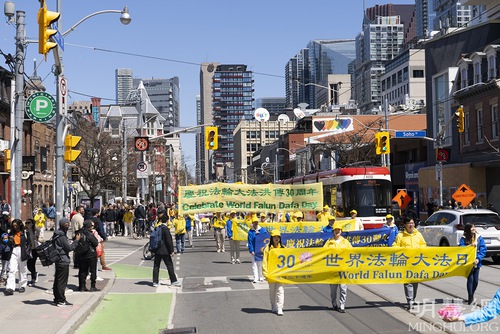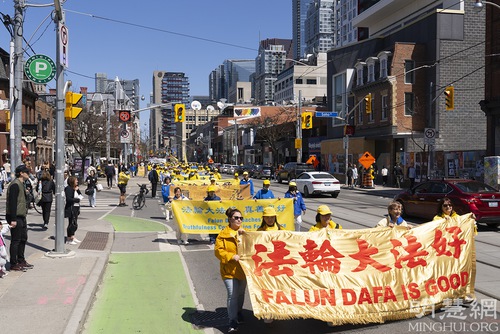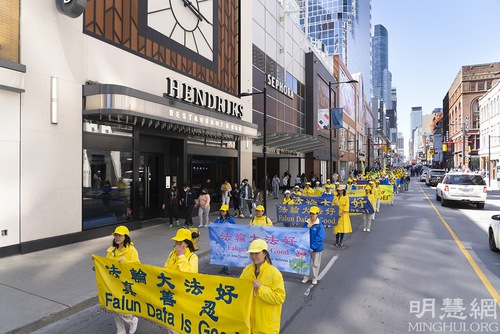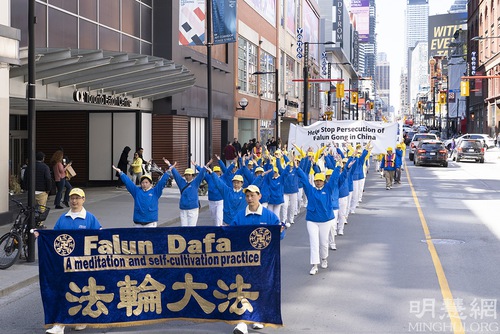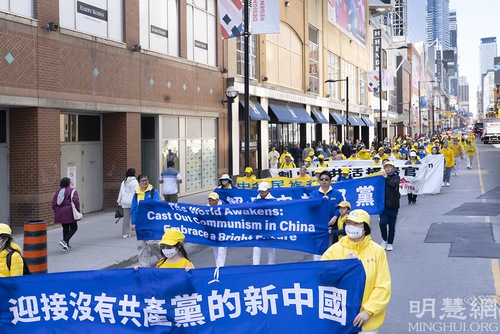 The parade wound through downtown Toronto and Chinatown.
Many Chinese stopped to watch the parade when it went through Chinatown. Some said that they have never seen anything so grand in China. During the event, some Chinese quit the Chinese Communist Party (CCP) with practitioners' help.
Seventy-eight-year-old Mr. Li watched the entire parade. He told practitioners that his family was persecuted by the CCP, and he could not go to high school because of the persecution.
"I clearly know how evil the Party is. So, I believe what you say about the persecution of Falun Dafa. You are all nice people."
He also quit one of the CCP's affiliated organizations he joined. He said that he was happy to talk to practitioners and wished them good luck.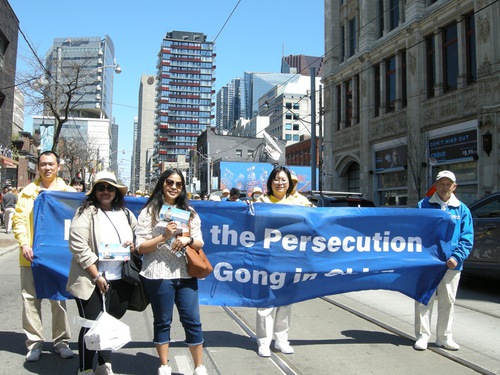 Stacy Stephen (front right) watched the parade with her sister (front left).
Stacy Stephen kept praising the parade and said, "It is magnificent. The performances and the costumes are so beautiful."
She videotaped the parade and will upload it to her social media account.
"I will post the links LearnFalunGong.com, www.FalunDafa.org, and www.FalunInfo.net there too so that more people will learn about Falun Dafa," she said.
She said, "In Canada, Falun Dafa has freedom of belief. I am glad to see that they tell people about the persecution through the format of parades. Everyone who knows the truth will stand up to help stop it and help Falun Dafa practitioners to regain their freedom. So, I appreciate every attendee of the parade for their contribution."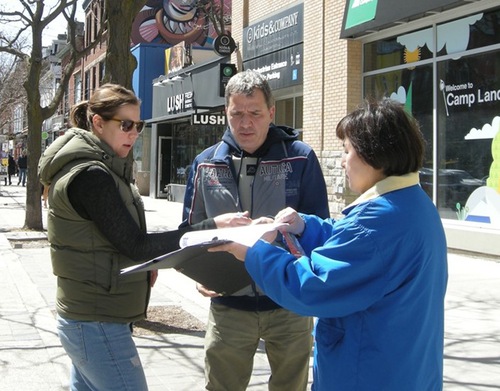 Shui Javrielse and her husband condemned the persecution and signed the petition to support practitioners' peaceful protest.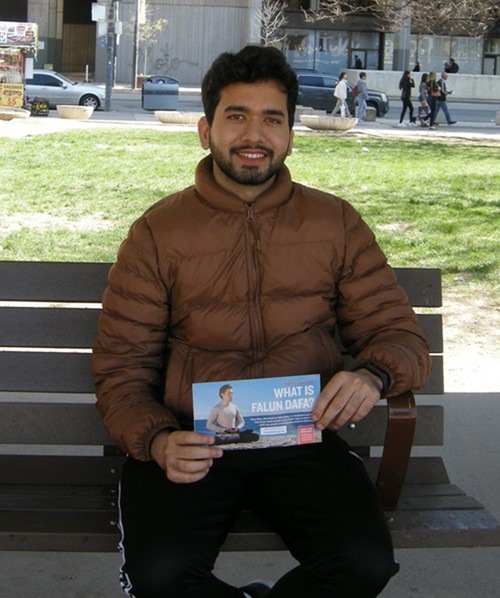 Data scientist Anas Sambani
Data scientist Anas Sambani said that Falun Dafa is peaceful. He knows that Falun Dafa is practiced in more than 100 countries, but has been persecuted in China. He said, "Truthfulness-Compassion-Forbearance is the universal principle that everybody should follow. Freedom of belief is a basic human right. I support Falun Dafa. The CCP needs to be disintegrated, and the persecution should end."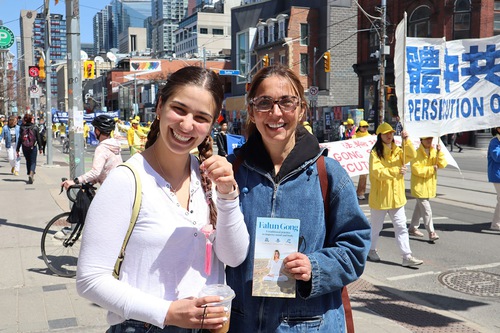 Victoria (left) and Louise (right)
Victoria, a government employer, and her friend Louise, a school principal, thought the parade was wonderful, and immediately looked up Falun Dafa online.
When they learned what the parade was about and more about cultivation, they said it was amazing and wanted to try meditation themselves. "I got a Falun Dafa flyer," Victoria said, "There are links to the free workshops. We will check them out."
Practitioners told them that practicing Falun Dafa not only improves one's body but also purifies one's mind. Victoria said that is all she wants.
Both women said they appreciate the principles of Truthfulness-Compassion-Forbearance. "This is what everybody can apply in daily life, absolutely."
When they learned that such peaceful teaching is banned and persecuted in China, they both said it is too horrible, because all that Falun Dafa brings to people is benefit, and no harm. They thanked practitioners for telling them the facts, and that they will tell their friends what they learned from the parade.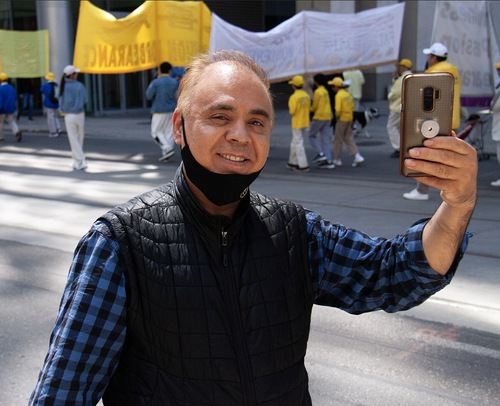 Assad, a primary school teacher in Toronto, live broadcasted the parade on his social media. He told practitioners that many of his friends watched it online and hit "like."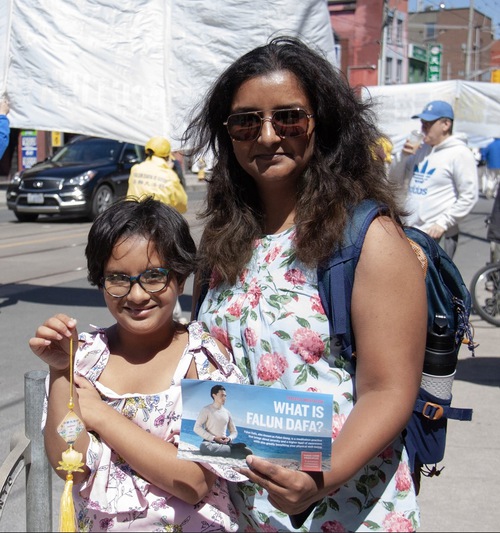 Savannah and her daughter watched the parade
Savannah and her daughter, new arrivals from India, watched the parade. They wanted to know more details about the persecution. They believe that the event is meant for it lets more people know about these human rights violations.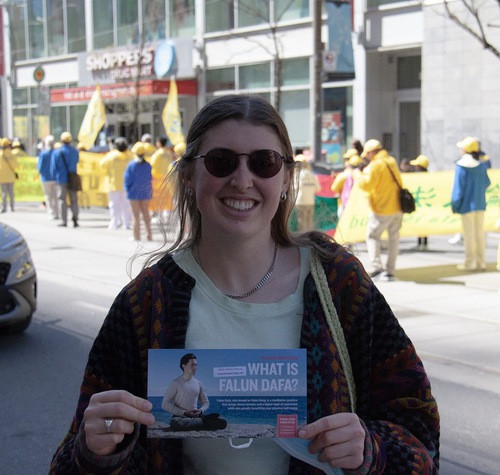 Ms. Cornmill, a drug company salesperson during the parade
Ms. Cornmill, a drug company salesperson, said she likes meditation. She was glad that the flyer had information about Falun Dafa and where the free workshops were being held to learn the exercises. "I will definitely check it out," she said.
All content published on this website are copyrighted by Minghui.org. Minghui will produce compilations of its online content regularly and on special occasions.