Hunan Woman Endured Horrific Torture During Four-year Term for Practicing Falun Gong
(Minghui.org) While serving a four-year prison sentence for practicing Falun Gong, Ms. Xiao Yongkang was deprived of sleep, starved and subjected to constant beatings. Several inmates once poured urine over her head and wiped a used sanitary napkin across her mouth. 
Falun Gong, also known as Falun Dafa, is a traditional spiritual discipline that has been persecuted by the Chinese communist regime since 1999. As Ms. Xiao, of Huayuan County, Hunan Province, has upheld Falun Gong in the face of the persecution, the authorities have repeatedly targeted her. 
A police officer once pointed a gun at her head and threatened to shoot her. Prior to her latest sentence, Ms. Xiao was given three years following her arrest on December 11, 2013, for distributing Falun Gong informational materials.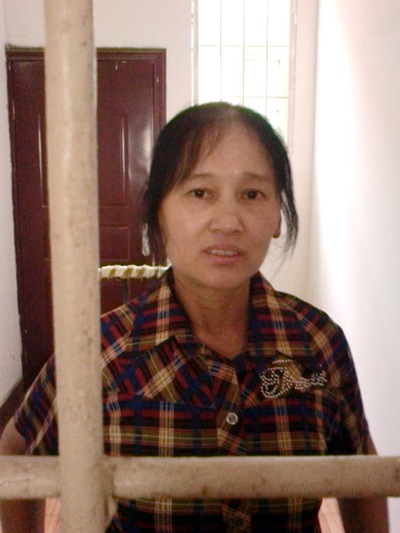 Ms. Xiao Yongkang while in custody
A group of officers broke into Ms. Xiao's home on February 23, 2018, when her 12-year-old daughter was at home alone. The police ransacked the place and took away Ms. Xiao's Falun Gong books and informational materials. 
Suspecting that the Huayuan County 610 Office was behind the raid, Ms. Xiao went there the next day and demanded the return of her Falun Gong books. Peng Tujun, the director of the 610 Office, called the police and ordered them to arrest Ms. Xiao. 
Yang Chaohui, a Huayuan County Court judge, sentenced Ms. Xiao to four years on October 30, 2018. She was taken to the Changsha City Women's Prison on March 20, 2019. 
Horrific Torture in Prison
Six days after Ms. Xiao was taken to the prison, the guards ordered her to say, "Sir, inmate Xiao Yongkang wants to buy something." As she refused to comply, she wasn't allowed to purchase any daily necessities for the entire four years in prison.
Between May 5 and July 15, 2019, guards Huang, Hu and Tu Wenli forced Ms. Xiao to stand for 70 days without sleep. They also forbade her from using the restroom. When Ms. Xiao couldn't hold it and ran to the restroom, the inmates caught her and poured cold water over her head. Guard Zi Ping sprayed spicy water into her eyes and on her face and body. Inmate Li Yiping spread mosquito incense ash on her head. Another inmate Hu Meihua pricked her with a pen.
When Ms. Xiao tried to stop the inmates from slandering Falun Gong on December 24, 2019, inmate Chen Weiping ripped out a handful of her hair and beat her. Chen, the head inmate of the cell, ordered others to urinate into a basin. As they refused to do so, Chen did it herself and poured her urine over Ms. Xiao's head. Chen also wiped her used sanitary napkin over Ms. Xiao's mouth, causing her to almost throw up.
In May 2020, guards Tang Ying, Liu Qian and He slapped Ms. Xiao in the face and kicked her feet, causing enormous pain. 
On one occasion, inmates Chang Yanqin, Luo Meirong, Su Daixian and Wan Juhong held Ms. Xiao to the ground. Then Yang Wenjuan poured cold water over her head and Su stuffed her mouth with a used cleaning cloth.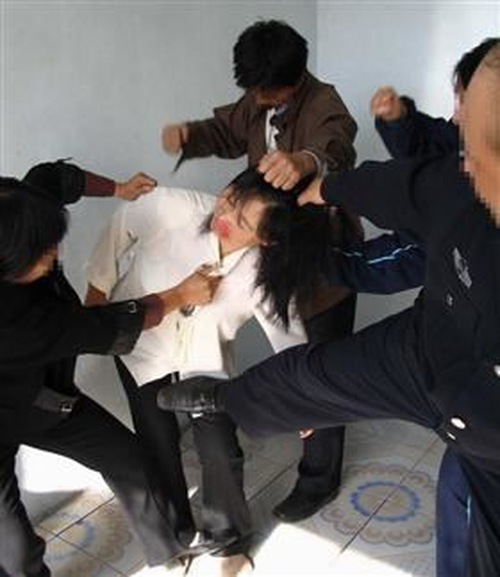 Torture reenactment: beating
Between September 21 and November 15, 2020, guards Huang and Li Jun forced Ms. Xiao to stand for another 54 days as she refused to admit that she was a criminal. They inserted a hard object into her mouth and caused her mouth to bleed. 
Despite the cold weather, the guards had Ms. Xiao sleep on a bedboard with no mattress, sheets, or covers. The bed was facing the air vent. With only a thin layer of clothing on her, Ms. Xiao often shivered due to the cold.
One of Ms. Xiao's hands was cuffed to the bed and the guards wouldn't release her when she needed to use the restroom. The torture caused her to have blood in the urine. Without being allowed to use toilet paper, she had to clean herself with her hands after defecation and then wash her hands with her urine. 
At mealtimes, she often was only given the very little food left by other inmates. The starvation and freezing caused her body to be as cold as a rock. She was on the verge of death. 
On May 16, 2021, inmates Chang Yanqin and Li Zhaoyuan put the hard object into Ms. Xiao's mouth again and beat her. Her mouth bled. Li also threatened to knock out all of her teeth. On the side, guard Liu Qian bragged about how she handcuffed Ms. Xiao's arms behind her back before and caused her chest bones to ache and make a cracking sound.
Guard Yang Xia handcuffed Ms. Xiao from December 9, 2021, until the Chinese New Year on February 1, 2022. 
On February 8, guard Tang Ying ordered Ms. Xiao to write a statement to renounce Falun Gong. She refused. Tang instigated inmates Wang Qunfang, Xu Juan, Long Qiong, Li Jingjing to hold Ms. Xiao to the ground and kick her. She felt that her bones were collapsing. When she was on the verge of passing out, the inmates grabbed her hand and wrote something on the paper. 
Even before Ms. Xiao was released on February 23, 2022, the guards attempted to force her to admit that she was a criminal and that she was sentenced for "undermining law enforcement with a cult organization" (a standard pretext used to charge Falun Gong practitioners). She didn't comply and said, "I am Falun Dafa practitioner Xiao Yongkang."
Perpetrators' contact information:
Luo Youtian (罗友田), president, Changsha City Women's Prison: +86-731-82323040Peng Tujun (彭图俊), director, Huayuan County 610 Office: +86-13787431168Long Yong (龙勇), director, Domestic Security Office: +86-13974333063Yang Chaohui (杨朝晖), judgeYang Min (杨敏), prosecutorWang Ping (王平), judge, Xiangxi Autonomous Prefecture Court
(More perpetrators' contact information is available in the original Chinese article.)
Related reports:
Ms. Xiao Yongkang Taken to Prison After Being Beaten and Whipped in Detention
Ms. Xiao Yongkang Still Being Held in Detention Center
Ms. Xiao Yongkong Detained for Sharing Information About Falun Gong
Views expressed in this article represent the author's own opinions or understandings. All content published on this website are copyrighted by Minghui.org. Minghui will produce compilations of its online content regularly and on special occasions.