New York: Parade Commemorates Peaceful Appeal in China 23 Years Ago
(Minghui.org) Over 2,000 Falun Dafa practitioners held a parade in Flushing, New York, on April 23. They commemorated a peaceful appeal in Beijing just before the group was persecuted by the Chinese Communist Party (CCP) 23 years ago.
After dozens of practitioners were arrested in nearby Tianjin City in April, 1999, about 10,000 practitioners went to the Appeal Center of the State Council on April 25. Calm and peaceful, this event was known as the "largest and most peaceful" appeal in Chinese history.
"When the CCP began to suppress Falun Dafa months later, it often claimed the [April 25] event was an attack on the government," recalled Li Jinghua, who took part in the peaceful appeal. "But it was not. In fact, we were very calm and did not block the sidewalk. When practitioners in Tianjin were released, we cleaned the area and left no trash behind."
But the CCP nonetheless chose to suppress the group in July 1999. Since then, thousands of practitioners in China have been arrested, detained, and tortured for their belief.
Traditional Values
The parade in Flushing started at noon on Main Street with the Tian Guo Marching Band performing several pieces of music, including "Falun Dafa is Good" and "Sacred Song."
The parade was divided into three sections "Falun Dafa is Good," "Stop Persecuting Falun Gong," and "Quit the CCP for a Better Future." The Tian Guo Marching Band led the first section, followed by a large float, exercise demonstration team, lotus flower dance team, and dragon and lion dances.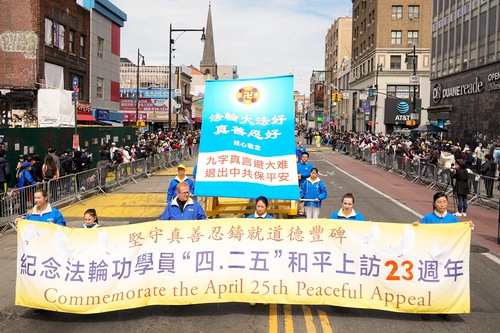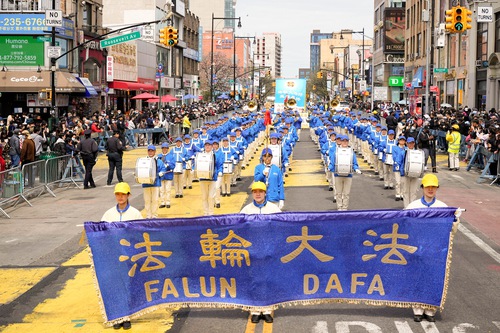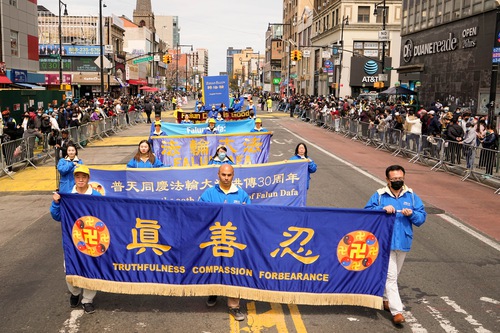 Falun Dafa practitioners held a parade in Flushing, New York, on April 23 to commemorate the April 25 Appeal in Beijing in 1999.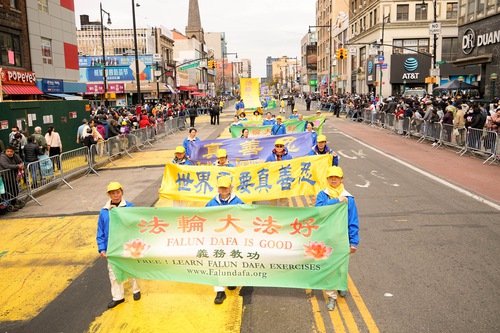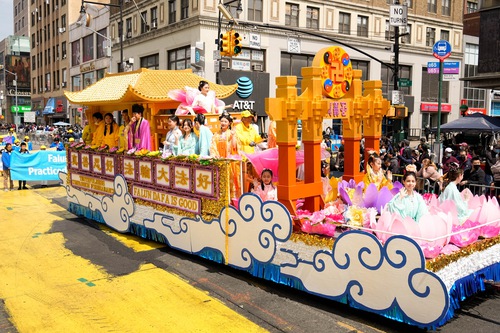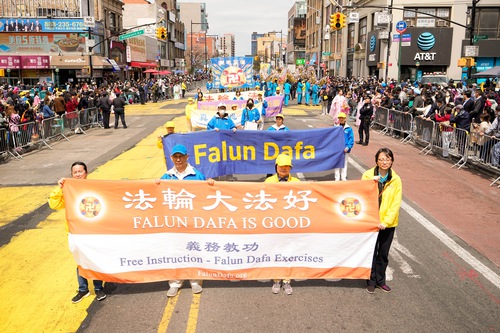 Hundreds of people stopped to watch the parade in Flushing.
Mr. Ma from Shanghai said this was the first time he had seen a parade held by practitioners. He waved to practitioners and said, "I like these words, 'Truthfulness, Compassion, Forbearance' because they represent traditional values in China. Freedom of belief is critical for our society. People need to know that we came from the divine and only the divine can save mankind."
Mr. Lin from Fujian Province watches the parade every year. "Truthfulness-Compassion-Forbearance are the best!" he exclaimed as he gave practitioners a thumbs-up. He was impressed that practitioners of all ages were able to hold firm to their belief in this society.
Cheong Kim from Korea has lived in Flushing for 30 years, and said he watches the parade every year. "I like the Falun Dafa teachings (Truthfulness-Compassion-Forbearance) since it keeps our community safe," he explained.
Gary, an immigrant from Jiangsu Province, agreed. He considered the peaceful appeal of Falun Dafa practitioners in April 1999 an important event in Chinese history, because it shows the power of compassion. "I hope more people, especially Chinese, will learn more about Falun Dafa. In an era of disasters such as this global pandemic, quitting the CCP and returning to tradition is our only hope," he said.
Other people found the parade impressive. A Canadian tourist said, "It is awesome and really beautiful!"
"I like the melody (of the Tian Guo Marching Band)," said local resident Susan, "To me, Falun Dafa represents authentic Chinese culture!"
Ending the Suppression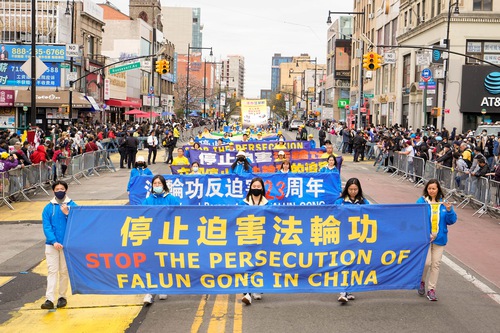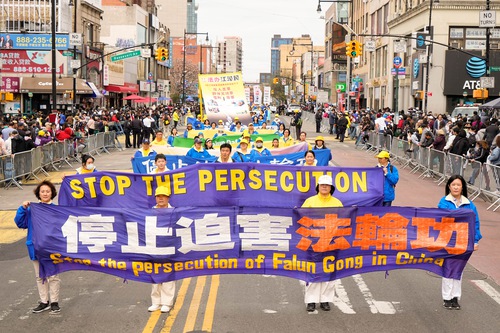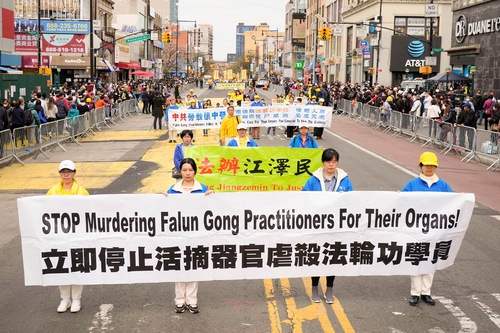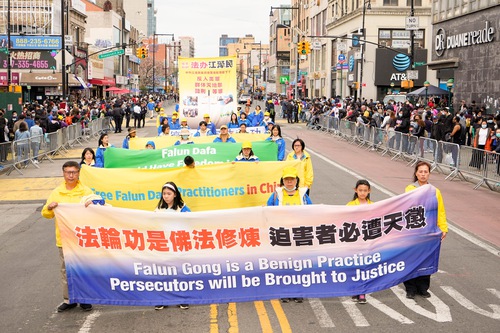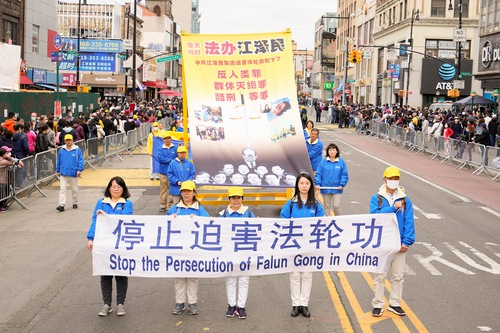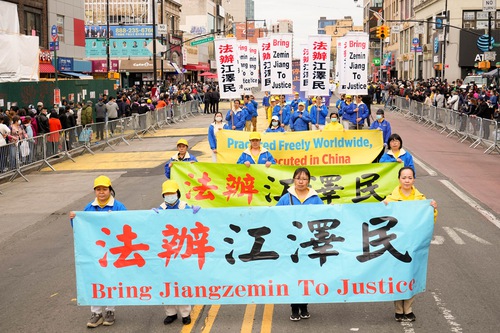 The second section of the parade was "Stop the Persecution of Falun Gong in China."
"The suppression is disgraceful!" commented passerby James, "Truthfulness-Compassion-Forbearance is so good and everyone should have the right to practice it!"
"Freedom of belief is a universal right. It should be protected everywhere in this world," added a tourist from Canada.
Susan said she has heard about the persecution in the past and she considered it an "honorable act" to step forward and peacefully defend the right to practice kindness. "When these good people are suppressed, society will be replaced with violence and other chaotic problems – from the timeline when Falun Gong was persecuted, we have seen this downward trend clearly," she said.
Mr. Gu, one of the spectators, said his grandfather Gu Dinghua was a Kuomintang general in the Guangdong-Guangxi Area. Like Falun Dafa practitioners, they were also mistreated. "My grandmother was targeted in numerous political campaigns and forced to kneel down for a long time on broken glass while my grandfather was assassinated," he said. "Fact is fact. As time continues, people will realize that everything the CCP says are lies."
As of April 20 2022, over 3.92 million people from 35 countries and regions have filed criminal complaints against former CCP leader Jiang Zemin for persecuting Falun Dafa.
Rejecting the CCP
Upon learning how the CCP harmed innocent people, over 394 million Chinese people quit the CCP regime, including the junior organizations of the Youth League and the Young Pioneers.
Li Jiahao, a young man who came to the U.S. three years ago, was happy to see the practitioners' event. After he quit the Youth League and the Young Pioneers using his real name, he joined the third section and walked with practitioners in the parade.
A Chinese woman named Ms. Yu also stopped and watched the parade. One practitioner chatted with her, telling her how the CCP suppressed Chinese citizens in the past few decades through brutality and lies. The woman nodded and said she would like to quit the CCP's Young Pioneers.
As they continued talking, the practitioner shared her story of applying the principles of Truthfulness-Compassion-Forbearance in her daily life. She said it led to a happier family and an improved relationship with others. Ms. Yu was very interested and said she wished to read Zhuan Falun, the main teachings of Falun Dafa.
With the help of practitioner volunteers, 185 people renounced their memberships in the CCP organizations during the parade. Among them, 17 quit the CCP, 46 quit the Youth League, and 122 quit the Young Pioneers.
Background: What Is the April 25 Appeal?
Falun Dafa (also known as Falun Gong) was first introduced to the public by Mr. Li Hongzhi in Changchun, China, in 1992. The spiritual discipline is now practiced in over 100 countries worldwide. Millions of people have embraced the teachings—which are based on the principles of Truthfulness, Compassion, Forbearance as well as five gentle exercises—and experienced improved health and well-being.
On April 23 & 24, 1999, police officials in Tianjin, a city near Beijing, assaulted and arrested dozens of practitioners who had gathered outside a magazine office to discuss errors in a recently-published article attacking Falun Dafa. As word spread of the arrests and more practitioners inquired with officials, they were told they had to take their appeals to Beijing.
The following day, April 25, some 10,000 Falun Dafa practitioners spontaneously gathered at the Central Appeals office in Beijing, as they had been instructed by Tianjin officials. The gathering was peaceful and orderly. Several Falun Dafa representatives were called in to meet with Chinese Premier, Zhu Rongji, and members of his staff. That evening, practitioners' concerns were answered. The arrested practitioners in Tianjin were released and everyone went home.
Jiang Zemin, former head of the CCP, perceived the spiritual discipline's growing popularity as a threat to the CCP's atheistic ideology and issued an order to ban Falun Dafa on July 20, 1999.
Minghui.org has confirmed the deaths of thousands of practitioners due to the persecution over the years; the actual number is suspected to be much higher. More have been imprisoned and tortured for their faith.
There is concrete evidence that the CCP sanctions the harvesting of organs from detained practitioners, who are murdered to supply the organ transplant industry.
Views expressed in this article represent the author's own opinions or understandings. All content published on this website are copyrighted by Minghui.org. Minghui will produce compilations of its online content regularly and on special occasions.