California: Falun Dafa Touches Hearts at UC Davis Picnic Day Parade
(Minghui.org) Falun Dafa practitioners were invited to participate in the 108th Picnic Day Parade held at the University of California, Davis (UC Davis) on Saturday, April 23, 2022.
The parade started at 10:30 in the morning. The Tian Guo Marching Band, dressed in blue and white costumes, played Falun Dafa is Good, Triumph, Sacred Song, and The Star-Spangled Banner. Attendees welcomed the band with applause. Some said the music was inspiring. Others were moved to tears by the band's performance.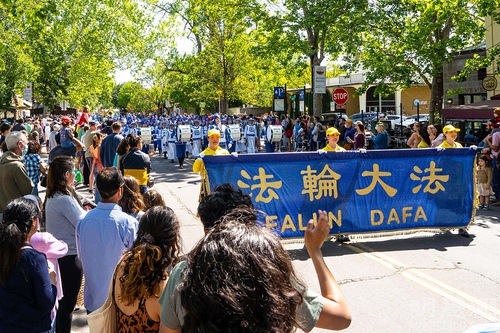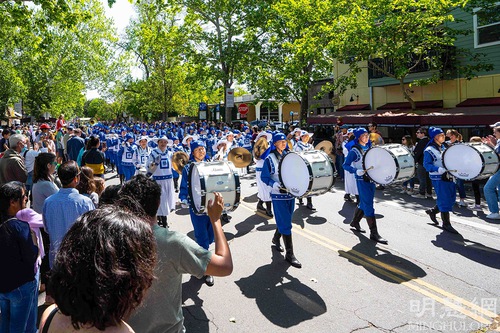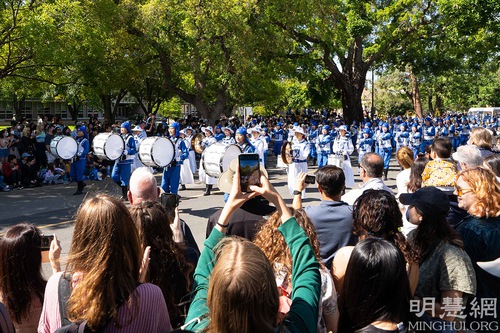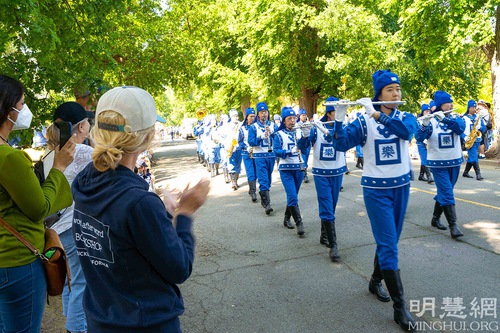 The Tian Guo Marching Band is welcomed in the parade.
The long-standing campus tradition, Picnic Day, began in 1909, when the university farm invited the surrounding community to visit its new dairy farm. Two thousand people brought picnic food to the event that day. Following that success, the faculty at the university farm has continued the annual event ever since.
Mr. An, who plays the trumpet, said that the spirit of the entire band was very good. When the group was turning a corner, the queue was neat, their performance was great, and the audience responded with cheers and applause.
Principles of Truthfulness-Compassion-Forbearance Move Audience
Lois DeMartini lives in Sacramento, California
Lois DeMartini from Sacramento, California's capital, applauded happily when she saw the Falun Dafa parade entry.
She pointed to her eyes and said, "Look, I am moved to tears. I don't know where they come from. They look proud. They are playing American music and it is very exciting."
She looked at the information about Falun Dafa and said, "I like the principles of Truthfulness-Compassion-Forbearance, and my heart is moved." She said that she never heard of Falun Dafa before.
When she learned about the Chinese Communist Party (CCP)'s persecution of the spiritual practice she said, "I disagree with the CCP's persecution of Falun Dafa. People should have freedom of belief, freedom of thought, and freedom of education."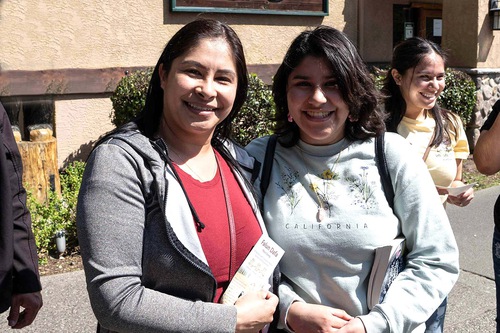 Maria Marales said the world needs Falun Dafa's guiding principles.
"This group is amazing. Look at their pace, they're in tune. They're well-trained, and the music they play is inspiring," Maria Marales said excitedly. "Wow, this is great. It can help people heal their body and mind."
Ms. Marales said she admires the principles of Falun Dafa and said that the world needs Truthfulness-Compassion-Forbearance.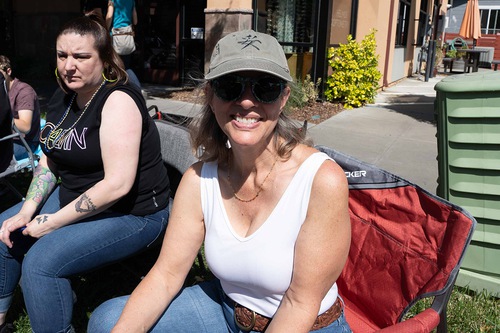 Connie Mederios was happy to learn about Falun Dafa
"What is Falun Dafa?" Connie Mederios asked when she saw the banners held by practitioners walking in the front of the procession. She learned that Falun Dafa is a practice of both mind and body and that practicing can improve physical and mental health. She said, "Thank you. Can you give me some information?" She happily accepted a pamphlet and said that she would learn more on the Internet.
Ms. Mederios also praised the practitioners' dress and demeanor. When she learned about the persecution, she said that she knew the CCP persecutes the Chinese.
Audience: Support Falun Dafa Practitioners' Freedom of Belief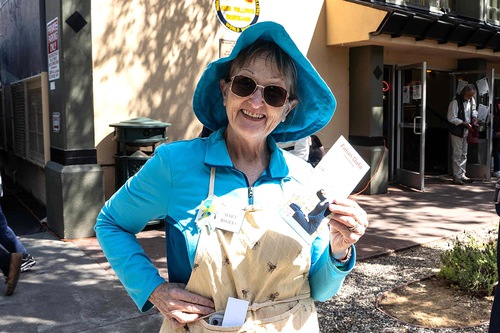 Mary Rogers
Mary Rogers, who works for a charity organization, also came out to watch the parade. As the practitioners' procession passed by, she happily applauded, "It's so beautiful." She said she especially admired the women who wore white dresses and played the drums. She commended their skillful playing.
When Mary heard that practitioners were persecuted in China, she said in a sad tone, "Many people have to flee their countries because their beliefs are persecuted. I support Falun Dafa practitioners' freedom of belief."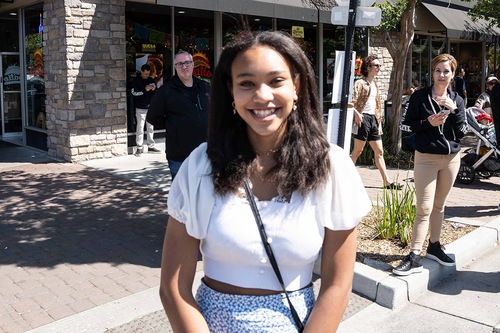 High school student Alana
Alana, a student in high school, said that the Falun Dafa group was creative and their colors were gorgeous. She said they must have spent a lot of time training to participate in this parade.
When she learned that practicing Falun Dafa can help people relieve stress and improve themselves, she said, "Wow, I think it's great. People need this. I like the principles of Falun Dafa."
Talking about the CCP's persecution, she said, "We support the religious rights of Falun Dafa practitioners. People should have the right to practice their beliefs."
There are many international students from China studying at Davis. Mr. Li is one of them. As soon as he saw practitioners, he raised his mobile phone and started taking pictures. When asked what he thought about Falun Dafa, he smiled and said, "It's good. I like it."As he took information about Falun Dafa, he said that this was his first contact with practitioners.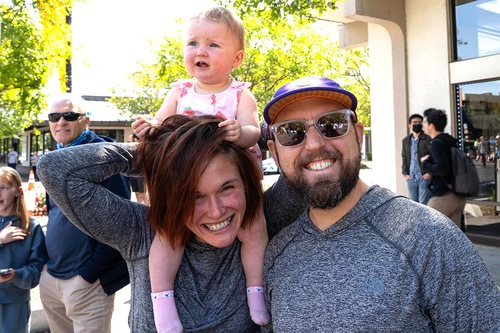 Matt and his family of three
Matt's family was curious about the Tian Guo Marching Band and wanted to know what it was. He said he supported them and they looked beautiful.
Their child clapped. Matt's wife, Missy, said, "My daughter Grace loves them. They're really good. I'm so glad they're here for the parade."
Background: What Is Falun Dafa?
Falun Dafa (also known as Falun Gong) was first introduced to the public by Mr. Li Hongzhi in Changchun, China in 1992. The spiritual discipline is now practiced in over 100 countries and regions worldwide. Millions of people who have embraced the teachings--which are based on the principles of Truthfulness, Compassion, and Forbearance--and learned the five gentle exercises have experienced uplifted health and well-being.
Jiang Zemin, former head of the Chinese Communist Party (CCP), perceived the spiritual discipline's growing popularity as a threat to the CCP's atheistic ideology and on July 20, 1999, issued an order to ban the practice.
Minghui.org has confirmed the deaths of thousands of practitioners as a result of the persecution over the past 22 years. The actual number is believed to be much higher. More have been imprisoned and tortured for their faith.
There is concrete evidence that the CCP sanctions the harvesting of organs from detained practitioners, who are murdered to supply the organ transplant industry.
Under Jiang's personal direction, the CCP established the 610 Office, an extralegal security organization with the power to override the police and judicial systems and whose sole function is to carry out the persecution of Falun Dafa.
Views expressed in this article represent the author's own opinions or understandings. All content published on this website are copyrighted by Minghui.org. Minghui will produce compilations of its online content regularly and on special occasions.