Married Couple Given Heavy Prison Terms for Their Faith
(Minghui.org) A married couple in Xi'an City, Shaanxi Province were sentenced to heavy terms in late December 2021 for their faith in Falun Gong, a mind-body practice that has been persecuted by the Chinese communist regime since 1999.
Mr. Wang Pingchuan, 47, and Ms. Zhao Shujuan, 42, were reported on May 25, 2020 for putting up stickers about Falun Gong at a bus station. Over 50 police officers arrested them on June 5 and confiscated their Falun Gong books, Falun Gong informational materials, DVDs, DVD burner, computer, printer, copy paper, flash-drive, laminator, motorcycle, bike, 10,000 yuan in cash and unknown amount of cash printed with short messages about Falun Gong, as a way to raise awareness about the persecution given strict censorship in China.
The police held the couple at the Sanyao Detention Center and didn't allow their family to visit them or deliver clothes to them.
The couple's arrests were approved on June 24. They were indicted by the prosecutor Xu Wei of Yanta District Procuratorate on October 20.
When they stood trial at the Yanta District Court on December 4, the presiding judge, Yang Lin, appointed lawyer Huo Wenyu to represent Mr. Wang and lawyers Liu Yazhen and Zhao Qinglong to represent Ms. Zhao. All three lawyers were instructed to enter guilty pleas.
The couple pleaded not guilty. Mr. Wang testified in his own defense. He said that Falun Gong teaches people to be kind and considerate. He added that the cash confiscated from his home was their own income earned through hard work. Both he and Ms. Zhao refused to answer other questions, yet the judge took their silence as saying "Yes" to the charge.
The judge sentenced Mr. Wang to nine years with a 30,000-yuan fine and Ms. Zhao to seven years with a 20,000-yuan fine on December 16, 2021. Both of them have appealed with the Xi'an City Intermediate Court, which assigned judge Yuan Bing to handle the case.
Mr. Wang is currently held at the Ankang Hospital and Ms. Zhao at the Xi'an City Detention Center. Both places denied their family visits, citing the pandemic as an excuse.
Past Persecution
Mr. Wang is a native of Wugong County, Xianyang City, Shaanxi Province. In recent years, he and Ms. Zhao have been staying in Xi'an and making a living by running a small business. Prior to his latest sentencing, Mr. Wang had served two labor camp terms for upholding Falun Gong and was subjected to relentless torture and harassment after release.
First Labor Camp Term
Mr. Wang was first arrested in 2001 and detained for over 50 days. He was arrested again in July 2001 and held at the Zhouzhi County Detention Center for over 40 days. The police released him after a 5,000-yuan fine. The police attempted to arrest him one more time in November 2001, but he escaped.
Mr. Wang was seized by the police in 2002 in Baoji City, about 65 miles from Wugong County. The police took him back to Wugong, ransacked his home and held him at the Wugong County Detention Center.
The police later gave him two years at the Zaozihe Forced Labor Camp in Baoji without due process. He was locked in a metal cage, constantly beaten and forced to work without pay. The guards forced him to stand under the scorching sun in the summer and then poured cold water over him during the freezing winter.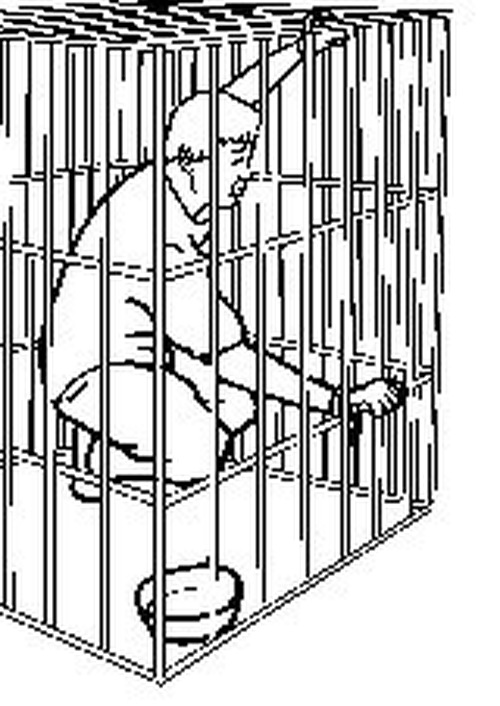 Torture illustration: metal cage
Mr. Wang held a hunger strike to protest the persecution and was released in October 2003 while on the verge of death. The police have kept harassing him since then. Unable to live a normal life, he was forced to live away from home.
Second Labor Camp Term
Mr. Wang was arrested again in May 2007 and had his Falun Gong books and lecture DVDs confiscated. The police fabricated evidence against him, alleging that he had connections with "foreign forces," and gave him another two years at the Zaozihe Labor Camp.
Elderly Father Harassed
Officials from the 610 Office, Political and Legal Affairs Committee, Domestic Security Office, the Chengguan Police Station, and residential committee in Wugong County twice harassed Mr. Wang's father, in his 70s, on January 16 and 20, 2020, respectively, ordering the elderly man to call Ms. Wang back and turn himself in.
Two police officers harassed Mr. Wang's father again on March 25, 2020 and threatened him about consequences if Mr. Want didn't return home.
Perpetrators' information:
Wu Guanghui (吴光辉), officer of Guoshe Town Police StationWu Jiangyong (吴江勇), officer of Guoshe Town Police StationGu Barong (古巴荣), officer of Guoshe Town Police StationLi Kai (李凯), officer of Guoshe Town Police StationZhao Lu (赵璐), officer of Guoshe Town Police StationXu Wei (许玮), prosecutor of Yanta District Procuratorate: +86-29-81156556Zhang Hongjun (张宏军), presiding judge: +86-29-85264217Yang Lin (杨琳), judge: +86-29-8120813
Related report:
Xi'an City, Shaanxi Province: Twenty Falun Gong Practitioners Sentenced to Prison by One Court Since 2019
Views expressed in this article represent the author's own opinions or understandings. All content published on this website are copyrighted by Minghui.org. Minghui will produce compilations of its online content regularly and on special occasions.