Belated News: Heilongjiang Woman Sentenced to 9.5 Years for Distributing Falun Gong Materials
(Minghui.org) It's recently been confirmed by Minghui.org that a Nengjiang City, Heilongjiang Province, resident was sentenced to 9.5 years in November 2020 for distributing informational materials about Falun Gong during the pandemic lockdown in February 2020.
Falun Gong, also known as Falun Dafa, is a spiritual discipline that has been persecuted by the Chinese communist regime since 1999.
Ms. Zhu Xiaoqing, 55, was arrested at home on February 10, 2020. Over ten police officers deceived her into opening the door by claiming to be residential community staff members. They searched her home and confiscated everything related to Falun Gong.
Ms. Zhu was taken to the police station and interrogated in the basement. She refused to answer any questions and only said, "Falun Dafa is good, Truthfulness-Compassion-Forbearance is good."
The police released Ms. Zhu on bail and put her under six months of house arrest. She was sentenced to 9.5 years in November 2020 and is now serving time in the Heilongjiang Province Women's Prison.
Past Persecution
Before taking up Falun Gong, Ms. Zhu had many health problems, including tuberculosis and issues with her liver, heart, stomach, and intestines. She also had diabetes and anal cancer. After learning Falun Gong in 1999, all of her ailments went away.
When the communist regime initiated the persecution months later, Ms. Zhu refused to give up Falun Gong and was targeted by the authorities.
She was arrested in April 2003 when she went to Beijing to appeal for the right to practice Falun Gong. The police ransacked her home, detained her for 15 days, and then put her in a brainwashing center. After she was released, the police still forced her to report to them every day.
Ms. Zhu was cooking at home in 2012 when the police broke in and arrested her. They detained her for 15 days on charges of "undermining law enforcement using a cult organization," the standard pretext used by the authorities to criminalize Falun Gong practitioners. The police acknowledged that they weren't following the law when they detained and beat her when she refused to renounce Falun Gong.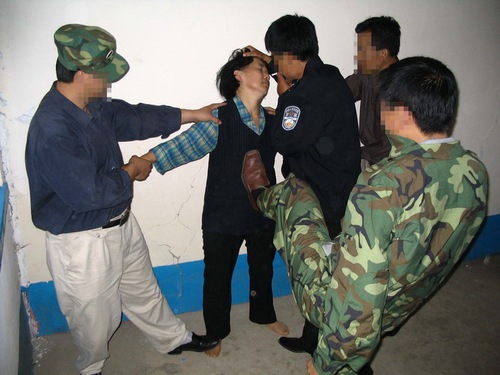 Torture reenactment: Beating
Ms. Zhu was arrested again in August 2013 for talking to people about Falun Gong and her home was ransacked. Her child and husband were under tremendous pressure due to the persecution. Her friends also became estranged from her.
Views expressed in this article represent the author's own opinions or understandings. All content published on this website are copyrighted by Minghui.org. Minghui will produce compilations of its online content regularly and on special occasions.