Qiqihar City, Heilongjiang Province: Four Falun Gong Practitioners Pass Away Due to the Persecution
(Minghui.org)
Name: Li PeixianChinese Name: 李佩贤Gender: FemaleAge: UnknownCity: QiqiharProvince: HeilongjiangOccupation: UnknownDate of Death: February 23, 2022Date of Most Recent Arrest: 2010Most Recent Place of Detention: Heilongjiang Province Women's Prison
Name: Wang GuirongChinese Name: 王桂荣Gender: FemaleAge: UnknownCity: QiqiharProvince: HeilongjiangOccupation: Employee of Cadre School Training CenterDate of Death: spring of 2021Date of Most Recent Arrest: August 26, 2006Most Recent Place of Detention: Zhengyang Police Station
Name: Zhang ShiminChinese Name: 张世民Gender: MaleAge: UnknownCity: QiqiharProvince: HeilongjiangOccupation: UnknownDate of Death: January 22, 2022Date of Most Recent Arrest: March 21, 2017Most Recent Place of Detention: Qiqihar City Detention Center
Name: Wang XuqiuChinese Name: 王序秋Gender: FemaleAge: UnknownCity: QiqiharProvince: HeilongjiangOccupation: UnknownDate of Death: 2020 or later (exact year and date unknown)Date of Most Recent Arrest: February 3, 2008Most Recent Place of Detention: Unknown
Four Falun Gong practitioners in Qiqihar, Heilongjiang Province, passed away between 2020 and 2022 due to the persecution of their faith. Two of them died due to torture in custody and the other two succumbed to the mental pressure from the ongoing harassment and intimidation.
Falun Gong, also known as Falun Dafa, is a spiritual discipline that has been targeted by the Chinese communist regime since 1999.
Ms. Li Peixian
Ms. Li Peixian went to Beijing to appeal for the right to practice Falun Gong in 1999 and was arrested. At a local detention center, director Lin whipped her with a PVC pipe, leaving dark bruises on her back and legs. She had to sleep on her stomach.
Ms. Li returned to Beijing to appeal again in 2002 and was given three years in the Shuanghe Forced Labor Camp. She was regularly beaten and forced to watch propaganda videos smearing Falun Gong. In the winter, the guards put her in an empty room with no bed, covers, or heat. She had massive vaginal bleeding in February 2003 and was released on medical parole.
Ms. Li was arrested again and sentenced to prison in 2010 for talking to people about Falun Gong. The inmates tied her up in a spread eagle position for three months. They often threw her on the ground and almost killed her. Her legs were severely swollen and she was emaciated. On the verge of death, she was released in 2015.
In early 2022, her conditions relapsed and Ms. Li passed away on February 23, 2022.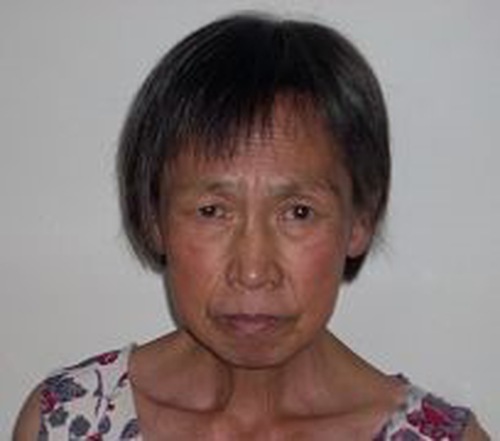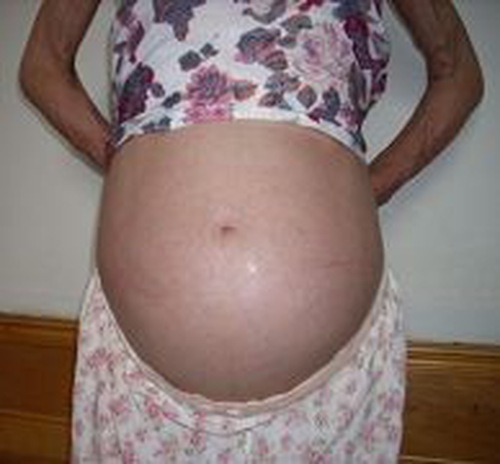 Ms. Li after she was released from prison in 2015
Ms. Wang Guirong
Ms. Wang Guirong was arrested in January 2001 when she went to Beijing to appeal for the right to practice Falun Gong. She was held in the Qiqihar City No.1 Detention Center for years. In 2003, director Hao kicked her in her head and it hit the concrete wall.
Ms. Wang said to Hao, "Is this what the people's police are supposed to do?" Infuriated, Hao ordered several guards to drag Ms. Wang to the hallway and beat her. The guards then cuffed Ms. Wang to another practitioner back to back so that they couldn't sit or lie down.
Ms. Wang was arrested again on August 26, 2006. Tian Chunli, the head of Zhengyang Police Station, hung her up, wiped wasabi oil on her, and smoked her with cigarettes. They also beat her and verbally abused her. They broke her ribs. The torture took a toll on her health. She passed away in the spring of 2021.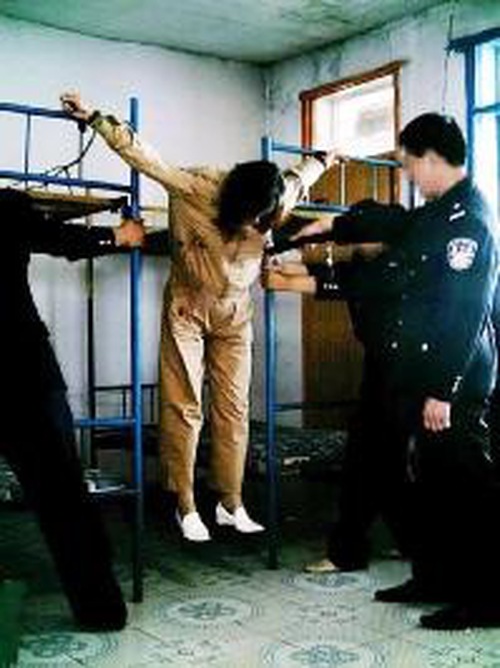 Torture reenactment: Hung up
Mr. Zhang Shimin
The police followed Mr. Zhang Shimin as he put up banners about Falun Gong in the spring of 2017. On March 21 that year, he was arrested and held in the Qiqihar City Detention Center for over a year. During that time, the police intimidated him and extorted funds from him. He was later sentenced to two years and eight months, with a probation of three years. The judge also fined him 20,000 yuan. After being forced to write a statement to renounce Falun Gong, he was released.
During the "Zero-out" campaign that targeted every Falun Gong practitioner on the government's list in 2020, Mr. Zhang was taken to the Zhengyang Police Station and forced to sign another statement to renounce Falun Gong. Returning home, he developed severe depression. He also had ascites and systemic edema. He passed away on January 22, 2022.
Ms. Wang Xuqiu
Ms. Wang Xuqiu was arrested on February 3, 2008, and beaten in the Shuguang Police Station. On July 9, 2008, the Tiefeng District Court sentenced her to prison.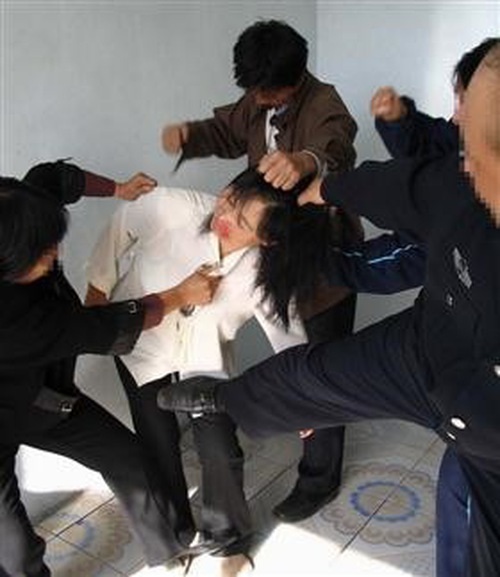 Torture reenactment: Beating
In the "Zero-out" campaign, officers from the Dongwu Police Station and residential committee staff members repeatedly harassed Ms. Wang at home between 2020 and 2021 and ordered her to sign the statement to renounce Falun Gong. When she refused to comply, the authorities harassed her children over the phone.
The harassment distressed Ms. Wang greatly. Her health quickly declined and she passed away, although the exact time of her death isn't clear.
Views expressed in this article represent the author's own opinions or understandings. All content published on this website are copyrighted by Minghui.org. Minghui will produce compilations of its online content regularly and on special occasions.