Belated News: Woman in Her 60s Imprisoned for 10 Years, Tortured and Drugged
(Minghui.org) In 2003, Ms. Kong Fanhua, of Longkou City, Shandong Province, was sentenced to 10 years in prison for her faith in Falun Gong, a mind-body practice that has been persecuted by the Chinese communist regime since 1999.
When serving time in Shandong Women's Prison, she was force fed with unknown drugs for an extended time, giving her an unclear mind, memory loss and many other conditions. In addition to the drug administration, she was forced to work more than ten or even twenty hours a day without pay.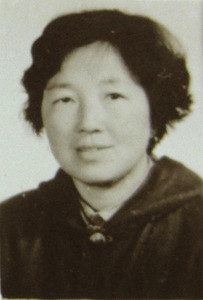 Ms. Kong Fanhua
Regain Health after Practicing Falun Gong
Ms. Kong was an honest person with a strong personality. She was competitive and had a bad temper. In her 30s, she had many health problems including headaches, neurosis, bronchitis, and vertigo. Her life was even more difficult after she had a car accident and fractured her leg in the early spring of 1997 when she was 41.
With no hope in sight, she remembered that her colleagues had recommended Falun Gong, also known as Falun Dafa, to her. She heard that practicing it could help her regain her health.
Indeed, shortly after she started to practice Falun Gong, the comminuted fracture on her right leg as a result of the car accident healed and various other maladies disappeared as well. She has also become a better person. Her friends, family, and colleagues witnessed the many positive changes in her and were amazed that Falun Gong had such power.
Arrested for Appealing for Falun Gong
China's communist party began to persecute Falun Gong on July 20, 1999. The following day, Ms. Kong and other practitioners from the same workplace were arrested and detained for two days. They were ordered to stop practicing Falun Gong and hand over their Falun Gong books. Ms. Kong refused to comply.
On August 3, 2000, Ms. Kong and her husband Mr. Cong Peiqing went to Beijing to appeal for Falun Gong. When they were meditating on Tiananmen Square, they were arrested and taken to the Tiananmen Square Police Station.
The couple refused to give their names, but the police searched them and found their train tickets from Weifang City. The couple was taken to the Weifang Office in Beijing (a place dedicated to housing and torturing practitioners from Weifang).
The office director instructed a female officer to search Ms. Kong and then started to beat her. He stepped on her feet and hit her in the head and face. She was unable to walk afterwards.
Mr. Cong was handcuffed to a radiator at the same time. A young officer punched him in the face, ears, and nose. He bled heavily. After a few hours of violent beating, a police officer named Wang handed the couple to officials from their workplaces.
Ms. Kong was forced to pay 13,000 yuan. Mr. Cong was detained at Haidai Police Station for 15 days and required to pay 3,000 yuan.
Ms. Kong was held at her workplace on April 28, 2001, overnight and then taken to a brainwashing center the next day and held for 20 days.
Arrested Again, Brainwashed, and Detained
She was arrested again in October 2021 for distributing Falun Gong informational materials. The police raided her apartment and confiscated her personal belongings. She was taken to Longkou City Detention Center and slapped in the face by the political instructor, Li Shuqiang.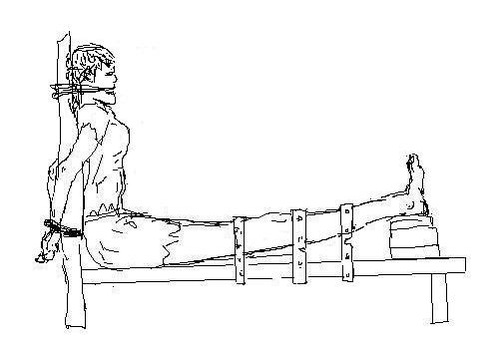 Torture illustration: Tiger bench
Guards Wang Qi and Zou Lin forced Ms. Kong to sit on the tiger bench and then punched and kicked her. They whipped her with willow twigs. She fainted several times. She was covered with bruises and her legs were seriously injuried.
Later the police locked Ms. Kong in a metal cage. She was not allowed to sleep. The guards beat her as soon as she closed her eyes. It was close to winter and Ms. Kong was only allowed to wear one layer of clothes.
Sentenced to Ten Years
To avoid more persecution, Ms. Kong was forced to live away from home in November 2001. While displaced, she continued exposing the persecution and telling people how wonderful Falun Gong is.
At 1 a.m. on November 6, 2003, Ms. Kong was arrested at her friend's place. Her husband and another practitioner were also seized. The police confiscated the Falun Gong founder's pictures, Falun Gong books, computers, printers, copiers, cell phones, a voltage transformer worth 4,000 yuan, and many personal belongings, causing a direct economic loss of over 80,000 yuan.
The Longkou City 610 Office ordered the police to handcuff and shackle Ms. Kong, her husband, and two other practitioners, Ms. Ma Lianfeng and Mr. Yao Xinren, and paraded them around town wearing signs around their necks with humiliating things written on them.
.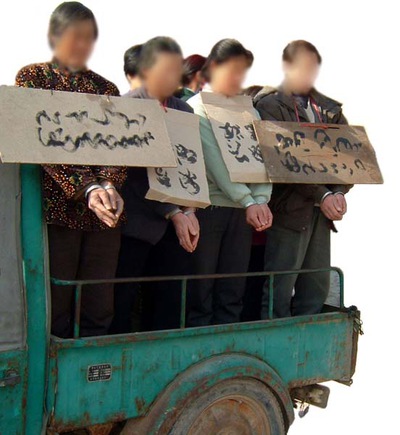 Paraded around publicly wearing signs with humiliating insults 
Ms. Kong was sentenced to ten years and her husband Mr. Cong was sentenced to eight years. Ms. Ma was given seven years and Mr. Yao four years. At the end of April 2004, Ms. Kong and others were forced to go through the humiliating parade again.
On May 6, 2004, Ms. Kong was taken to Shandong Women's Prison while Mr. Cong was transferred to Shandong Men's Prison.
In the women's prison, guards Li Yanli, Wuxiang Yan and Jiang Suyi instructed inmates to mix unknown drugs into Ms. Kong's food and water, causing Ms. Kong to experience weakness, confusion, memory loss and many other conditions. She was also forced to do unpaid labor for more than ten or sometimes twenty hours a day. She was exhausted and passed out several times. She was released at the end of May in 2013.
Ms. Kong was arrested again but was released later in July 2016, after she was reported for talking to people about Falun Gong.
Views expressed in this article represent the author's own opinions or understandings. All content published on this website are copyrighted by Minghui.org. Minghui will produce compilations of its online content regularly and on special occasions.