75-year-old Woman Dies One Month After Being Released on Medical Parole
(Minghui.org)
Name: Ji GuizhenChinese Name: 季桂珍Gender: FemaleAge: 75City: SuzhouProvince: JiangsuOccupation: N/ADate of Death: February 3, 2022Date of Most Recent Arrest: September 23, 2019Most Recent Place of Detention: Suzhou City Detention Center
A Suzhou City, Jiangsu Province resident died on February 3, 2022, one month she was released on medical parole from serving time for her faith in Falun Gong. She was 75.
Falun Gong, also known as Falun Dafa, is a spiritual discipline that has been persecuted by the Chinese communist regime since 1999.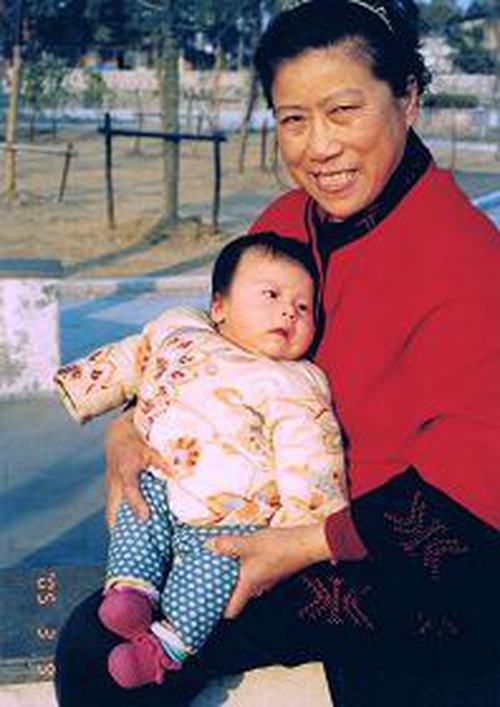 Ms. Ji Guizhen and her granddaughter
Ms. Ji Guizhen was arrested at home by a group of officers from the Loufeng Police Station on September 23, 2019. While several officers restrained Ms. Ji and videotaped her, the others searched her place and confiscated her computer, printer, Falun Gong books, and related materials. The 500 yuan cash in her purse was also taken away.
The officers ordered Ms. Ji to go with them to the police station. When she refused to comply, four officers carried her into the police van and took her away.
Ms. Ji was interrogated about having put up information about Falun Gong in a local neighborhood. She didn't provide any information but said to the police that she was hoping they could get to know the facts about Falun Gong and not participate in the persecution.
The police forced Ms. Ji to press her fingerprints on some documents. They held her at the police station until 8 p.m. and released her on bail.
One month later, the police brought Ms. Ji to the Wujiang Procuratorate to meet with prosecutor Zhang Neng. Only then did Ms. Ji realize that the police had submitted her case to the prosecutor. She never heard back from prosecutor Zhang after that.
Around mid-March 2020, Ms. Ji received a letter from the Wujiang District Court, saying that they had decided to put her case on hold "due to an unforeseen reason." According to the law, a case that is put on hold may be re-opened later on.
The court informed her in late July that they had scheduled a hearing for August 11, 2020. Ms. Ji attended the hearing as scheduled and was sentenced to three years and three months in mid-December. The judge also fined her 3,000 yuan.
After nearly 1.5 years at the Suzhou City Detention Center, Ms. Ji's family was informed by the guards on January 3, 2022 to take her home on medical parole. She passed away a month later on February 3. It's not clear whether she developed a terminal disease in the detention center or was subjected to deadly torture.
Past Persecution
This is the third time that Ms. Ji has been incarcerated for her faith, following a previous two-year labor camp term and a three-year prison term.
Ms. Ji, her husband Mr. Xu Shimin, and their daughter Ms. Xu Anli were arrested in late November 2000 and detained at the Suzhou No. 1 Detention Center. Ms. Ji was given two years at Judong Forced Labor Camp a month later. Her husband and daughter were also given three years and one year of forced labor, respectively.
Ms. Ji and her husband were arrested again on July 17, 2009. Three police cars surrounded their home and the police scaled the fence to break in. Although Mr. Xu was later released, Ms. Ji was kept in custody at Suzhou City No. 1 Detention Center. She was sentenced to three years in Nanjing Women's Prison by the Huqiu District Court on June 18, 2010.
Ms. Ji and four other practitioners were studying Falun Gong teachings at Ms. Sun Aixia's home on April 18, 2012 when the police suddenly broke in. All six practitioners, including Ms. Sun, were arrested and taken to the Loumen Police Station for interrogation. Ms. Ji's home was also ransacked.
Ms. Ji went to visit her daughter on December 4, 2014, when she was shocked to see the police ransacking her daughter's home, with the excuse that someone living there was browsing the Minghui website.
Although the police didn't arrest Ms. Ji right then, they knocked on her door at 6:30 p.m. As soon as she opened the door, the police barged in and pushed her to the ground. Without a search warrant, they also raided her place and took away her two computers, a printer, a DVD burner tower and over 50 Falun Gong books.
The police brought Ms. Ji to the Pishijie Police Station and questioned her on why she was browsing the Minghui website. She said that there were people reading the website from around the world and there was nothing wrong with reading it. The police also asked her many other questions. She was terrified and couldn't remember the details. She was held at the police station until midnight before being released.
Perpetrators' contact information:
Zhang Neng (张能), prosecutor of Wujiang District Procuratorate: +86-512-63969010Li Rongsheng (李荣胜), judge of Wujiang District CourtShao Jun (邵军), head of Loufeng Police Station: +86-512-62525250, +86-512-62527008, +86-512-62527110Chen Bo (陈波), deputy head of Loufeng Police StationHan Hongqing (韩洪青), instructor of Loufeng Police Station
Related reports:
Suzhou Court Sentences 73-year-old Woman After Dismissing Her Case
Views expressed in this article represent the author's own opinions or understandings. All content published on this website are copyrighted by Minghui.org. Minghui will produce compilations of its online content regularly and on special occasions.